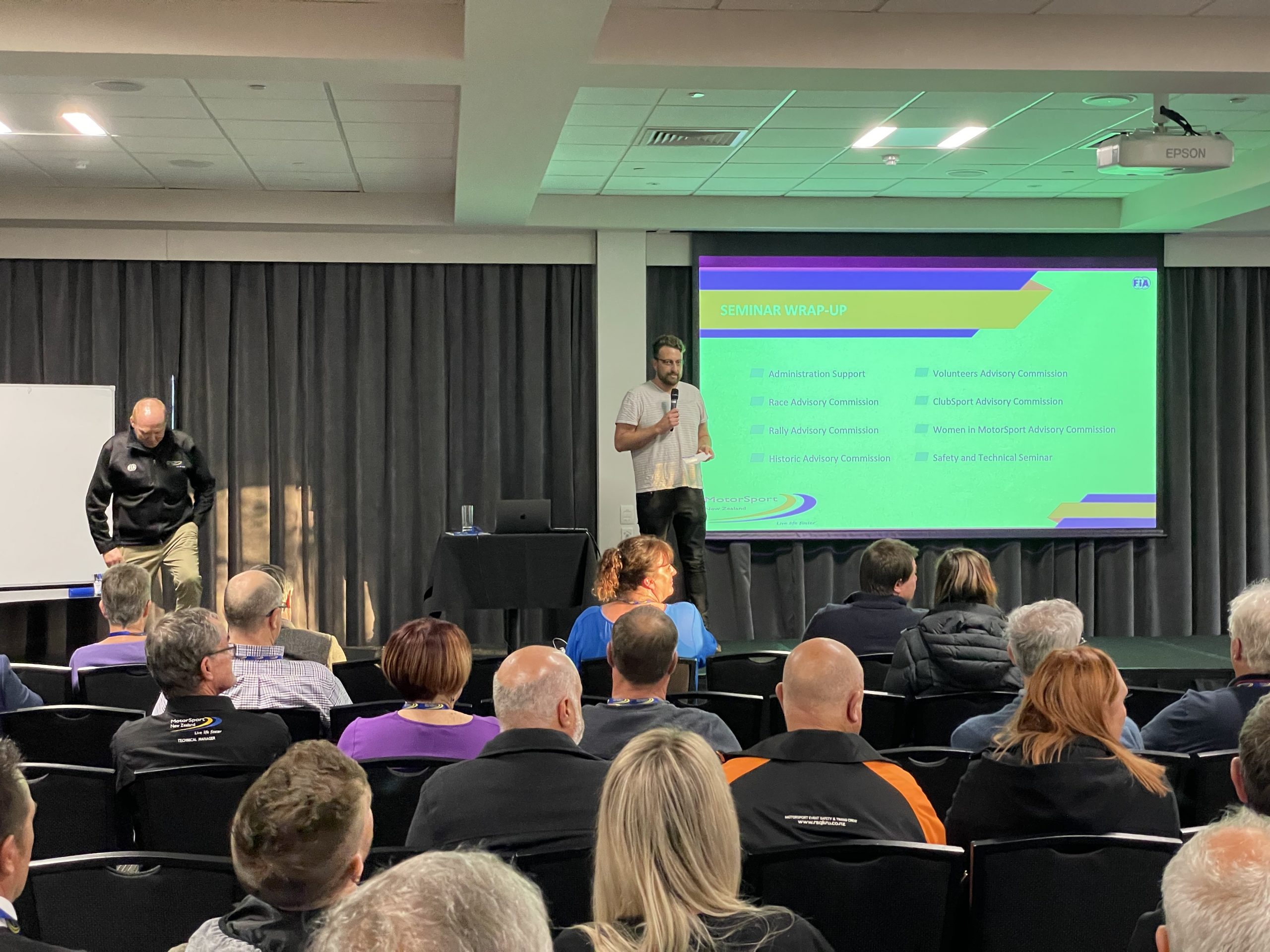 MotorSport New Zealand Annual Conference wrap up
The annual MotorSport New Zealand Conference, AGM and Awards take place this weekend in Christchurch. Today, various commissions and departments presented a series of interactive seminars as part of the conference section of the weekend.
Admin: MotorSport New Zealand's office presented a seminar detailing some of the administration processes that the organisation has in place. Attendees were given explanations on the importance of gathering accurate data to track metrics such as participation, accidents, injuries and vehicle damage. Some of the core functions of Possum for clubs were shown to ensure clubs were utilising the system to its full potential.
Race Commission: The Race Commission held discussions around where Electric Vehicles fit into circuit racing and the evolution of 'race radio' and how this may be utilised more across the sport. The commission also fielded questions around both the definition of circuit limits and overtaking.
Historic Commission: The commission shared similar discussions to the sporting matters of the race commission but also brainstormed some improvements on safety audits and checks for historic vehicles.
Rally Commission: The commission presented a 'stock take' on the current state of rallying in New Zealand and how this may be improved. Attending clubs were also asked to share their tentative rally event dates to coordinate a 2022 rally calendar.
Technical Department: MotorSport New Zealand's Technical Department presented a variety of topics during their seminars. Attendees were given a demonstration and brief of the new FIA Incident Data Recorders which will be rolled out across all MotorSport New Zealand Championships in the near future. Some key points around Electric Vehicle safety were also shared with a full set of EV safety guidelines set for publication in the coming months. Some of the concerns around Cross Car safety were clarified with attendees being reminded that these vehicles have an FIA safety homologation.
Women in Motorsport Commission: This commission presented a highly interactive seminar focusing on the culture of motorsport in New Zealand. Attendees helped paint a picture of the sports current culture and their visions for the future. The commission outlined their goals of promoting a community-focused, inclusive and equitable sport.
ClubSport Commission: These seminars discussed the format of both the Hill Climb and ClubSport Championships and how these might be tweaked and improved for the future. Clubs raised concerns about the rising level of qualifications and compliance needed for implementing Temporary Traffic Management at their events. MotorSport New Zealand advised that they are part of a collective of National Sporting Organisations who are seeking concessions around these requirements for sporting events in particular.
Volunteers Commission: This commission put forward a proposal around improving the MotorSport Specialist Register (MSR) scheme as well as implementing new "Volunteer Officials" terminology for volunteers. The grading of officials licenses was discussed along with licence renewal criteria. The commission also re-emphasised the need for all volunteer officials to get an MSR logbook to officially recognise their participation in motorsport.
On Saturday the AGM and Awards Evening will take place.