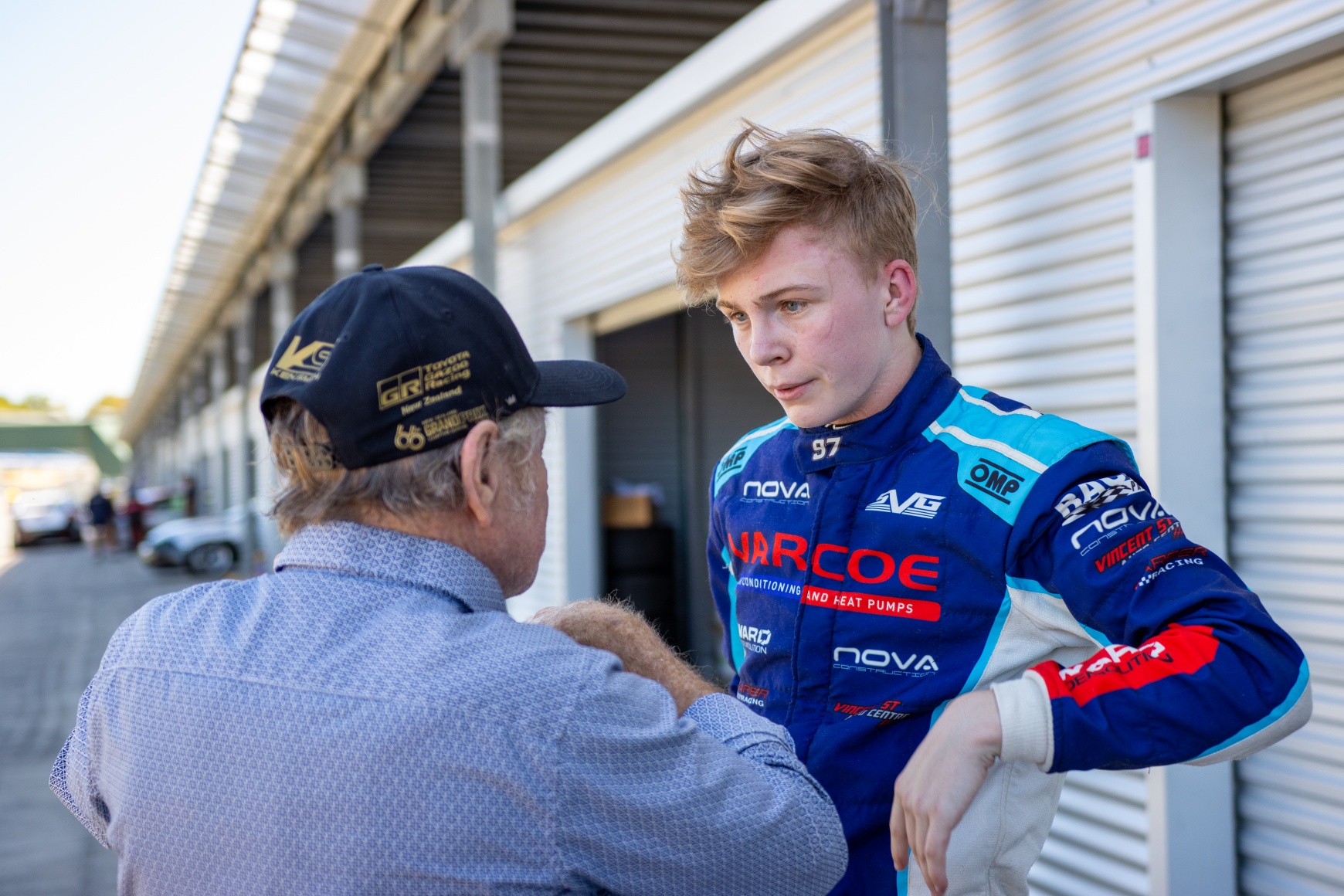 Matthew McCutcheon continues winning ways in NZ Formula Ford Championship
Matthew McCutcheon continued his winning ways in the NZ Formula Ford Championship with two more race wins, but he didn't have it all his own way at Pukekohe Park.
The second round, held at Pukekohe Park on the traditional long back straight layout, saw the NZ Formula Ford Championship field join the North Island Formula Ford series' grid again in an effort to consolidate entries and save costs for competitors.
Qualifying for the round was topped by McCutcheon who set a 1:02.547 time, 0.5-seconds ahead of championship rival James Penrose who finished second-fastest. Kyan Davie recorded a personal best third-fastest, 0.3-seconds off Penrose's time.
The first race, 11-laps, was a hotly contested affair. McCutcheon would come away with the victory but not without struggles. Penrose was hot on his heels for the majority of the race and only just missed out on victory with a mere 0.06-seconds deciding the race.
Davie scored third place ahead of fellow NZ Formula First graduate's Leo Scott and Blake Evans in fourth and fifth respectively.
Race two, also 11-laps, was almost identical up the front with McCutcheon winning at the line by the narrowest of margins. This time 0.064-seconds separated the teen from second-placed Penrose at the line.
The final 11-lap race of the round saw the tables turn at the pointy end. Penrose was able to out-muscle McCutcheon and win the race by the smallest margin of the weekend, just 0.011-seconds. Davie finished in third, giving him a podium clean sweep for the weekend while Zac Christiensen finished in fourth ahead of Evans in fifth.
McCutcheon holds a slim 20-point advantage heading into the final round of the championship over Penrose. Penrose hold's second place with a relatively comfortable 70-point lead over third-placed Davie. Evans and Christensen round out the top five in the points overall.
The final round of the NZ Formula Ford Championship takes place at Ruapuna as part of the South Island Formula Ford festival on 1 May, this time lining up at part of the South Island Formula 1600 series.