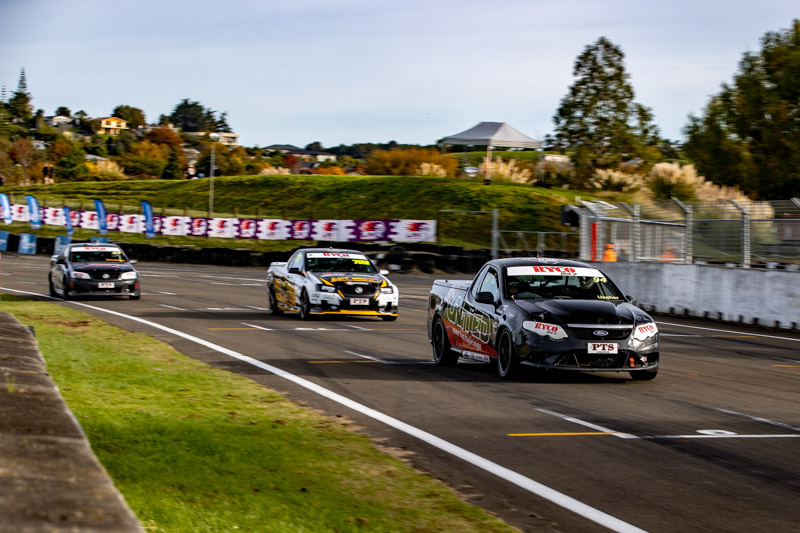 Maiden wins for Greg Kroef and Simon Ussher
Persistence finally paid off for Simon Ussher and Greg Koef with their first-ever race wins in the RYCO 24•7 V8 Utes championship. While Jake Stoneman won the round, along the way there were some significant achievements for a number of drivers.
The reverse-grid Race Two on Sunday morning saw yesterday's front runners as the back markers with plenty of overtaking ahead of them. There was also an unexpected challenge – a crash in the previous GTRNZ GT race had left oil on Turn one. Unperturbed, the race produced an overtaking masterclass from Brad Kroef, leap-frogging from seventh to third and boosting his championship lead. Jake Stoneman worked his way through the field in similar fashion, racing from tenth to second. Yet the real hero of the race was Simon Ussher, securing his first race one after seven years in the V8 Utes category.
With the RYCO 24•7 V8 Utes championship points so tight, Race Three in the afternoon would be crucial to the font runners' title hopes.
It didn't all go to plan. The race began with a rare stall from pole-sitter Jake Stoneman, allowing the entire field to swarm past him. That allowed Simon Ussher to hit the front heading into turn one, with the Kroef duo of Greg and Brad close behind. As the race wore on, Greg Kroef passed Simon for the lead on lap two; the slipstream helping tow son Brad along to later overtake Simon.
Further back, the slow-starting Stoneman was slicing through the pack and by lap eight had muscled his way up to third overall. Staring down the barrel of his first ever win, Greg Kroef was on edge. "I was nervous watching Jake coming up in my rear view mirror, getting closer and closer." His son Brad drove a clinical race to finish second, with Jake Stoneman third. And that's how positions remained to the chequered flag.
Today's race result was Greg Kroef's first ever RYCO 24•7 V8 Utes race win. It was also the second time his #23 Ford FG had won at Manfeild Circuit Chris Amon. Greg Kroef had bought the Ford from Jake Stoneman, who'd originally built and raced the ute – and Jake had won a previous round of the championship at the circuit. History repeats at Manfeild. The championship now heads to Hampton Downs for the title decider on the weekend of May 5th – 7th.