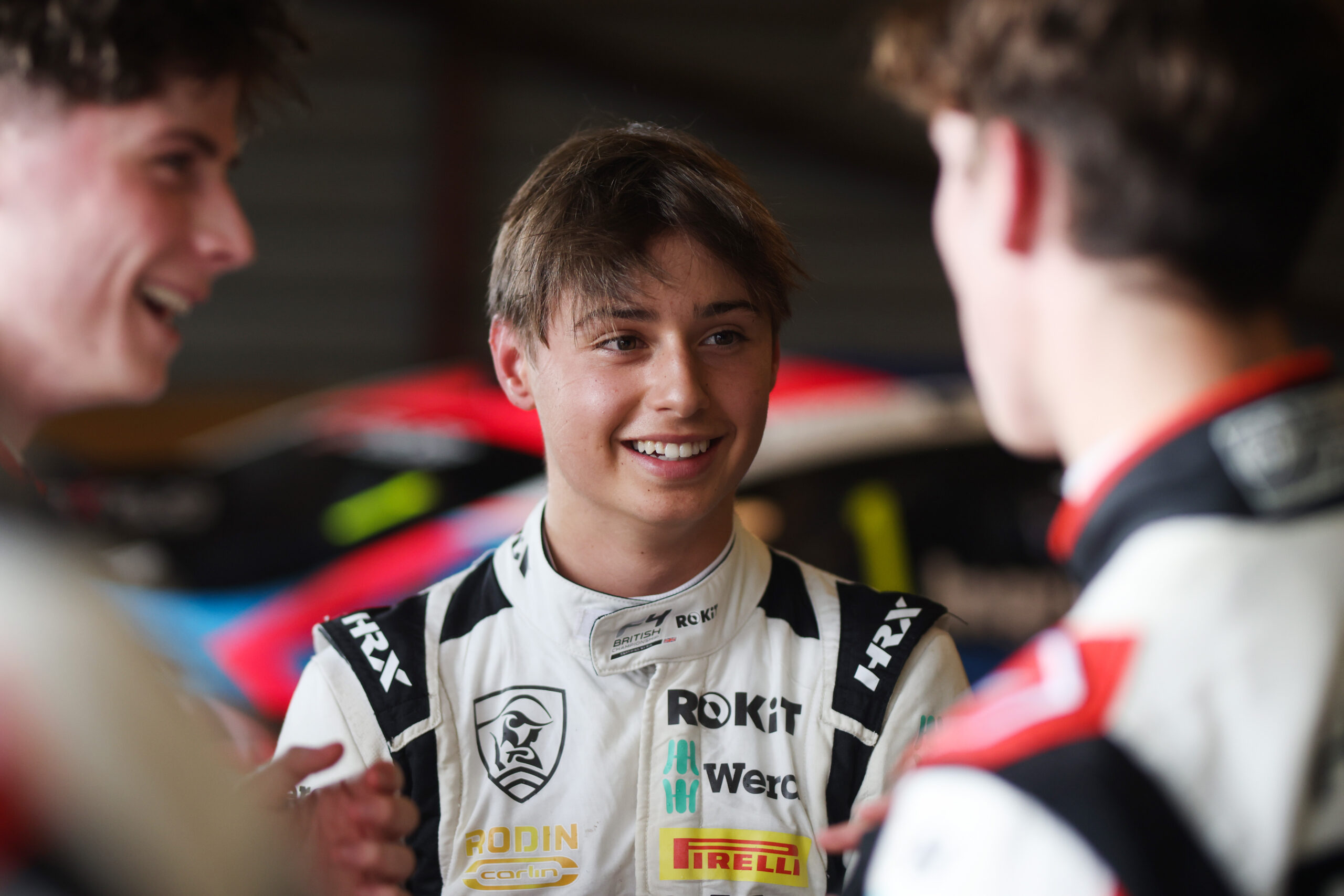 Louis Sharp set for British F4 Championship showdown
Teenage sensation Louis Sharp is fired up for the most important race meeting in his young motor sport career.
The 16-year-old rising star arrives at Brands Hatch for the critical 2023 ROCKiT F4 British Championship finale (07-08 October) holding a single point lead over arch title rival Will Macintyre. With just three nail-biting races remaining on the calendar – the first on Saturday followed by two more on Sunday – a new champion will be crowned at the famous Kent circuit, which was once home to the British Grand Prix.
"I'm really excited and very much looking forward to Brands," confirmed the hard-charging Kiwi. "It's probably the biggest weekend I've had to date and, hopefully, I can finish off the season on a big high – that's certainly the aim and I'll be giving it everything."
Despite the additional pressure, the young New Zealander says he'll be approaching the event like any other. With a six week break since the previous meeting at Donington Park, a shakedown test is planned with his Rodin Carlin team at the Snetterton circuit in the days running up to the finale. That is followed by two official Free Practice sessions at Brands Hatch on the Friday before all-important Qualifying on Saturday morning.
"My main objective is still to win races," said Sharp who has already racked up an unrivalled tally of five victories this season. "With 25 points for a win and 18 for second, there's a big points gain for finishing in front. That said, I also need to outscore Will, so in some ways that's also my main priority. If we can have a good qualifying session that will put us in top shape for the rest of the weekend. Ideally, I'll then be beating Will and getting more podiums and wins."
The fearsome Brands Hatch Grand Prix circuit is a fitting venue for such a thrilling shoot out, too. It is widely hailed as one of the most demanding tracks in the world and Sharp is certainly up for the unique challenges it presents having finished on the podium 12 months ago.
"It's one of my absolute favourites," he grinned. "The section out in the woods with all those high speed corners is really cool, especially when you hook everything up. It is so rewarding but, as there is no room for error, you need to be so precise with everything that you are doing – that's what I like about it."
Whatever the outcome, the highly promising Kiwi believes his second season in the super-competitive British F4 Championship has been another important step en route to his dreams of reaching Formula 1. Whatever happens a top two finish is guaranteed in a series which has attracted 27 of the sport's best young talents representing no fewer than 10 different nations.
"My learning curve probably hasn't been as steep as it was last year when I first arrived in Europe but, saying that, I've learned a lot about how to lead a team as, now in my second year, that's been my role at Rodin Carlin. I've also found out what it's like to fight for a championship and how to deal with all the pressures which comes with that. Both experiences should prove invaluable in the future."
While, perhaps, not career defining, Sharp knows the significance of having the prized British F4 title under his belt – it is a coveted crown won by Lando Norris in 2015.
"Winning the title would mean everything to me – not least as I'm a very competitive person and I don't like losing!" he admitted. "I've worked really hard this year and put everything into it. Thanks to the wonderful support I have from Rodin Cars, winning – or not winning – won't really affect plans for next year. However, when you start to get closer to Formula 1, it's nice to have titles on your CV as they will look pretty good to prospective teams."
Talking of F1, the highly promising Kiwi is also buoyed by what Liam Lawson has achieved since stepping up to the Grand Prix grid with AlphaTauri as a replacement for the injured Daniel Ricciardo. As a fellow New Zealander and another member of the Rodin Cars young driver team, Lawson was one of the first to greet Louis when the 14-year-old starlet arrived in the UK 18 months ago and he has been mentoring Sharp's progress ever since.
"Seeing Liam in an F1 car is definitely inspiring – he was in my shoes just a few years ago," admitted the F4 pace-setter. "Obviously it's very cool to know someone whose racing in F1. More so, as I'm close to him and he's a New Zealander with strong support from Rodin. It's proof this path can work out in the end if you keep working hard."
With both Lawson and Norris as role models, Sharp has his sights firmly set on winning the British title as the perfect springboard to even greater motorsport successes in the future.