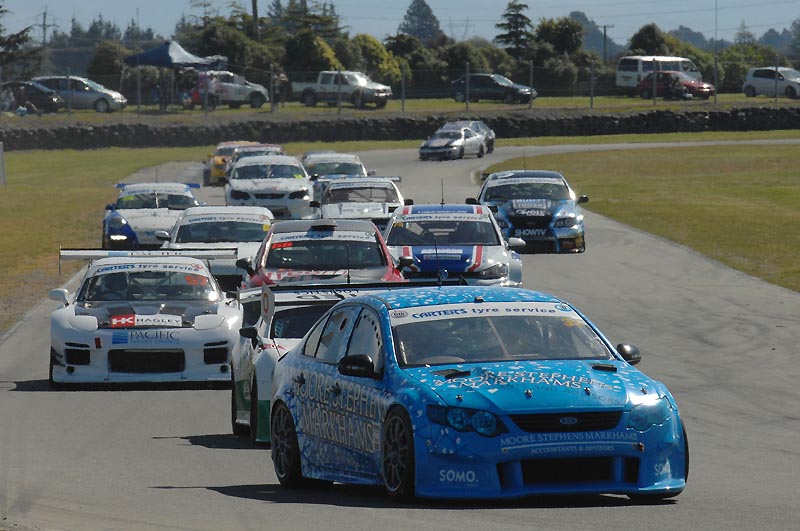 Lots to play out at Carters Tyres Endurance Series finale
Everything is on the line as the Carters Tyres South Island Endurance Series readies itself for this weekend's Grand Finale at the Timaru International Motor Raceway. The tight and twisty nature of the Levels circuit always produces close and exciting racing and expect nothing less for 2018. With an amazing 12 teams that still have a mathematical chance of taking out the overall 3 hour Series victory, spectators & fans can be assured that teams will leave absolutely nothing on the table as they fight it out for Series honours, pride and prizemoney as the Carters Tyres Endurance South Island Endurance Series comes down to the wire.
The 2018 series has provided some incredibly fast and furious racing to date, with both speed and strategy, plus some controversy, coming into play. A fast clear run at Ruapuna allowed the Neil Foster/Johnny Reid Audi R8 LMS GT3 to extend its Series lead, after a controversial finish at Teretonga seen both first and third places being disqualified from the race. A couple of solid finishes have left the Ben Byers/Jaxon Evans Audi R8 Ultra GT3 and the George McFarlane/Jack Milligan Porsche 997 GT3R tied for second overall, making it a winner takes all race for the podium. They are just ahead of the Scott O'Donnell/Allan Dippie Porsche 991 who sit 4th overall and lead Class D as they all vie for the prestigious South Island Endurance title.
It's a slightly reduced Class E – GT3 field for the Series finale, and with a reasonably healthy points lead the Series will be Fosters to loose. However Gene Rollinson replaces Johnny Reid as Foster's co-driver for Levels, so they will be hoping the new driving combination can click for the final.  The most likely to spoil the party will be the Byers/Evans Audi or the McFarlane/Milligan Porsche who will both be ready to pounce should the point's leader strike trouble. 2017 Levels 3hr race winner Dwayne Carter will be looking for some redemption at Levels. He is teamed up with current NZ 1 hour champion Shane Hodgson in the beautiful Mercedes SLS AMG GT3, but a waterpump failure seen them not start the Ruapuna round. So although out of Series contention the Carters team will be desperate for a strong points haul from Levels to qualify for the upcoming New Zealand championship event at Highlands and will undoubtedly throw everything at the final round of the season.
Class D is being led by Dippie/O'Donnell from the Paul Rickerby /Graeme Rhodes Falcon V8ST. Third in this class is the Marco Schelp/Matt Hamilton Porsche 997 Cup S who have been the pace setters of this class but have encountered significant issues at both previous rounds. They will be in a 4 way battle for 3rd in Class D with the beautiful GT4 spec Mustang of Rick Cooper/Deon Cooper, the Porsche 997 Cup car of Rob Williams/Phil Blythe and the second Falcon V8ST of Hamish Frew/Darryl Barrett that had a very embarrassing mishap on the warm up lap at Ruapuna resulting in them not taking the race start.
The battle in all the classes is equally as hotly contested, and Class C (3501cc+) is lined up to be an epic battle. The brand new Mazda RX8 V8 of Grant Williams/Ben Williams/Rick Matheson currently leads the class, ahead of the NZV8 spec Falcon of Kevin Underwood/Jordan Michels, however it's the class speedsters that have been down on their luck. The Craig McDermid/Scott McDermid Toyota 86 TT and the Ben Coffin/Sam Bushell Mazda RX7 V8 had an epic battle at Ruapuna until the front pulley came ajar on the Toyota 86, followed shortly after by a spectacular engine failure by the V8 RX7. Both these crews are working overtime to make the Levels round and the last shot to qualify for the NZ champs. Looking forward to their shot at having a home circuit advantage is the Holden Monaro of Bruce Tinnelly/Ryan Tinnelly who finished on the podium in class at Ruapuna and are within striking distance of snaring an overall class podium, so receiving the chequered flag is vital to all teams.
The awesome TCR spec VW Golf of Tim Mackersey/Barry Moore currently leads Class B (2001-3500cc) with a slender 10 point margin over the older spec Seat Leon Supercopa of Mike Driver/Simon McLennan. Third in points is Pat Heagney/Ryan Heagney's Toyota Sprinter Turbo ahead of the experienced combination of Ron Mackersey/Warren Good in another VW Golf Gti who sit 4th. Others in this class that could easily upset the apple cart if they can shake their previous bad luck include the immaculate BMW M3 Turbo of Shane Helms/Rob Bolland, the S1 RX7 of North Island visitors Tom Sutton/Mark Holland and the class spec Mazda RX8 of local heroes Jarrod Parmenter/Andrew Brunton. An exciting addition to Class B for Levels is the stunning BMW 235i of Wayne Leach/Paul Burborough in its New Zealand Race debut.
The 0-2000cc Class A is led by defending class champions Stu Black/Arron Black's BMW E46 WTCC from the Honda Integra of Darryl Phillips/Terence Phillips with the reliable wee Peugeot 106 of Tim Stanton/Leyton Tremain sitting 3rd in class. They are just head of the Michael Parkes/Rodney Parkes (Honda S2000) and the Grant Moore/Matt Moore Altezza who both recorded a costly DNF's at Ruapuna. The other team to have a wretched run this season are 2017 Rookie Champions Mark Taylor/Vaughan Moloney who are imperative for a good run in the Integra as they have a new car ready for debut at Highlands, should they make the top 20 cut off for the NZ Championship event. Returning for the Series final is the Toyota FXGT of Reon Hotton/Nathan Pilcher after sitting out the Ruapuna round and the familiar sight of the Ken Sinclair/Dennis Ham Peugeot 106
So with 95 points on offer, both the overall and class championships are far from sealed.  As with any endurance racing a slight misfortune either on the track or during their pit stops can make or break a driver's race and entire Series and with still so much to be decided the Levels race will be a real cliff-hanger. But the most important aspect is making the chequered flag and in endurance racing things can change in a heartbeat as a slight problem, mistake or DNF can have an immediate and dramatic effect on the standings. So as we approach the final round of the 2018 Carters Tyres SI Endurance Series there will be teams desperate to consolidate their championship positions, whilst others who are out of contention will throw caution to the wind in the pursuit of a class or race glory ans qualification points to the New Zealand Championship event at Highlands. And with the red hot pace the series has seen to date, will any of the contenders drop under the magic minute around the tight Timaru circuit as they also chase new lap and race records.
As well as bragging rights, the overall Carters Tyres SI Endurance series winner will be awarded the coveted 'South Canterbury Toyota Cup' and a share of the $30,000 prizemoney paid out across both the 3hr & 1hr series' thanks to Series sponsors Carters Tyres Services. There are many other awards and prizes up for grabs including $5000 cash spot prizes and a newly formed Rookie Cup with its purse of close to $2000. Other spot prizes include a set of Michelin race tyres, product from ENDLESS advanced brake Technologies, Accommodation vouchers from Lake Brunner Lodge and an original watercolour painting from renown artist Norm Sinclair.
Entries are still available for the 3hr race, and for more information on the South Island Endurance Series, entries, or to be added to the South Island Endurance Racing Drivers Club's e-mailing list, please contact Chris Dunn via e-mail at sierdc@xtra.co.nz  ph 021-107-9293, or information and updates can be found on their facebook page at www.facebook.com/sierdcnz . For more information on Series sponsor Carters Tyres please visit www.carterstyres.co.nz . Action starts from 9am Saturday and gate entry is just $15-00.
Media release: SIERDC
Caption: Graeme Rhodes/Paul Rickerby (#31 Falcon BF V8ST) leading the pack during the second round of the 2018 Carters Tyres Endurance Series (3 hour) at Mike Pero Motorsport Park Ruapuna – Christchurch, September 2018. 
Image: Euan Cameron