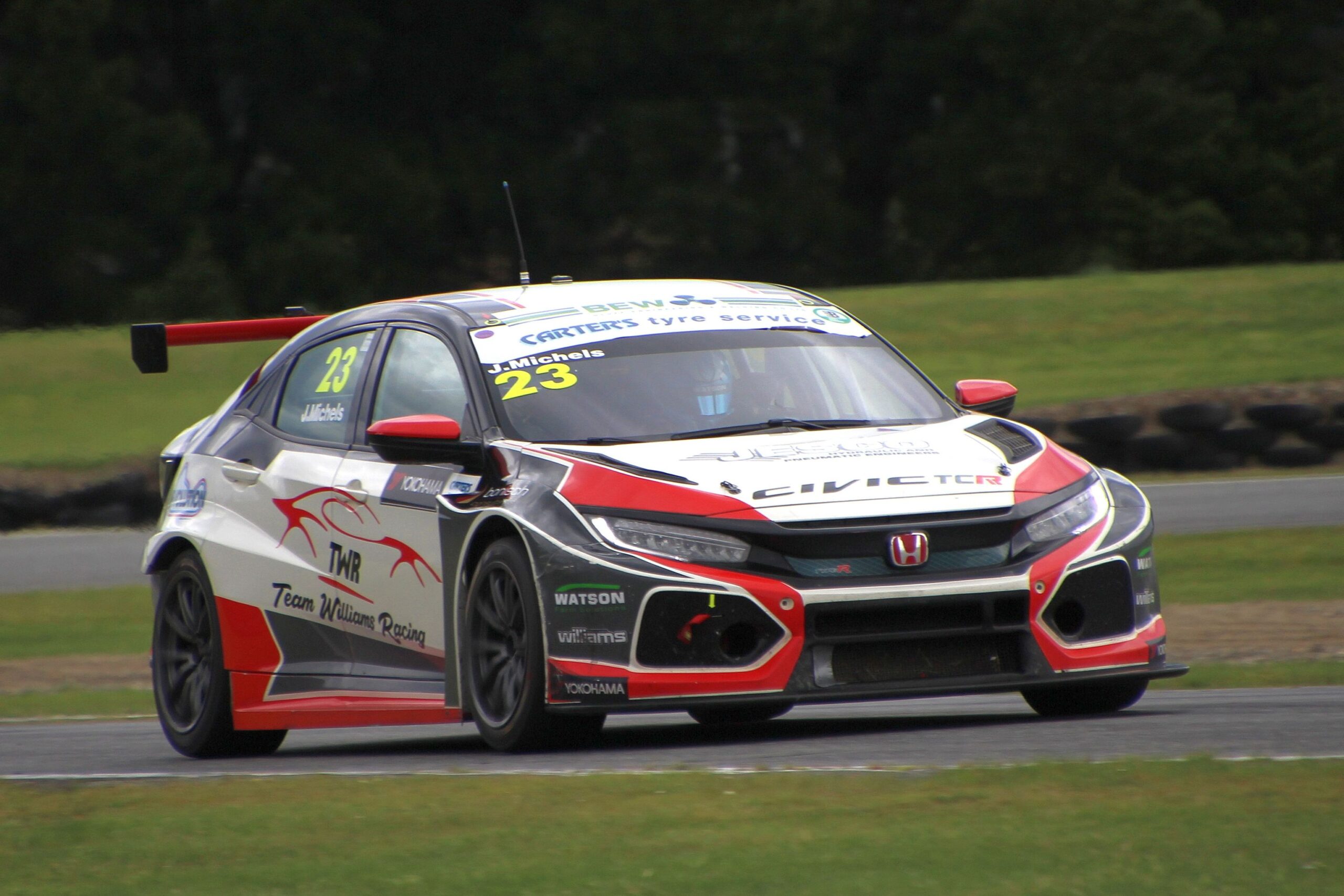 Loop claims trio at Teretonga Park
Three classes, three clear winners and three casualties. That was the story of the day as Liam MacDonald, Leon Hallett and Gregory Scott took the spoils in their respective classes on a day of motor racing action presented by Downer at Teretonga Park on Sunday.
However, while Hallett had a good day in his class, he ended the day with his car on its side at the loop in the Flying Farewell, one of three competitors caught out by the fast corner at the end of the front straight during the day, with Stacy Lines of Invercargill rolling his Toyota Corolla FXGT and Brent Cross of Winton (Mitsubishi EVO 3) also leaving the circuit there and tipping onto his side.
Two of the south's highest profile competitors, two-time NZV8 Champion Liam MacDonald and former NZ Formula 1600 Champion Jordan Michels, went head to head in the Noel McIntyre Drainage Group A Clubmans saloon races with MacDonald relying on the brute power of his Falcon while Michels was in his less powerful but more technologically advanced Honda TCR car.
MacDonald won both races from Michels with Dunedin driver Arron Black third in his BMW E46 in the first race and Jeremy Dawson third in the second after Black failed to finish.
In Group B Leon Hallett of Mosgiel won the first race in his Ford Capri Perana R from Rachael Beck of Invercargill (Fiat 850) and Ian McKenzie of Otautau in a Datsun Sunny. Beck led away in the second until the race was red flagged after Lines rolled at the loop. At the restart Hallett pounced to win again from Beck and McKenzie.
The class race featured another red flag when Cross had his incident at the loop. On resumption MacDonald and Michels fought it out at the front while Doug Munro of Invercargill in a Holden Commodore held off Black for third. MacDonald's win gave him the 2501cc & over class honours while Black took Class 3 (1601-2500cc). Class 2 (1301-1600cc) went to Bradley Dawson of Invercargill in his Toyota Trueno in fifth place with Class 1 (0-1300cc) going to Todd Blackmun of Invercargill in his Vauxhall Chevette.
The Flying Farewell also went to MacDonald, chased all the way by Michels with Black third.
As expected Gregory Scott of Dunedin dominated the Sports & Racing Car races in his Tatuus FT40, one of the original chassis' from the Toyota Racing Series. He was followed home in the first two races by Greg Millane in a Reynard 84F and Robin Williams of Riverton (Van Diemen RF92). Scott started from the back of the grid in the third but was soon in front leading Millane and Dave McKenzie (Begg FM3) across the line. It was Scott again in the Flying Farewell from Millane and Williams.
The next motor race meeting at Teretonga Park takes place over the weekend of 5-6 December.