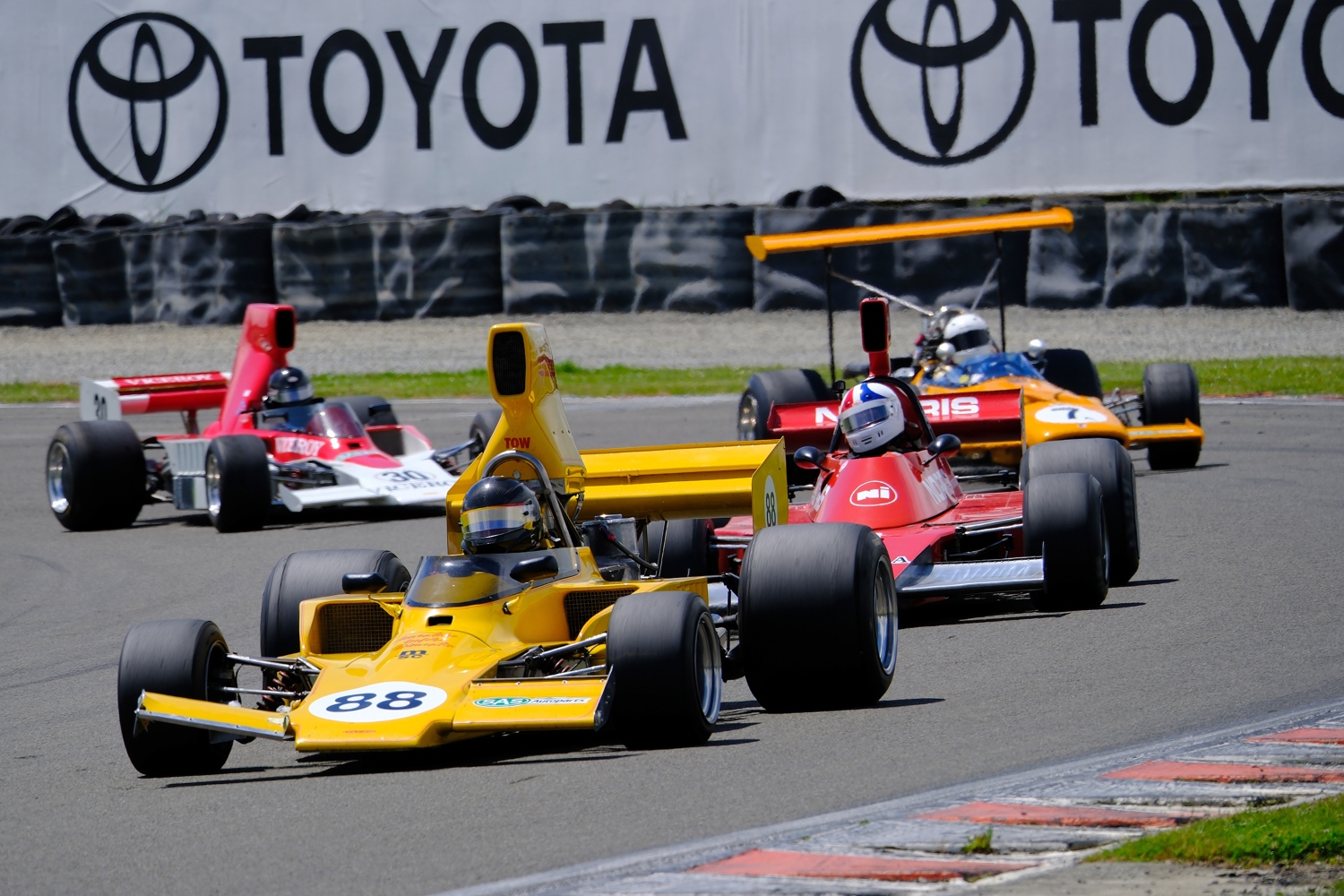 Lola's T332 again the F5000 to beat on NZ tracks
Lola's iconic T332 is back in the winner's circle at rounds of New Zealand's world-reknowned SAS Autoparts MSC F5000 Tasman Cup Revival series.
This time it was at the opening round of the 20th anniversary series for the ever-popular stock-block V8-powered historic 'wings & slicks' single-seater racing cars at the re-booted MG Classic historic motor racing at Fielding's Manfeild Circuit Chris Amon over the (Nov 12-13) weekend just passed.
There, in a virtual carbon copy of the performance which earned him his first pole/race win double (at the final round of the 2021/22 SAS Autoparts MSC Series at Taupo earlier this year) Feilding local Kevin Ingram claimed pole position with a best lap of 1.07.16 in the category's qualifying session (very) early on Saturday morning.
Then later in the day he stormed away from fellow front row starter Tony Galbraith (Lola T332) and the rest of the 12-strong field to cross the finish line ahead of third quickest qualifier Glenn Richards (Lola T400) who finally won his race-long battle for second place with Tony Galbraith on the last lap.
Not that far behind at the line meanwhile was Brett Willis who set the race's fastest lap with a time – of 1:06.77 – in his newly-finished ….Lola T332. And in fifth place was yet another ….Lola T332, in this case the ex-Graeme Lawrence car of Blenheim-based series stalwart Russell Greer, who gamely fended off the advances from a fired-up Shayne Windelburn (Lola T400) for the latter parts of the race.
Making a big impression a little further back in the field meanwhile, was Class A stalwart, Tony Roberts, who qualified his favoured 'high-wing' McLaren M10A 9th and crossed the finish line in the race in 7th place, keeping up with the likes of category new face Bruce Kett in his…..Lola T332!
As it turned out Kett's weekend in his newly acquired T332 was effectively snookered by a recalcitrant timing transponder which kept telling 'the system' that the car had stopped when it plainly had not and was still lapping quickly and consistently with the mid-pack bunch.
There was one dnf in the first race, Auckland driver Grant Martin (Talon MR1A), who snapped a gearbox input shaft as he was leaving the dummy grid.
Fortunately with a spare input shaft on hand, Martin and crewman Stu Lush were able to effect an immediate repair and make up for the dnf on Saturday with a confidence-boosting win in the second 6-lap (reverse grid) SAS Autoparts MSC series race on Sunday morning.
Martin's winning Talon ended up leading home Tony Galbraith in second place, with Kevin Ingram third and Brett Willis fourth.
To the final now and it wasa case of more of the same as a relaxed and confident-looking Kevin Ingram conducted another absolute masterclass in 'leading from the front driving.'
Neither Ingram nor his closest round rivals, Glenn Richards (Lola T400), or fellow Lola T332 runners Tony Galbraith and Brett Willis could ever be accused of a slackening of the pace at any stage of the 8-lap race, their fastest race laps all in the 1m05s bracket.
Also capable of cutting lap times like these was Race 2 winner Grant Martin (Talon MR1A) however, he ended up lucky to finish the event period let alone in P6 after running off the track at the hairpin late in the race and taking a long time to get back on it again.
And so, Lola's T332 is back as a race and round winner on New Zealand's thriving historic motor racing scene.
How long it can stay there is anyone's guess. Talk to Kevin Ingram however, and you will be left full of confidence.
"The car," he said on Monday, "is not quite what I would call perfect yet, but it is getting better and better as we constantly develop it."
The SAS Autoparts MSC NZ F5000 Tasman Cup Revival Serries is organised and run with the support of sponsors SAS Autoparts, MSC, NZ Express Transport, Bonney's Specialised Bulk Transport, Mobil Lubricants, Pacifica, Avon Tyres, Webdesign and Exide Batteries.