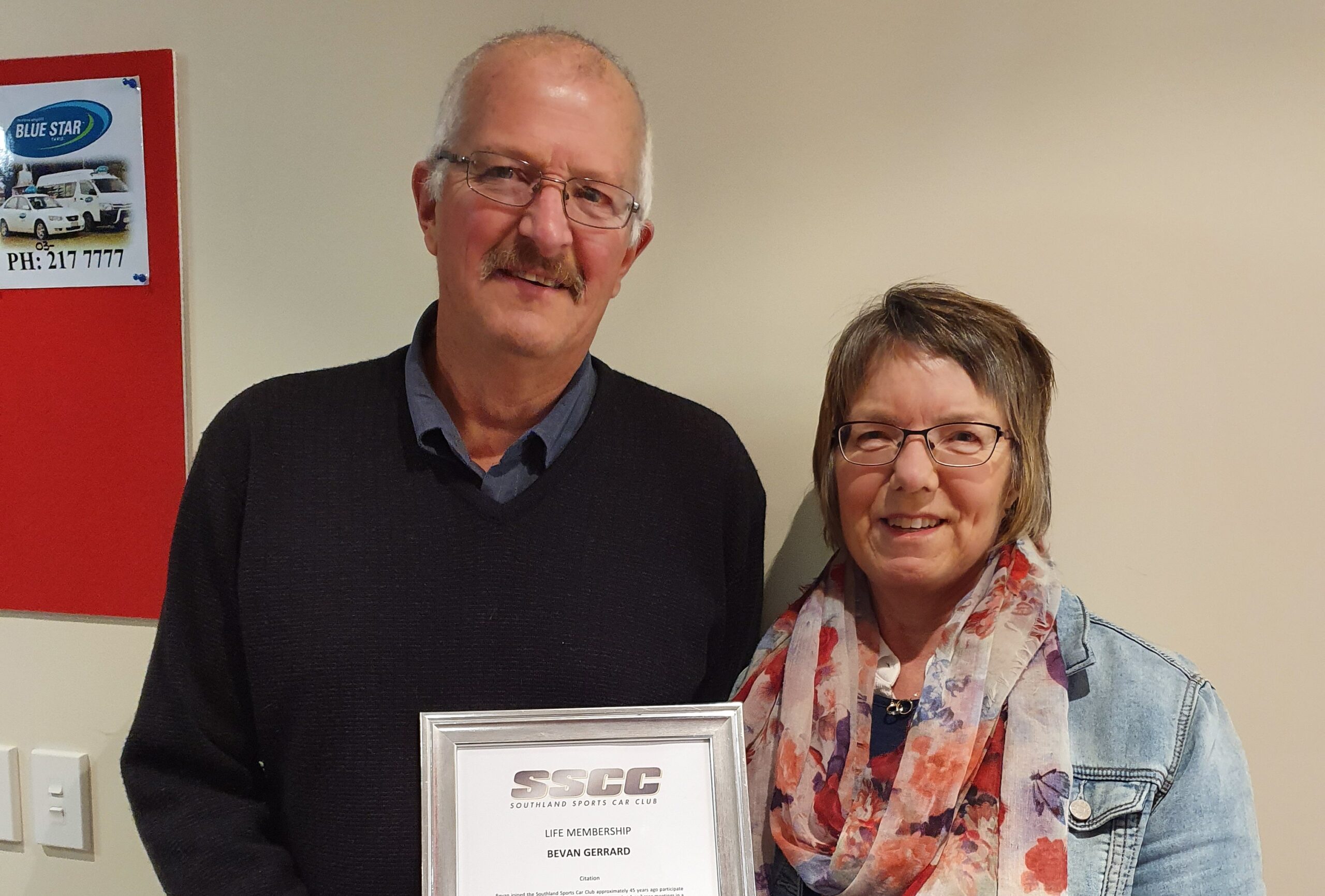 Life membership for Bevan Gerrard
Bevan Gerrard became the most recent Life Member of the Southland Sports Car Club after the organisation's 72nd AGM last week.
Gerrard, originally from Winton and now based in Invercargill, has been involved with the club for over 45 years after good mate Ray Galt got him involved initially.
"Car trials were a big thing at the time, we had one a month and we did alright," recalls Gerrard. He also competed in rallysprint and sprint events in a Ford Anglia that he and Galt built up while rallying was another discipline in which he competed both as a driver and co-driver with Galt and another club stalwart Rodger Cunninghame.
Once he stopped competing Gerrard became involved behind the scenes, firstly on crash crew duty before becoming Chairman of the Social Committee. "I don't know how I managed to get that job," he jokes. "We had all sorts of activities in those days." One tale told at the AGM related to a club working bee where Gerrard and Galt were tasked with building a brick wall. After completing the job, they went upstairs into the clubrooms only to hear the wall fall over. In his defence Gerrard remembers that "it was blowing a gale at the time."
Bevan became a member of the race committee in 1991, working in timekeeping and lap scoring and becoming Chief Timekeeper. Initially, stopwatches were used but in 1997 timing became computerised and Bevan had to become computer savvy.
Helping at the club became a family affair for the Gerrard family. Bevan's wife Liz, who he met through Galt (Liz had gone to school with Galt's wife), has worked with him in timing over all those years while the couple's children, Alice and Leon, both spent around ten years working in the timing team at the circuit.
The family also worked together on the club's rally events when Bevan was the Assistant Clerk of the Course. "The whole family would head off to the start of stages to perform start line duties," says Liz.
For the last nine years Bevan has been Chairman of the Race Committee which involves planning and organising the many race meetings held at Teretonga Park. It was a role I said I would do for "a couple of years," says Bevan.
On receipt of his Life Membership, Bevan acknowledged the support of his family particularly that of Liz who has worked alongside him as they have run the timing team together.