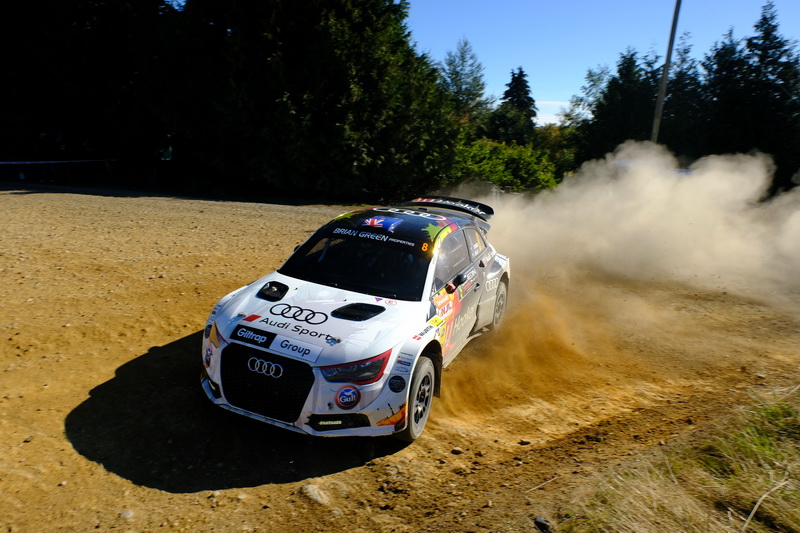 Kiwi stars to chase YouTube sensation in Whangarei
Leading Brian Green Property Group New Zealand Rally Championship combatants will test themselves against former WRC star and YouTube sensation Ken Block at this weekend's International Rally of Whangarei.
American Block will contest the two-day event in his Hoonigan Racing Ford Escort Cosworth having previously won the rally back in 2015.
He is no stranger to New Zealand having competed here on a number of occasions dating back to 2007 and has made no secret of the fact the thinks these roads are the best in the world.
Subaru driver and current NZRC championship leader Ben Hunt will lead the charge of the local drivers that will take it to the Gymkhana star.
Hunt was impressive after dropping some early time at Rally Otago three weeks ago and fought back to claim a comprehensive first-up win. Dylan Turner impressed as well, particularly on the Saturday, and comes to Whangarei second in the standings.
Previously NZRC rally winners Andrew Hawkeswood (Mazda) and Emma Gilmour (Suzuki) will be pushing hard to catch up and are more than capable of winning as are the likes of Raana Horan (Skoda), Josh Marston (Holden) and Phil Campbell (Ford), who will be chasing a break-through victory.
The overall 2WD battle looks a mouth-watering prospect with Otago winner Marcus van Klink (Mazda RX8) looking to protect his championship lead over fierce rival and good mate Regan Ross (Ford Escort).
Four-time NZRC champion Bruce Herbert (Mitsubishi Lancer EX), Anthony Jones (Ford Escort) and Jeff Judd (Ford Escort) should all feature as part of that battle while Irish YouTube star Frank Kelly will also find himself in the mix in his "Baby Blue" Ford Escort.
Mike Sheehan, who earned a break-through win at Otago, and Robbie Stokes will continue their battle in the FIA Group N 2WD class – both driving Ford Fiestas.
Van Klink, Herbert and Jones look the most likely to fight out the Open 2WD class while Ross and Judd headline the Historic 2WD category.
The Gull Rally Challenge contest was competitive in Otago. Ben Thomasen (Subaru) made a stunning return to the championship and claimed victory in the 4WD category but he should be pushed hard by Matt Jensen (Mitsubishi), Brynley Smith (Mitsubishi) and New Caledonian Eugene Creugnet (Mitsubishi).
The Gull Rally Challenge 2WD should see the Toyota Starlets of Daniel Alexander and Wayne Rowberry leading the way with Andrew Gillies (Toyota Levin) also in the frame.
Phil Collins (Audi) will look to back up his win in Otago in the Stadium Finance Group A Challenge
ENEOS International Rally of Whangarei gets underway on Friday night with a ceremonial opening in downtown Whangarei before the famous Pohe Island super special. Competitors head north out of the city on Saturday for eight special stages before a further eight stages south of Whangarei on Sunday.
Media release: Rally New Zealand
Photo: Geoff Ridder