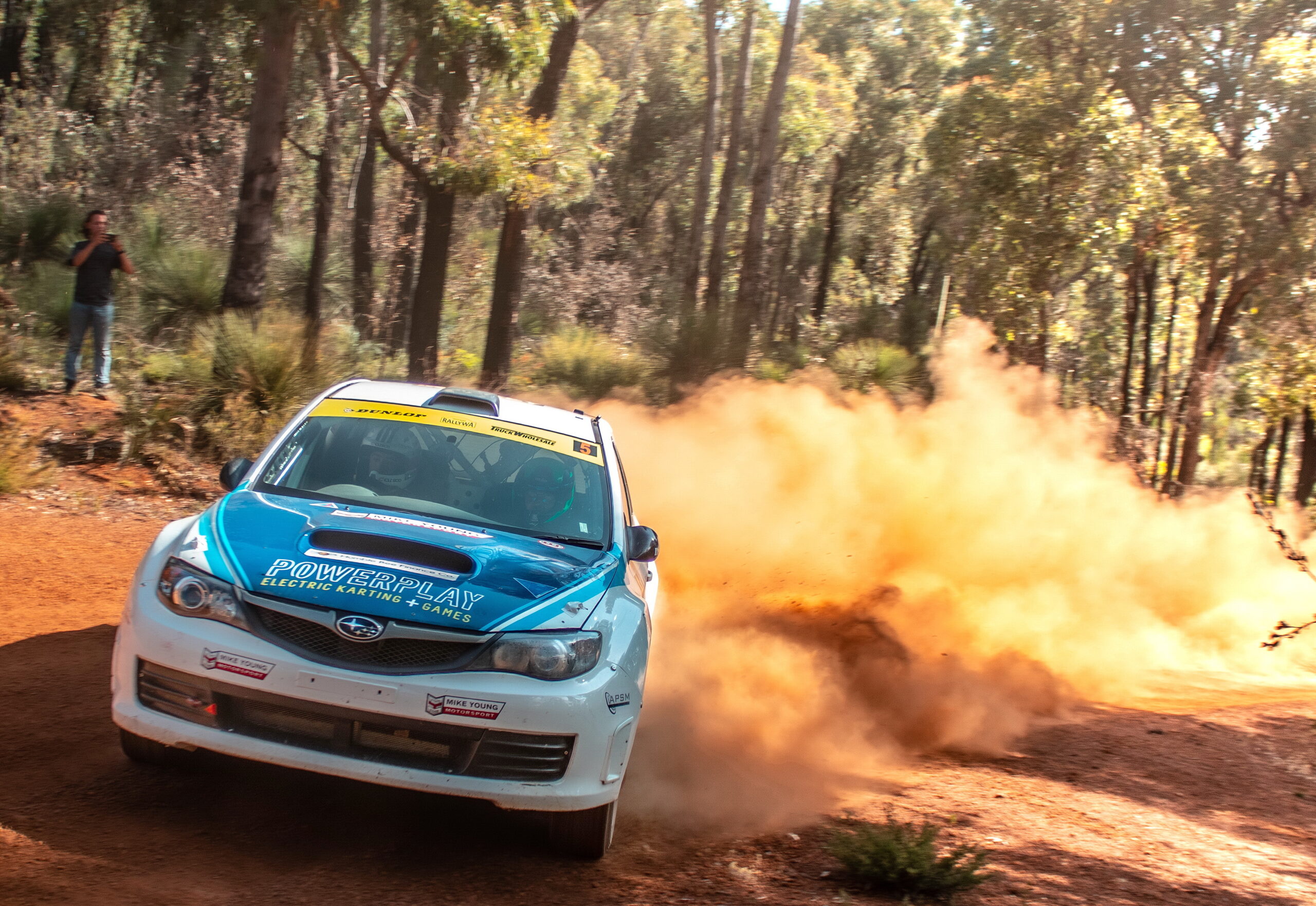 Kiwi Mike Young and Beckwith come from behind to be crowned West Australian Rally Champions
Mike Young and Scott Beckwith have clinched their first Western Australian Rally Championship amidst a dramatic year of COVID-19, close finishes and last-minute entries.
What began as a one-off event at the Forest Rally in September, quickly turned into a stunning championship-winning season. Young's clean sweep of victories proved his driving class, while also proving the speed and reliability of his Maximum Motorsport Subaru.
Heading into yesterday's Safari Darling Rally, Young's absence at the championship's first event meant he still had to rely on his rivals' results while also winning the event himself. Fortunately for Young, however, luck was on his side early in the Jarrahdale event.
On the first stage of the event, championship leader, and three-time WA champion, John O'Dowd, crashed out of the event, destroying his Skoda. "It was sad what happened to John, and while it made it easier for me to win the championship, it was pretty nerve racking, as I still had to stay ahead of Ben (Searcy) and finish the event," Young commented.
The Darling Safari Rally is a unique event in the championship, with no 'pace notes' allowed, meaning drivers are reacting to the road ahead as they see it, rather than relying on their notes from reconnaissance. "It was definitely very interesting doing a blind rally and no pace notes," he said. "I went out and committed early on, as much as I could."
From that point on, all Young and Beckwith needed to do was win, and win they duly did. It wasn't all plain sailing, however.
"We managed to build a one and half minute gap over the first four stages, which is just as well – we had a small issue in stage five," he explained. "It was very dusty and I lost where the next corner was and planted a tree stump head-on. "I thought everything was all over as I was sure I'd smashed up the radiator – throwing away the championship. Luckily for Scott and I, the Maximum Motorsport Subaru has got a nice big bar on the front that protects the radiator from any damage. We were able to continue, and only lost 20 seconds or so."
From that point on, Young and Beckwith sealed their victory and the illustrious state title.
"A big thank-you to the team and Scott for their contribution this year," Young added.
"We hadn't planned to do all the rallies, but once we won the first event, we thought we'd better continue! "I want to say a big thank you to Maximum Motorsport for making the opportunity possible," he concluded.
Co-driver Beckwith was ecstatic with the result. "We went into today needing some luck and things to fall our way, and the rally Gods smiled in us twice. Very disappointed for John and Toni, but it gave Mike and I the opportunity to win the championship. And then we had a little off ourselves and got away with it, so a few heartstopping moments!"
"This is the realisation of a lifelong dream for me" said Beckwith. "Until three months ago I had never won an event outright, and now Mike and I have won three and the championship. We are very excited, and very grateful to the Maximum team and all our sponsors who made this possible."
While Young's 2020 rally season is finished, the Asia Pacific Rally Championship regular will turn his attention to next season's rally plans, and with his experience growing, he will be looking for another strong and successful season.
Mike Young Motorsport has been sponsored this year by Cusco, Dunlop, Maximum Motorsport, Morley Tyre Centre, Humble Bee Finance, Montague Partners,Powerplay Perth, Dunsborough Holiday Homes, GO Logistics, Yoda Rallying and APSM.