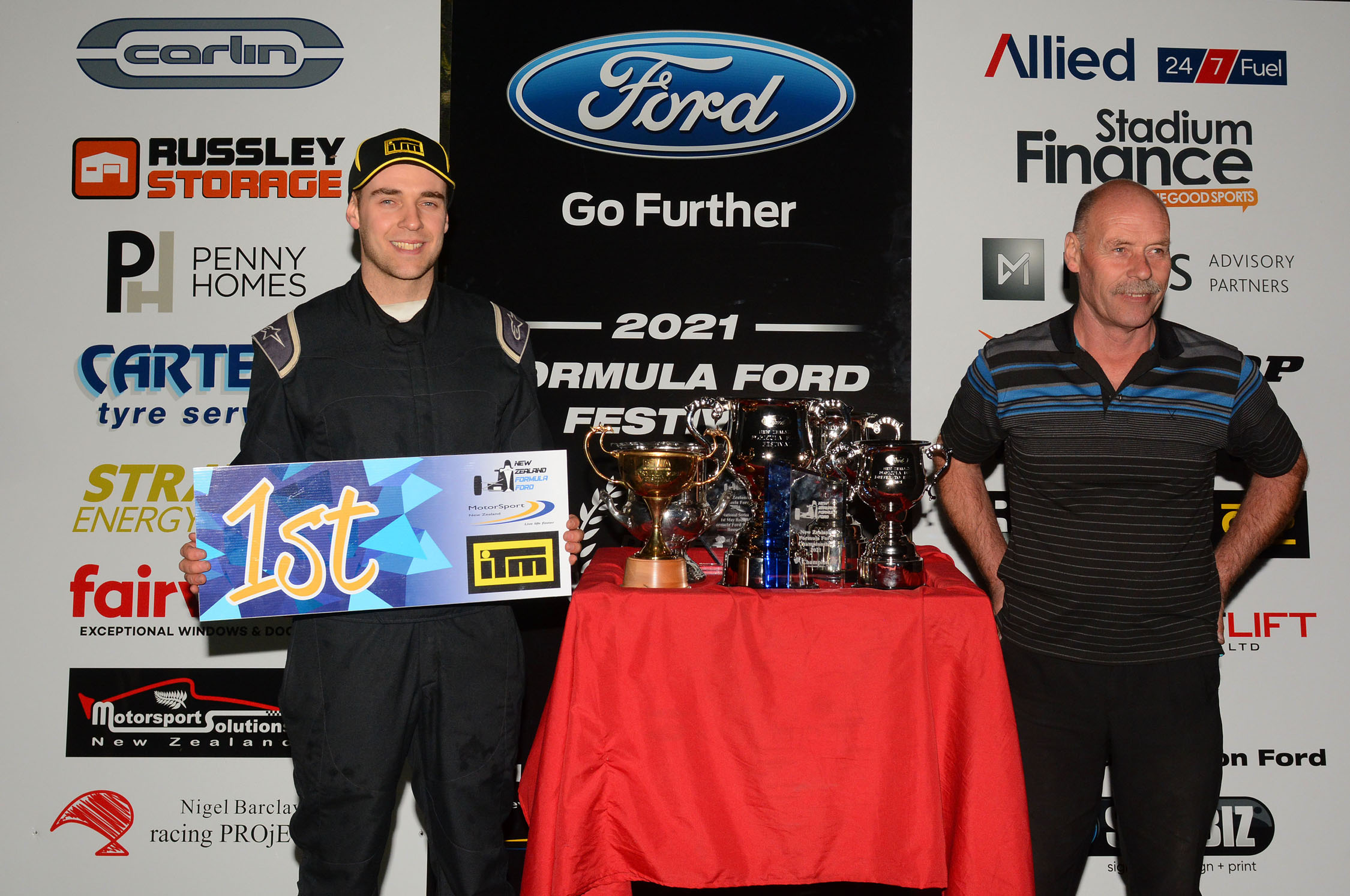 James Penrose wins Ford NZ Festival Trophy
Local driver James Penrose (Van Diemen Stealth) has cleaned up the competition at the Formula Ford Festival in Christchurch on Saturday, not only winning the 2021 NZ Formula Ford Championship but also the final winner-takes-all race of the day with the prize of the Driver to Europe program for 2021 and a Formula 4 test with Carlin.
Held at the Mike Pero Motorsport Park in Christchurch, nearly 70 cars took part in the celebration of the 40th anniversary of the South Island Formula Ford Club and 50 years of Formula Ford racing in New Zealand.
Penrose initially stamped his authority on the one-day meeting setting fastest time in qualifying for Class 1 and 2 cars which also incorporated the final three races of the 2021 NZ Formula Ford Championship. His title rival and overall points leader heading into the round, Matthew McCutheon (Van Diemen Stealth) from Auckland, was on the backfoot starting ninth on the grid. Penrose went on to win the first race, albeit under yellow-flagged conditions, from Zac Christensen (Ray G20) and Blake Evans (Mygale SJ12011A) with McCutcheon home in sixth, relinquishing the points lead to Penrose.
Setting the fastest lap time in the opening race gave McCutheon pole position for the second race. Penrose got the jump at the start and led McCutcheon home from Turn 1 for his second win of the day. Third was Blake Evans from Rotorua ahead of Cantabrians Christensen and a hard charging Jacob Douglas (Van Diemen RF91).
McCutcheon was on pole for the final 10-lap race and again, Penrose took the lead on the first lap with a 'never-giving-up' McCutcheon chasing him down to the chequered flag. Third home was Christensen ahead of Douglas and Evans.
"It's been such a good season with Matty (McCutheon)," commented the newly crowned champion, Penrose. "He's one of the hardest racers I have competed against. I was just so happy when I crossed that line and just so thankful for the work my father (Tom) and the sponsors have put in over the season."
Despite three separate safety-car periods, Penrose then went on to win the final Ford New Zealand Festival Trophy race for the fastest 26 cars + four wildcards from the rest of the day. McCutcheon came in second ahead of 1994/95 NZ Formula Ford title winner Shane Drake (Van Diemen RF93), Christensen, Doran and Kyan Davie (Spectrum). The win was typical of Penrose who was able to withstand the pressure of fellow competitors, particularly at the restarts on cold tyres, maintaining his race lead and creating a gap to those behind.
In attendance was first time winner of the 1971/72 NZ Formula Ford Championship, David Oxton. "We have seen it through time, that there has been plenty of three to five-year categories, particularly with tin-tops in NZ," said Oxton. "Yet nowhere in the world has there been such a successful formula with the original (Ford) Cortina engine that has been used right from the start.
The number of drivers it has created, the number of friendships it has built, skills it has taught, sponsors it has introduced it is absolutely phenomenal."
All competing cars were split into six different classes. Group 1 featured current Class 1 (post 2000) and 2 (1991-1999). Three different groups made up the Historic Class 3 (pre-1989). Group 2 featured pre-1978, Group 3 1979-1983 and Group 4 1984-1989. Invitational, modified Formula Ford, Formula Ford 2000 and historic sports cars competed in Group 5.
Matthew Hamilton (Royale RP21) won the combined Group 2 and Group 3 race from Andy Downs (Lola 642E) and Noel Woodford (Dulon MP15).
Marc Doran (Ray 86F) won the Group 4 race from Grant Milligan (Van Diemen RF88) and Graham Dickie (Lola 644E).
John Williams (1986 Crossle) won the first Group 5 race from Ian Clement (Reynard 84F) and Steve Donaldson (Royale 1975).
Unfortunately, several races were punctuated by both yellow and red-flags which saw an early end to the Group 5 second race and both combined Group 2,3 and 4 races.
Penrose will now plan to head to the UK to take part in the 50th running of the world-famous Formula Ford Festival at Brands Hatch in Kent, England. Low Dempsey will provide a car and professional services for the Brands Hatch Festival in 2021. This has been organised by John Crawford from Motorsport Solutions in NZ, in conjunction with Ray Racing Cars, UK.
While in the UK, there will also be the opportunity to test a Formula 4 car with Carlin and a visit to the Bruce McLaren Formula One Team, a prize organised by Motorsport New Zealand.
The Driver to Europe prize has been brought about by the support and sponsorship of so many, including Ford NZ Ltd, Motorsport NZ, Allied Petroleum 24/7, Russley Storage Christchurch, PENNY Homes Ltd, McElrea Hire, Stadium Finance, Carter's Tyre Service, Miles Advisory (AUS), Mark & Bobi Petch, Stratos Energy, Smartlift Systems ChCh, Fairview Aluminium Chch, Kiwi Rail, Dunlop NZ, Motorsport Solutions and Sign Biz NZ.