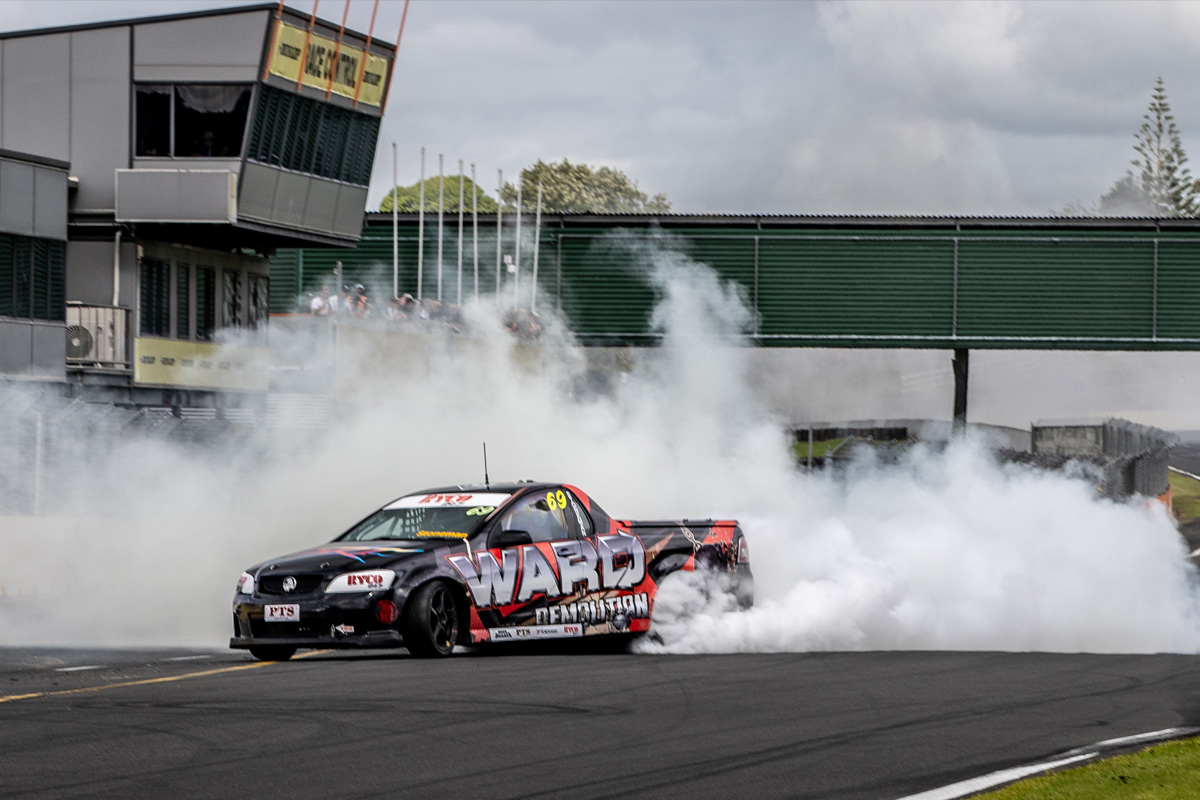 Jake Stoneman wins V8 Utes round in Pukekohe's flying farewell
Sunday morning began with grey skies and heavy hearts knowing this was Pukekohe's last day of motor racing – ever. Race 2 for the RYCO 24•7 V8 Utes was a 12-lap, reverse grid format, meaning yesterday's front runners were the back markers, setting the scene for some frantic overtaking.
As the lights went out, Stu Monteith and Bruce McRae led the pack. But back in the midfield, Jake Stoneman, who'd started 9th, snuck down the inside of Simon Ussher – onto the grass and into contention. Just a few corners later, Greg Kroef spun on turn three and into the wall, prompting a safety car.
As tyres cooled, the restart was sure to be a heated affair. The safety car moved off and David Lowe overtook Stu Monteith for the lead, but Jake Stoneman in the Ward Demolition ute was charging through the field with Glen Collinson in tow. Also on the move was Brad Kroef, leaving yesterday's vibration issues and the midfield behind him, and was up to 4th.
By lap six, Jake Stoneman ultimate took the lead with Glen Collinson in his slipstream.
After twelve incident-packed laps, that's how positions remained as Jake Stoneman held on for a well-deserved win over Glen Collinson, with David 'Shaggy' Lowe in third. The weekend's points race was a different story as Jake and Glen were tied with one win and one second place each.
That meant it would all come down to Race Three. Glen Collinson got away quickly with Jake Stoneman clinging onto his tailgate, just ahead of a much-improved Simon Ussher. With so much at stake and after several good finishes, Phill Ross was pushing hard in fourth. Maybe pushing too hard, as it all came unstuck on turn three as Phill spun off and brushed the tyre wall. He re-joined the race in last and limped along with probable steering damage.
Up front, things were heating up. Glen Collinson was stretching his lead over Jake Stoneman, both lapping in 1.17's – close to their qualifying pace. But Jake wasn't giving up. It took a brief mistake from Glen on lap nine, his rear end slipped away and with it, his lead. Jake pounced, leapt to the front and held on till the chequered flag. The last lap, however brought some drama for Jeremy Hunt, who hit the tyre wall on turn three coming onto the back straight, leaving him parked on the grass.
As for the championship overall, Brad Kroef still leads but Phill Ross's consistency has moved him up to second, with Greg Kroef solidly in third. The two-brand Holden-Ford battle saw Holden beat Ford, in what would be Pukekohe's last ever grudge match between these two iconic brands.
Further evidence of the pace of the RYCO 24•7 V8 Utes' pace was in the 'Hamilton Asphalts Flying Farewell' – one of the last races of the day – and of the circuit. Paul Fougere in the #57 Napa Holden ute stormed through the field of all-comers to a hard-fought third place. So as the sun sets on 60 years of racing history at Pukekohe, the RYCO 24•7 V8 Utes helped give this iconic venue a sensational send-off.