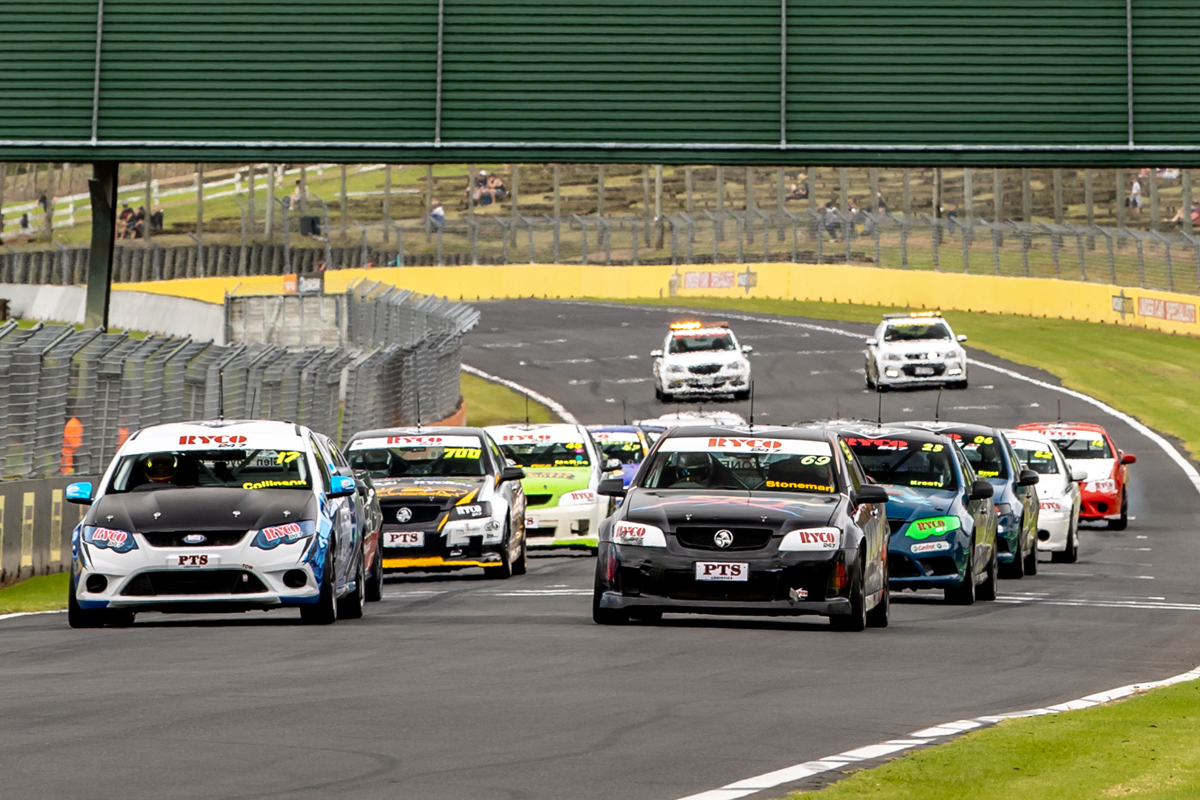 Glen Collinson tops V8 Utes Qualifying and wins Race One
As the sun sets on the 60-year legacy of the Pukekohe motor racing circuit, the RYCO 24•7 V8 Utes are giving the iconic venue a fitting send-off. As a bumper field of 15 utes rolled into Friday's practice, brand new graphics and refreshed panelwork on several utes showed the teams are getting serious.
Glen Collinson proved his ute wasn't all show and no go, the bright blue Betta Auto Parts Ford FG ute topping the qualifying session with a 1.16.697, with Jake Stoneman racing in Peter Ward's championship-winning Holden barely a tenth of a second behind. The big mover, however, was the United Movers ute of Simon Ussher, snapping at their heels with a 1.17.029 – a huge step forward from previous rounds.
So as the utes lined up for Race One at 2.25 pm, increased cloud cover meant the track was cooling. As the lights went out, a moment's hesitation from Glen Collinson as he forgot an upshift allowed Jake Stoneman to gain ground and Simon Ussher to duck inside on Turn One to challenge for the lead. But by Turn Two, Collinson had regathered and had firm grip on first place – a place he wasn't going to relinquish without a fight. Back in the midfield David 'Shaggy' Lowe clipped Bruce McRae and gained a place.
Come lap two, it was a two-horse race at Pukekohe Park with Simon Ussher unable to reign in the dueling duo of Stoneman and Collinson.
Meanwhile not far behind the lead pack, things were considerably closer as three construction company-backed entries were battling it out. Phill Ross, sporting bright new yellow/black C & R Construction graphics, was clinging onto the rear bumper of the Heron Construction Ford FG of Greg Kroef, with son Brad close behind. By lap 7, Phil had overtaken Greg to capture 4th place, while race Round One winner Brad had to settle for sixth overall.
While Stoneman was throwing everything he could at Collinson up ahead, several recent additions to the RYCO 24•7 V8 Utes field were finding their mojo in the midfield and improving on their Qualifying positions. Brent Main leapt two places from his 10th Qualifying place to 8th, David 'Shaggy' Lowe moved up one place to 7th, the casualty was Bruce McRae slipping from 7th qualifier to 10th finisher. Stu Monteith, having rectified power steering issue that relegated him to 14th in Qualifying, stormed through to 9th – nonetheless he'll be disappointed after his fourth place in Round One at Taupo.
So as Glen Collinson took the chequered flag over Jake Stoneman, Daniel Ludlam limped into the pits with coolant leaking and probable engine damage, so he'll switch to Blair's #14 Ford BF for Race Two tomorrow. Meanwhile the Heron Construction crew is busy searching for the source of a vibration that has hampered the 06 Ford of Brad Kroef. With Race Two at 9.47 am Sunday morning, it'll be a busy night.