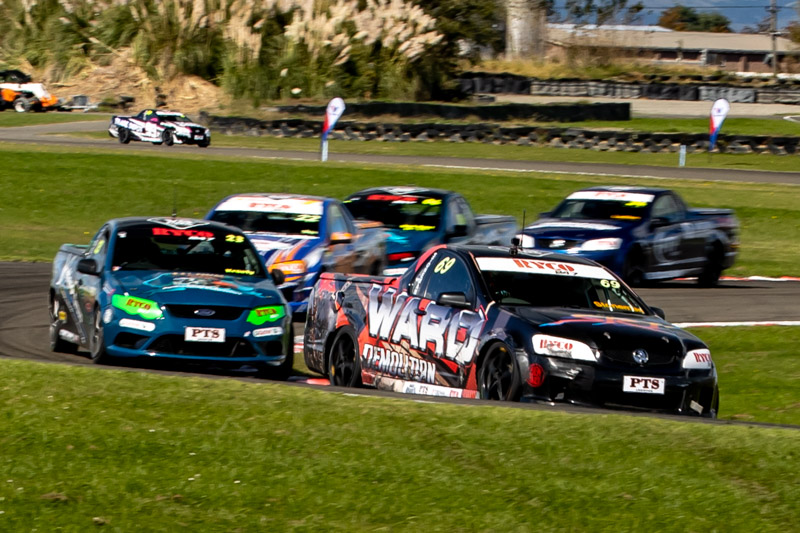 Jake Stoneman wins, Brad Kroef still leads the championship.
It was an early 8 am start at Manfeild with the RYCO 24•7 V8 Utes Qualifying being the first event of the day. Winner of Round Two Jake Stoneman posted the fastest lap, but the big surprise was Daniel Ludlam securing second having stepped up to the ex Shane Dias Holden. With eleven utes qualifying a mere four seconds apart, the scene was set for some intense battles during the afternoon's racing
As the sun kept shining for Race One, some emerging talents shone through. The 8-lap race had upsets and excitement right from the start and showed how closely-matched the RYCO 24•7 V8 Utes have become.
As the lights went out, pole-sitter Jake Stoneman had a perfect start, shooting off the line to stay in front. Third qualifier Greg Kroef stamped his authority on the race early, slipping down the inside of Daniel Ludlam to secure second place on the first corner. Further back, Stu Monteith in the Trade Depot Holden wasn't as quick off the mark, missing a gearshift – fortunately Paul Fougere right behind him missed Stu.
As a dogfight between Jake Stoneman and Greg Kroef unfolded up front, sixth qualifier and championship leader Brad Kroef soon found a way around Simon Ussher. He then proceeded to get past Daniel Ludlam, then Geoff Spencer – a veteran of the series who is back after an extended break.
Despite some aggressive moves from Greg Kroef, Jake Stoneman held on to keep the Ward Demolition Holden in the familiar position of first. After working overtime with overtaking, Brad muscled his way up the finish third, keeping his championship hopes alive. After the race, as sweat poured from his face, Greg Kroef reflected, "That was insane, that was intense". Further back, Phill Ross in the C & R Construction Holden finished seventh, so slips to third in the championship – just one point behind Greg Kroef.
Daniel Ludlam claimed fastest lap with 1.20.013 in the Race Gear Rentals Holden. As for close racing, the first seven utes finished just 6.67 seconds apart, making for great spectator viewing and spectacular TV broadcast live on Sky Sport and Fox Sports. The battle lines are drawn for the reverse grid Race Two Sunday morning at 8.30 am. Set your alarm early.