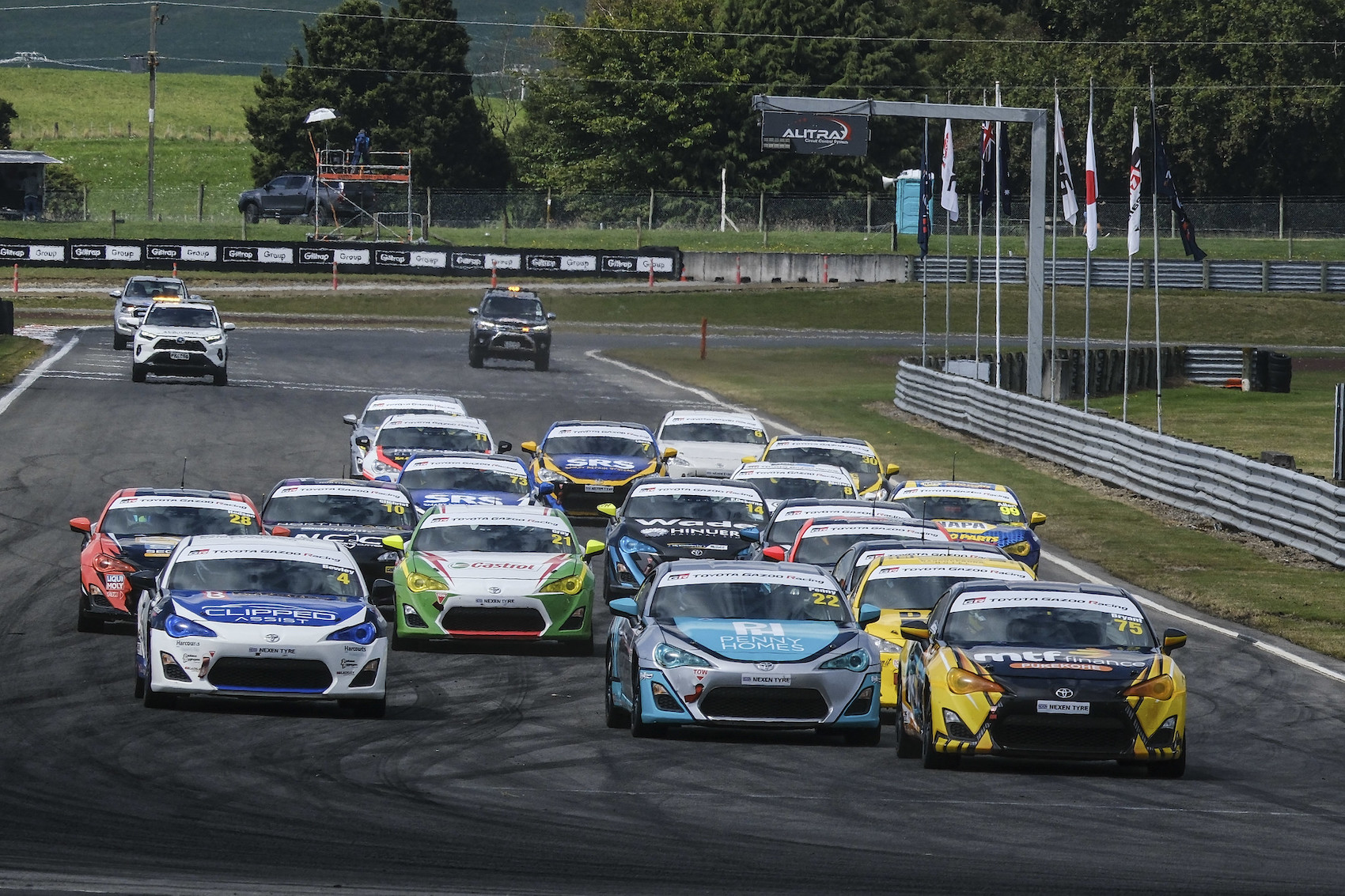 Toyota 86 Championship heads to the Manawatu for first time since 2021
He may have a 90 point lead in the Toyota 86 Championship, but there's not likely to be any change in strategy this weekend from series leader Brock Gilchrist at the penultimate 2023 round at Manfeild Circuit Chris Amon.
Gilchrist has taken this year's championship – the tenth for the Toyota 86 in New Zealand – by the scruff of the neck and dominated. And he's done it with impressive maturity for a driver who is still just 19, winning when he has the opportunity and still taking major points when victory has been one step too far.
He's shown devastating form in the reverse top ten races too, showcasing a rare ability to fight his way through the faster half of the big TR86 field to still take race wins and podium places. The strategy from the Matakana racer has simply been to take one race at a time and maintain a routine and it will be more of the same this weekend.
The championship last visited the popular Manawatu circuit back in 2021 and Gilchrist had a solid weekend with three fourth place finishes, but the chances are he's going to be higher up this weekend, especially as the gap year means many of the field don't have any race experience with their TR86s at the track.
Hot on Gilchrist's heels, however, is sure to be Clay Osborne, whose brilliant second season in the category has been somewhat overshadowed by Gilchrist's dominance. With a few laps under his belt after practice on Friday, Clay might just be a good bet for a first victory.
It's been an up and down season so far for Dion Pitt, currently third in the points table. There's no doubt that on outright pace he's got the goods to match the best of them, but consistency is where Dion has been lacking this season. A strong weekend at Manfeild could set up a good run-in to the end of the season.
Consistency has been the one ingredient missing from Justin Allen's campaign this season and the experienced racer will be super keen to prove he can nail it at his home track this weekend. He's done some miles at the circuit this season in club racing and it could be that this is the weekend when he reminds everyone just how quick he is. Third in the championship chase before Taupo, but currently fourth, he'll be highly motivated to score big this weekend.
A resurgent John Penny won at his home track – Taupo – last time out and he was on the outright pace for much of the weekend. Expect the same from the series' oldest competitor again at Manfeild, a circuit he knows like the back of his hand. Watch out too for Christina Orr-West. In 2021 she became the first lady to step on the TR86 podium with a fine third place finish in the second race and always goes well at the track.
Of the rest Katikati sprint car racer turned circuit ace, Ayrton Hodson, made an enormous step forward at Taupo, vaulting to the front of the field and even leading the first race after putting his car on the front row of then grid. He'll be super keen to maintain and build on that form.
Rookies William Exton and Tom Bewley will be out to impress this weekend aswell. Exton has looked close to a race win on occasion and Bewley is still hunting for a second win after his impressive debut weekend at the Highlands Motorsport Park in January.
It all begins with Friday practice before Saturday morning qualifying and the first race of the weekend on Saturday afternoon. The top ten finishers of that race form a reverse grid for race two on Sunday morning with the final feature race on Sunday afternoon. All Sunday races will be featured live on SkySport.