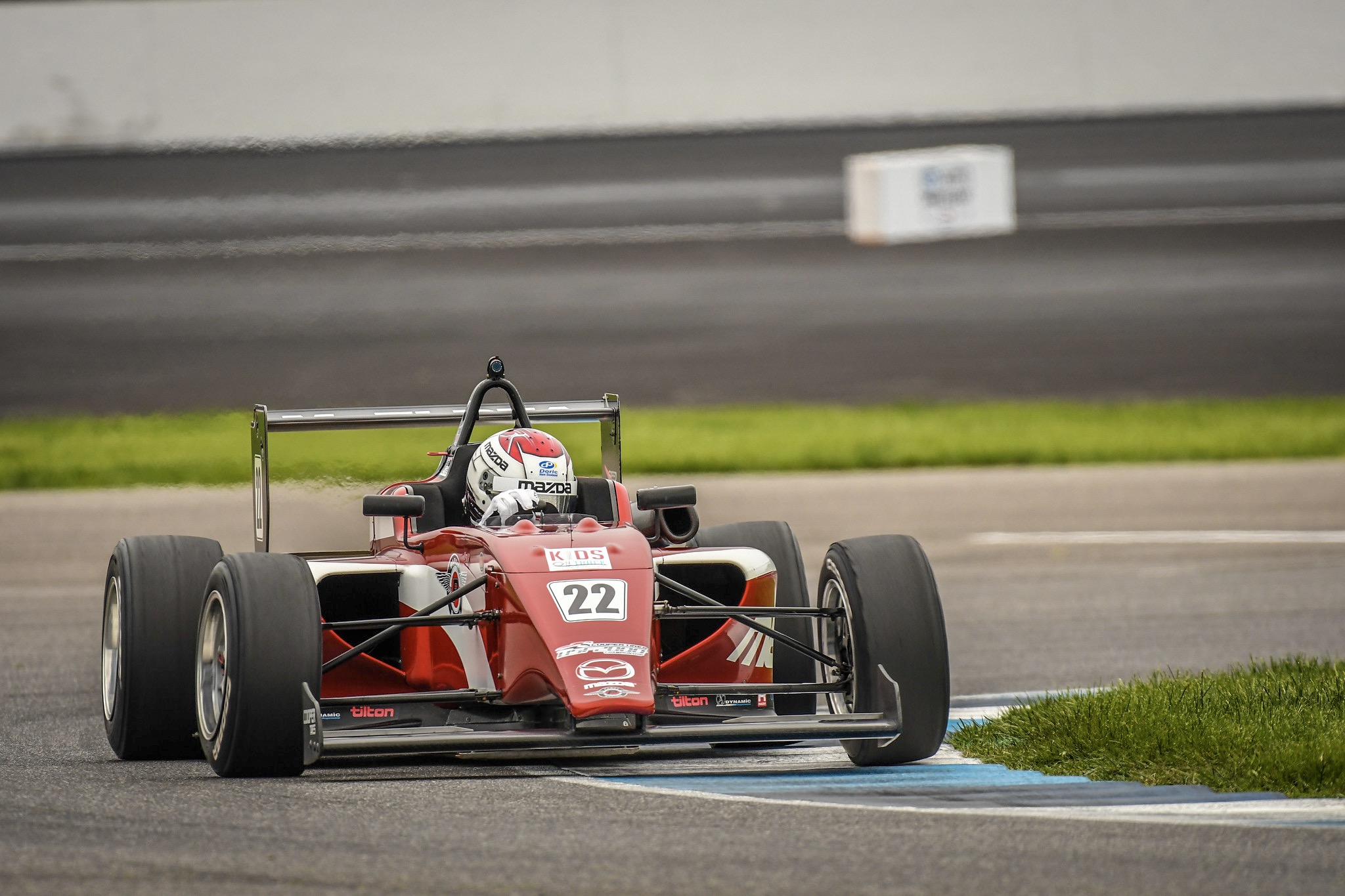 Hunter McElrea Continues Stellar start to 2019 USF2000 Championship Campaign
2018 Australian Formula Ford Champion Hunter McElrea has continued his strong start to his 2019 season, with the young New Zealander claiming another double podium at the famed Indianapolis Motor Speedway Grand Prix circuit, for Rounds 3 & 4 of the 'USF2000 Championship presented by Cooper Tires'.
After qualifying his #22 Pabst Racing/Mazda Scholarship car a strong 3rd for both of the weekends races, Hunter went on to put on a spectacular showing in Race 1. After moving up into the 2nd off of the start, McElrea was able to pass to the lead and control most of the race. A small mistake on the last lap meant the lead slipped from Hunter with less than half a lap to go, meaning the young gun would finish Round 3 of the Championship in 2nd position.
"It was a good race but the last two laps were pretty hectic. I got past Braden for the lead and held it pretty comfortably until I made a mistake and he was able to get back by. I was able to get him on the outside in Turn One but gave him too much room in the Esses on the last lap. I hated to lose the lead on the last lap, but it's good points so I can't be too disappointed. But to drive my hardest and do 90 percent of the work and to lose it on the last lap like that is seriously crushing. I'm happy to be on the podium though!" Hunter said after the race.
Again starting Race 2 in the 3rd position, Hunter was able fight up into the 2nd spot and began to chase down the leader before a full course yellow came out. After the restart, Hunter was the victim of some clever communication between the Cape team mates and dropped to 3rd which he maintained until the end of the race, grabbing yet another podium finish, making it four straight podiums from four starts.
"We're only four races into a long championship and we've had a pretty good start. I learned from yesterday; it was a race I should have won, but that's in the past. It was a solid race today and good points, so we're focusing on the long run. It's very easy to look at something with a smaller mind, like I did yesterday, but I am on the podium at Indianapolis. I've watched races from here ever since I can remember so this is a dream come true. I have to thank Pabst Racing for the great car, Mazda Motorsports for this opportunity of a lifetime, Miles Advisory Partners, Doric NZ, Eximm, and all my family and friends who support me!" McElrea said.
Currently sitting 2nd in the points, Hunter's focus now switches to Rounds 5 of the 2019 USF2000 Championship Presented by Cooper Tires, at Lucas Oil Raceway, on 24th for his Oval racing Debut!
Media release: Hunter McElrea Racing