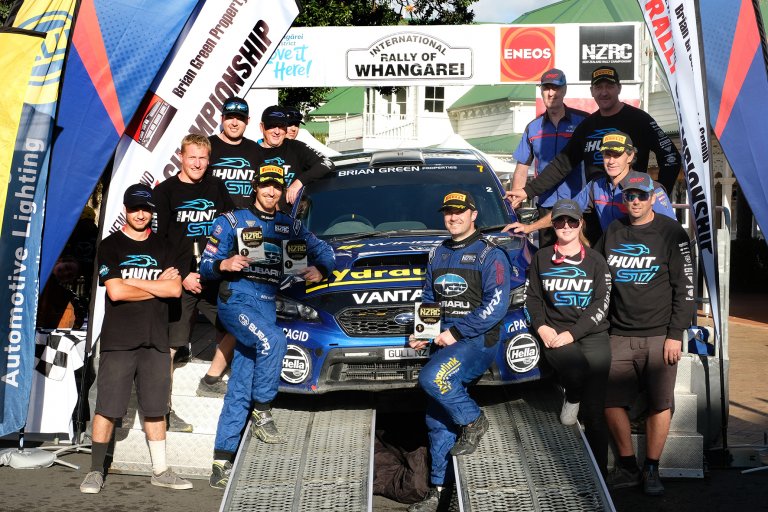 Hunt wins consecutive NZRC rounds
Subaru's Ben Hunt and co-driver Tony Rawstorn have won the NZRC component of the ENEOS International Rally of Whangarei today – repeating their result from the Brian Green Property Group New Zealand Rally Championship's (NZRC) first round in Otago.
Hunt was the first of the NZRC drivers home, finishing second overall to Hayden Paddon, who is not competing in the full season, which gives the Auckland-based Subaru WRX STI pilot a substantial points lead a third of the way through the six-round series.
Sitting on 86 points, Hunt is 37 points clear of Christchurch Holden Barina AP4 driver Josh Marston with Auckland's Andrew Hawkeswood (Mazda 2 AP4) on 46 points.
"It was a particularly satisfying weekend as we battled hard with the AP4 cars over three days and 18-stages and came out on top in our production-based Subaru. We've reached a point where we have a reliable, fast package and with Tony doing his usual perfect job in the co-driver's seat, we were able to achieve the result we had been targeting," Hunt says.
After the double-run of the Pohe Island Super Special Stage on Friday and Saturday's eight special stage tests held north of Whangarei, Hunt and Rawstorn were sitting in third overall amongst the multi-national field, snapping at David Holder and Jason Farmer's heels – only 5secs behind their Holden Barina AP4.
"The road conditions were so hard and dry; it was tough going on day one as the lack of moisture made the stages slippery for the front-running cars. I haven't seen them like this for about four years up here. I'm glad we made the move to Pirelli because we would've struggled with tyre-wear otherwise on these stages," Hunt says.
Despite Holder pushing him to the end, Hunt pulled out a blinder on today's eight stages south of Whangarei. Finishing third in the first test, he powered through the next seven stages, finishing second behind Paddon.
"The Subaru ran faultlessly all weekend and that's due to the dedication of the Speedhub Motorsport and Hunt Motorsports boys, who have poured so many hours into its preparation. It can be exhausting staying up late in the workshop working on the rally car at night and then working our 'day jobs' the following morning but results and rallies like this make it all worth it," Hunt says.
NZRC competitors have a four-week break until the third round of the NZRC, which returns to the South Island for the Lonestar Canterbury Rally, on June 2.
Hunt Motorsports is grateful for support in the 2019 Brian Green Property Group New Zealand Rally Championship from: Subaru of New Zealand, Hydraulink, Motul Oil, Vantage Windows and Doors, Speedhub Motorsport, Gull NZ Fuel, Winger Subaru, Hella NZ, Reiger suspension, Bluebridge, MTF Finance, Wurth, Mean Machine Engines, Vernon Developments, TCC Solutions, Hitech Motorsport, Hunt Diesel, Make Architects, Pirelli, Pagid Racing Brake Pads, Nuzest, SOS and Hammer King.
Media release: Catherine Pattison/Subaru of New Zealand
Photo: Geoff Ridder