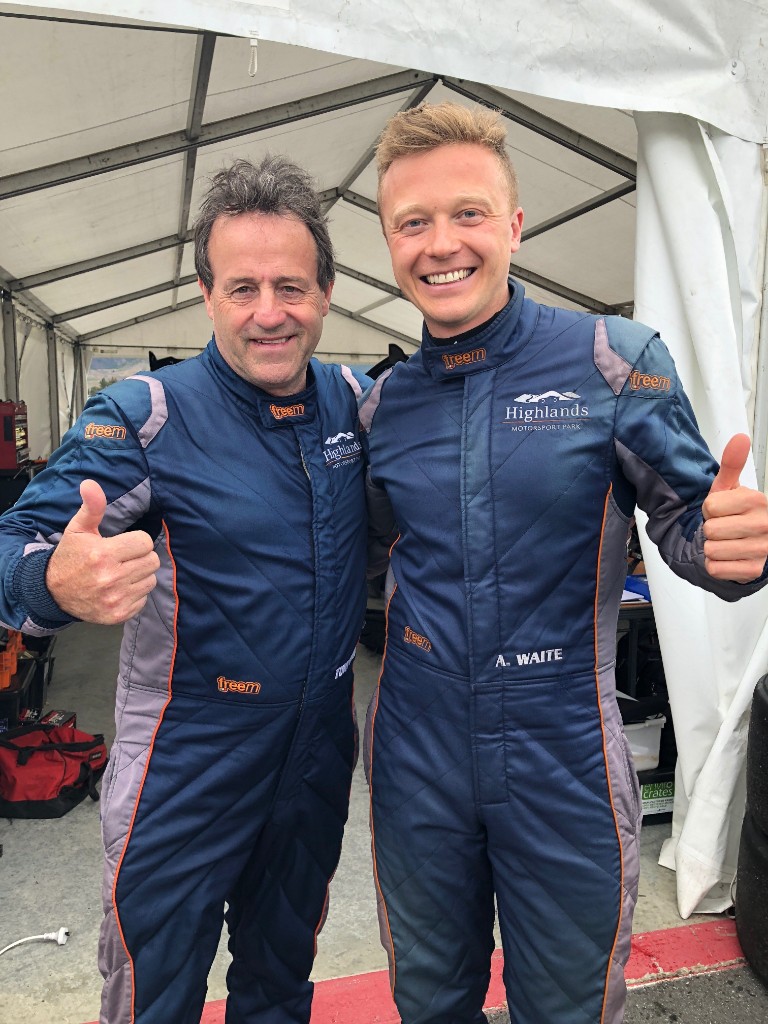 Hometown advantage for Highlands pair in NZ Endurance decider
Highlands owner Tony Quinn and the circuit's resident driving professional Andrew Waite will team up for this weekend's Carters Tyre Service New Zealand Endurance Championship (NZEC) on Saturday, November 24.
It's the first time the Cromwell circuit has hosted the NZEC finale and Quinn and Waite have done substantially more laps around the track than any other pairing on the grid. Waite's day job at Highlands includes taking customers for the ride of their lives in a Ferrari 488 but driving the track every day is very different to racing at the weekend.
"The last time I raced around Highlands was Australian GT event at the end of last year and I found that knowing the track wasn't as much of an advantage at all," says Waite. It's actually hard to switch into race mode. Sure it helps to know where the puddles are when it's raining and where the bumps are but I race mode is very different to the day to day driving I do. For the day job I'm probably driving at seven-tenths and trying to look after the car as well so it's a completely different mindset. I won't say I'm at a disadvantage but I'm up against experienced drivers who will get up to speed very quickly."
The top 20 cars from the North and South Island Endurance Series' have been invited to compete in the 'winner takes all' finale.
"I might be biased because I'm racing this weekend but I think the endurance series is right up there at the top level of New Zealand motorsport," says Waite. "GT cars have become very popular in recent years and it's a series that a lot of people want to be a part of."
Waite got the nod to drive with Quinn over his Highlands workmate Damon Leitch.
"Damon did two rounds with me in the South Island Endurance Championship and he drove very well but Andrew was the next cab off the rank," says Quinn. "I could have tossed a coin to decide who got the drive because they're both equally talented and they're both at a disadvantage driving with me because I'm clearly the worst driver of the pairing. But if the weather is good we'll be in with a good chance. We both know the track and while that's not as big an advantage as some people might think it will be a help."
Among the favourites to take out the NZEC will be Neil Foster who won the South Island title in an Audi R8 LMS GT and will team up with former A1 GP driver, Jonny Reid. Simon Evans, the current NZ Endurance champion and former NZV8 Ute champion Chris Hanley will also fancy their chances in the ex-NZ Supertourers Holden VF Commodore.
The ENEOS North Island Series champions, John McIntyre & Simon Gilbertson will swap their championship winning Porsche for a V8 SaReNi Camaro GT3+ which has just undergone a major rebuild. The McLaren 650S GT3 of Glenn Smith and John DeVeth and the pair of Mercedes AMG SLS GT3's, one driven by Carters Tyres Motorsport team boss Dwayne Carter and Shane Hodgson and the other piloted by Brendon Leitch and Christina Orr-West, are also likely to be in the mix. Waite and Quinn will be driving the stunning Aston Martin Vantage GT3.
"The car will be good and it should be plenty fast enough," says Quinn. "The GT cars that will be racing at Highlands this weekend are very quick. The lap record around Bathurst was broken last weekend by Christopher Mies in an Audi. He broke the 2-minute barrier with a time of 1 minute and 59 seconds. The only car to go faster around Bathurst was a Formula One car driven by Jenson Button who did it in 1m 48s. Scott McLaughlin holds the record in a V8 Supercar at 2m 3 seconds. That shows you what these GT3 cars can do."
"I think the endurance series is a great series. It's come from small beginnings to become one of the biggest events in New Zealand motorsport. It should be a very fitting finale at Highlands and I'm sure the drivers and teams will be happy with the facilities and the track."
Tickets are on sale now and the $30 fee includes entry into the Highland Motorsport Museum (level one), access to the pits and the iconic Highlands grid walk before the main event. Youths under 16 get in free with a paying adult. It promises to be a great weekend of motorsport action in Cromwell with the Highlands Sprint Series, a celebration of grassroots racing, taking place on Sunday, November 25.
For more information and tickets visit www.highlands.co.nz
Caption: Thumbs up: Tony Quinn (left) and Andrew Waite are one of the fancied pairings for this weekend's New Zealand Endurance Championship.