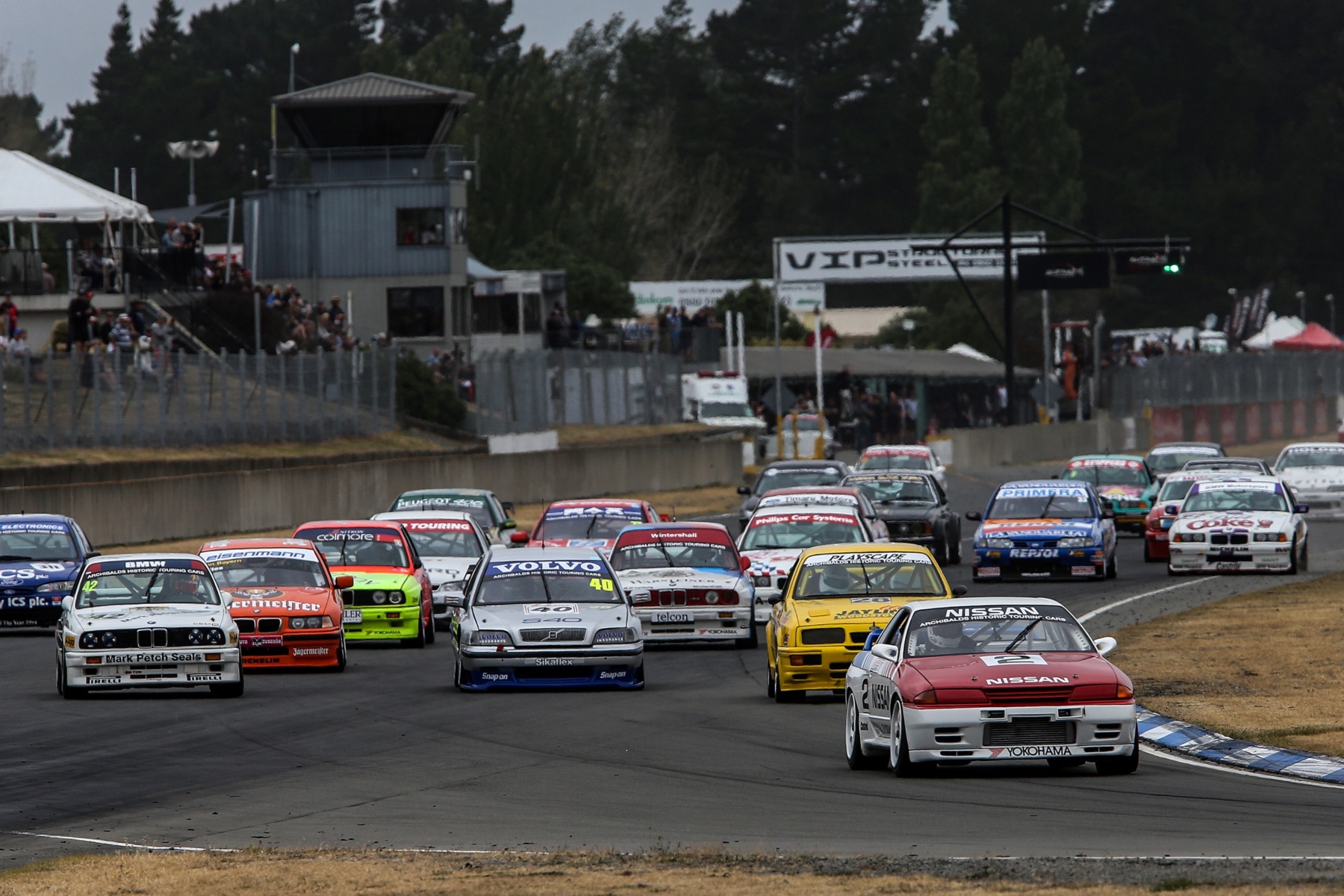 Historic Touring Cars entertain at Skope Classic meeting
With a unique mix of cars and stars assembled specifically for this weekend's meeting, the Archibald's Historic Touring Car Series provided some of the best – and definitely most entertaining – racing on the first day of competition at the 30th Skope Classic at Christchurch's Mike Pero Motorsport Park on Saturday Feb 01.
Though it was multi-time Bathurst 1000 race winner Steven Richards (Volvo S40 ST) who set the competitive tone with an impressive 1:29.013 lap to claim pole position in the qualifying session in the morning, come the first two series' races of the meeting he was beaten to the finishing line in both.
In the first it was by second quickest qualifier and fellow front row starter Phil Mauger (Nissan Primera ST) after a thrilling three-way battle with Stu Rogers (Nissan Skyline BN-R32 4WD). In the second it was by Rogers and one of the other guest drivers, Greg Murphy (BMW E30 M3 Gp A).
The two other distinguished Kiwi pro drivers in the field, both driving the very cars that helped them establish their reputations, were Paul Radisich in the Ford Mondeo ST he won the Touring Car World Cup race at Donington Park in the UK in 1994, and Jim Richards in the Group C BMW 635 CSi he raced across the Tasman in period.
All up the 25-strong field was one of the biggest and best yet assembled by the Historic Touring Car (NZ) Association,
The mix of types and era of cars helped contribute to the spectacle, as local ace Stu Rogers proved in both races his Gp A Nissan Skyline BN-R32 4WD replica. After qualifying fourth quickest Rogers used the sheer straight line stonk of the twin turbocharged Nissan to blast his way into an early lead in the first race until he outbarked himself after four heady laps in the lead, allowing both Phil Mauger and Steve Richards through.
Behind Rogers, who recovered quickly to cross the line in third place in the first race, came top local driver Bruce Miles (BMW E36 320i ST), Greg Murphy (driving local car owner Peter Sturgeon's ex Brancatelli Gp A BMW E30 M3) and Arran Black in fellow Dunedinite Warren Good's similar era BMW E30 M3.
Scott O'Donnell worked his way up to 7th place in his late model ProDrive-built Ford Mondeo ST ahead of Aucklander Graeme Cameron in his BMW E30 M3 followed by Paul Radisich (in the earlier model Ford Mondeo ST also owed by Scott O'Donnell), and a close-finishing Nigel Arkell in his ex-North American Super Touring Car Championship Honda Accord Super Tourer in 10th place.
Timaru racer Kevin Pateman (driving the Ford Telstar he and his brother built and raced in period and never sold) was again the best of those running NZTC-spec cars in 13th with Jim Richards in the Peter Sturgeon-owned GP C BMW635 CSi 14th.
The entertainment continued in the second race later in the day with Steven Richards, Greg Murphy and Stu Rogers this time disputing the lead until the last alp when Rogers threaded the needle in a daring move to take the lead down the circuit's long start/finish straight.
This time it was Murphy who managed to fend off Steven Richards to take second place with Bruce Miles 4th, Arron Black 5th, Graeme Cameron 6th, Murray Cleland 7th and Nigel Arkell up to 8th this time, with Phil Mauger credited with 13th after copping a 20-second time penalty for a breaching a start rule.
Archibald's Historic Touring Car action at the Skope Classic meeting continued on Sunday with two more races, a 6-lapper in the morning and a final 8-lap feature in the afternoon.
The 2020 Archibald's Historic Touring Car Series then concludes at the George Begg Classic Speedfest at Invercargill's Teretonga Park in a fortnight (the Feb 15-16 weekend).