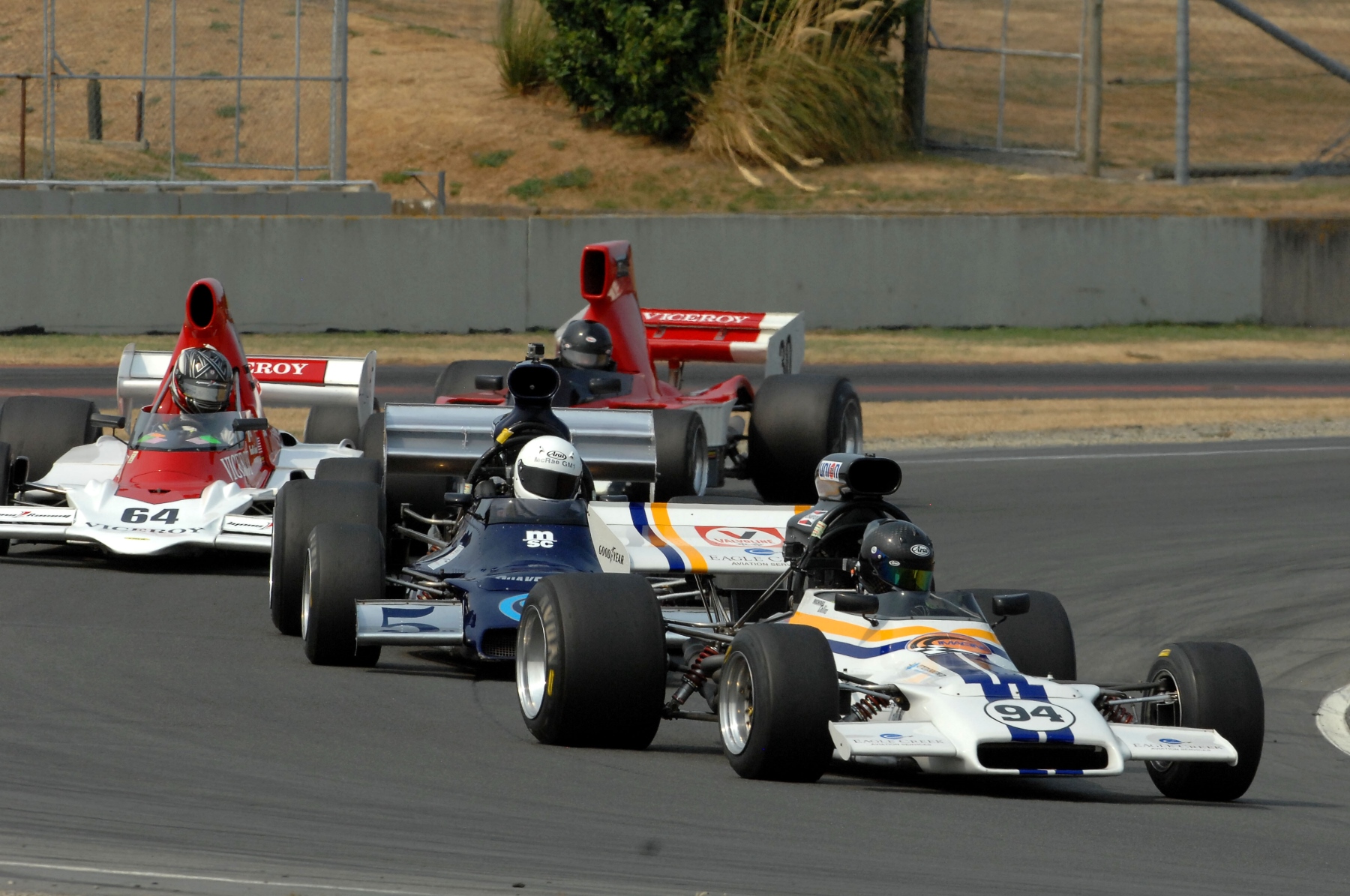 F5000 trio drives home fellow Kiwi Graham Mcrae's category legacy at Skope Classic
SAS Autoparts MSC NZ F5000 Tasman Cup Revival Series trio Michael Collins, Steve Ross and LeRoy Stevenson drove home the legacy of fellow Kiwi Graham McRae at the third round of the 2019/20 season's series at the Skope Classic motor racing meeting in Christchurch over the weekend.
All three were driving cars designed by Wellington-born McRae, who as well as being a talented engineer was also one of the greatest drivers of the original F5000 era. McRae won the Tasman Series (after which the current SAS Autoparts MSC Revival Series is named) three-times (1971, 72 & 73) and went on to win the Rookie of the year title at the Indianapolis 500 in 1973.
Cars of his design have won races as well as the Revival Series title before, but this year's Skope Classic was the first in which there were 1) so many entered – four – and 2) their drivers effectively dominated the meeting, culminating in a history-making podium lock-out (one-two-three) in the feature Stan Redmond Memorial feature race on Sunday afternoon.
Making the occasion even more special was the fact that all three cars, the Leda LT27 004 driven to victory in the second and third races by category young gun Michael Collins, the very first 'McRae' F5000, Leda LT27 001 driven by LeRoy Stevenson, and the Trojan-built 'production'' McRae GM1 of Steve Ross have strong ties now to the Christchurch circuit
Both the Leda models have been owned by Queenstown-based enthusiast Alistair Hey, and both were effectively rebuilt from the ground up by category specialist John Crawford's Motorsport Solutions business based at the Mike Pero Motorsport Park track west of Christchurch.
All three continue to be maintained and run by Crawford and a dedicated group of specialists as well.
The annual Skope Classic, now in its 30th year, is New Zealand's biggest 'classic' motor racing meeting and a round of the SAS Autoparts MSC F5000 series has been a popular drawcard for the organisers, the Canterbury Car Club, for over 15 years now.
This season the meeting hosted the third (of five) round with a (so-far) season high entry of 20 cars.
While 23-year-old local ace Michael Collins (Leda LT27) was quicker by over a half a second in qualifying on Saturday morning, three-time former SAS Autoparts MSC Series title-holder Steve Ross got the better of the rolling start and frantic first lap of the first race of the weekend on Saturday afternoon in his ex-Quicksilver Racing McRae GM1 009 to grab a lead which he then stoutly defended until the chequered flag came out.
Though he was competing in his first round of the popular New Zealand-based historic stock-block V8 wings-and-slicks single seater category race in almost a year, the Dunedin ace looked like he had never been away.
Both Collins, and Michal Lyons (Lola T400), got close; but neither could find a way past the determined Ross.
Behind Ross, Collins – who had the consolation of setting the fastest race lap – and Lyons came Aucklander Grant Martin (Talon MR1A) then a Lola T332 'train' of Kevin Ingram, Brett Willis and Australian driver Paul Zazryn.
LeRoy Stevenson and expat Kiwi Warren Briggs (Stu Lush Lola T332) both qualified higher (Stevenson third and Briggs sixth) but both spun and though each was able to continue it was further down the field.
McLaren M10B driver Frank Karl, meanwhile, was unchallenged on his way to 15th place and first Class A (for earlier model cars) entrant home, after usual rival Tony Roberts was a late scratching thanks to an engine mount issue discovered after the qualifying session.
A cool nor-easter kept the ambient temperature under 20 degrees C on Saturday but it was a case of 'all-change' on Sunday as a classic hot, dry Canterbury nor-wester blew in overnight, elevating the day-time temps to a furnace-like 30+ degrees C, and the track temperature higher still.
The result in the second SAS Autoparts MSC MZ F5000 of the meeting on Sunday morning was a real spin-fest, albeit one which – incredibly – didn't result in any contact.
First to be affected by the change in track heat – and thus grip levels – was Race 1 winner Steve Ross who lost his opening lap lead when he speared off the track exiting the last infield right-hander (Turn 7) and chose a cross-country route to return to the track between Turns 8 and 9.
As he was doing that Grant Martin also went off, this time at Turn 8. Both were able to continue, Ross only losing two places – to eventual race winner Michael Collins and fellow young gun
Michael Lyons, and Martin able to work his way back up to 7th place by the time the chequered flag came out.
Behind the leading trio Brett Willis was next to lose control – again – between Turns 7 and 8. LeRoy Stevenson was quickly working his way up through the field before he too, spun; then two laps later Glenn Richards and Warren Briggs pirouetted off in unison exiting Turn 7.
Up front Michael Collins was stroking away, however, setting the quickest race lap on his way to his first race win of the weekend by a margin of 7.6468 seconds to Michael Lyons who in turn had a fast closing Steve Ross filling his mirrors.
Kevin Ingram was next in fourth with Aaron Burson (driving his ex Cuddy Racing/Jon Woodner McRae GM1 008) enjoying his best finish of the weekend in fifth.
Michael Collins then went on to complete a memorable weekend 'McRae' hattrick with a close (1.199 seconds was the margin at the flag) final 12-lap feature race win over Steve Ross and LeRoy Stevenson. This time Stevenson quickly worked his way forward from his 7th place starting spot to get to third by the fourth lap and set the fastest race lap as he chased down Collins and Ross.
His mission was aided, early on when the Safety Car was called out to hold the field while Brett Willis' new Lola T332 was retrieved (after Willis stopped when 'something went bang' in the engine).
Aaron Burson also paid a quick visit to his pit early on to see if anything was amiss with his car's front left corner after contact at Turn 1 with Grant Martin.
The resulting flat right rear tyre put Martin out on the spot but Burson was able to continue and finish 12th.
After issues with his car's crown wheel and pinion (which were sorted out when competitor Peter Burson shipped a replacement part form Auckland to Christchurch overnight) saw him miss qualifying and the Saturday race David Banks (Talon MR1) finally got to finish a race in the feature final, making maximum use of all 12 laps to work his way from the back of the grid to an impressive fifth place at the flag.
For much of the distance he was shadowed by the similarly-liveried Stu Lush-owned Interstate Lola T332 of Ashburton-born, UK-based expat Warren Briggs, the pair crossing the finish line just over 2 seconds apart.
Visiting Australian driver Paul Zazryn was next, followed by the closely-matched Lola T400s of Auckland pair Glenn Richards and Shayne Windelburn.
Each year at the annual Skope Classic meeting in Christchurch the Stan Redmond Memorial Trophy is awarded to a member of the SAS Autoparts MSC NZ F5000 Tasman Cup Revival series fraternity who displays the same 'all-round good guy' qualities those who knew him recognized and admired in Redmond.
The trophy was put up by regular series visitors from the UK and after the final feature race, one if those visiting drivers, Frank Lyons, presented it to this season's recipient, Aucklander Grant Martin.
"It was an honour for me to present the trophy to a well-deserved winner in the true spirit of our sport,' Lyons said.
Also at the meeting one of the SAS Autoparts MSC F5000 Tasman Cup Revival Series' family of sponsors, RAMCAR Australia & New Zealand, confirmed its on-going involvement under a new brand, Supercharge Batteries.
"Supercharge Batteries are proud to announce their support for the NZ F5000 Association," said company National Account Manager, Grant Withers.
"Supercharge Batteries have been sold in this part of the world for over 35 years and have a great reputation for their innovative technology, high specifications and robust product design, backed by industry-leading nationwide warranties.
"It's a pleasure to continue our association with this wonderful category of motor sport."
The series now heads south for another feature spot on the programme of one of New Zealand's other major classic motor racing meetings, the new-look George Begg Classic Speedfest at Invercargill's Teretonga Park Raceway from Friday Feb 13 to Sunday Feb 15.