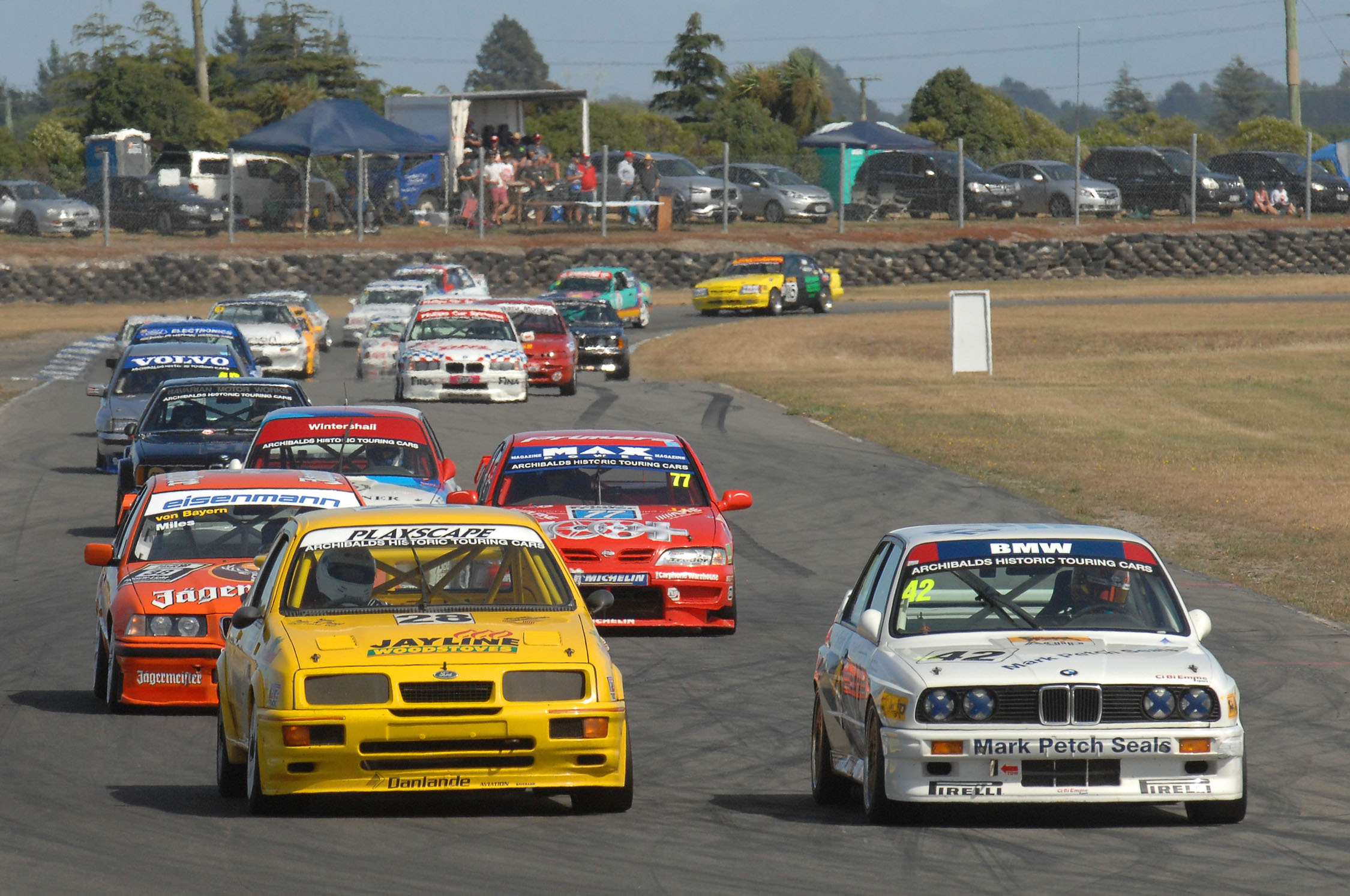 HISTORIC TOURING CAR CLASS HAS NEW FAN IN GREG MURPHY
New Zealand's Archibalds Historic Touring Car Series (HTC) has a new fan in four-time former Bathurst winner and now TV motorsport show co-host Greg Murphy.
With fellow multi-time Bathurst 1000 winner Jim Richards, Murphy was one of two guest drivers invited to join the grid at the second round of the 2019 Archibalds NZ Historic Touring Car Series at the annual Skope Classic historic motor race meeting at Christchurch's  Mike Pero Motorsport Park over the weekend.
Thouhg he was doing double duty at the meeting – also demoing the hi-tech F1-style Rodin FZED single-seater – the man they call Murph proved a real star turn behind the wheel of local man Peter Sturgeon's ex Cecotto/Brancatelli BMW E30 M3 Gp A car, qualifying it on pole and winning two of the four Archibalds Historic Touring Car Series races over the weekend.
"That car is just mega,' he said of the quick, nimble little Gp A two-door, in which in won the first race untroubled but then spent the other three battling away mightily, first with Christchurch car dealer Bruce Miles, then Motueka category veteran Brett Stevens,
Miles got the jump on fellow front row starter Murphy off the rolling start to win the second race in his later model ex Prince Leopold van Bayern BMW E36 320i SuperTourer. Stevens, driving his Ford Sierra RS500 Cosworth Group A car, then used the susperior power of its turbocharged engine to win the third – after swapping places with Murphy several times.
It was Murphy who won the final race though after Stevens – who had been again been swapping the lead with Murphy virtually every lap – came under attack himself and had to momentarily defend second spot from Race 2 winner Bruce Miles.
That was all the impetus that Murphy needed and with his third fastest race lap out of the four HTC class races, he eased away to take his second victory of the weekend form Stevens, Miles and usual category fast man Arron Black (BMW E30 M3 Gp A) from Dunedin.
Behind Black, Murray Cleland in the sister E36 BMW330i SuperTourer to Bruce Miles's, finally got the better of the mixed five-car battle pack of Christchurch's Lindsay O'Donnell (Volvo S40 SuperTourer), Paul Carter (Gp C Mitsubishi Starion), Jim Richards (GP C BMW 635i) and Scott O'Donnell (ex Paul Radisich Ford Mondeo SuperTourer).
Christchurch's Phil Mauger (Nissan Primera SuperTourer) had been part of this group battling for places in the top four in previous races (finished a round-best second to Murphy in the first race) but flat spotted a tyre in the final and pulled in with two laps to go when the tyre went flat.
Other highlights from the wide spread of cars in the 23-srrong field, included NZTC BMW 320i driver Steven Kelly from Christchurch, qualifying 7th overall and NZTC category original Kevin Pateman form Timaru finishing 8th overall in the first race in his familiar Ford Telstar V6.
Two more local drivers, Gary Johnstone (Gp A Jaguar XJS V12) and Austin McKinley (Holden Commodore VK V8 GP A) were also rarely more than a couple of car lengths apart a little further back in the field, with Dennis Ham form Dunedin driving a NZTC-spec Alfa Romeo 155 joined them to make it a three-way battle in the final
Rnd 1: Jan 12-13, 2019 Legends of Bathurst Festival meeting Hampton Downs Nth Waikato
Rnd 2: Feb 01-03, 2019 Skope Classic meeting Mike Pero Motorsport Park ChCh
Rnd 3: Feb 15-17, 2019 Evolution Motorsport Classic Speedfest Teretonga Park Ingill
CAPTION: Greg Murphy (#42 BMW E30 M3 Gp A) has fellow race winner Brett Stevens (#28 Ford Sierra RS500 Cosworth) alongside him on the warmup lap of one of the Archibalds HTC races at the Skope Classic  on Sunday. Photo credit: Fast Company/Euan Cameron