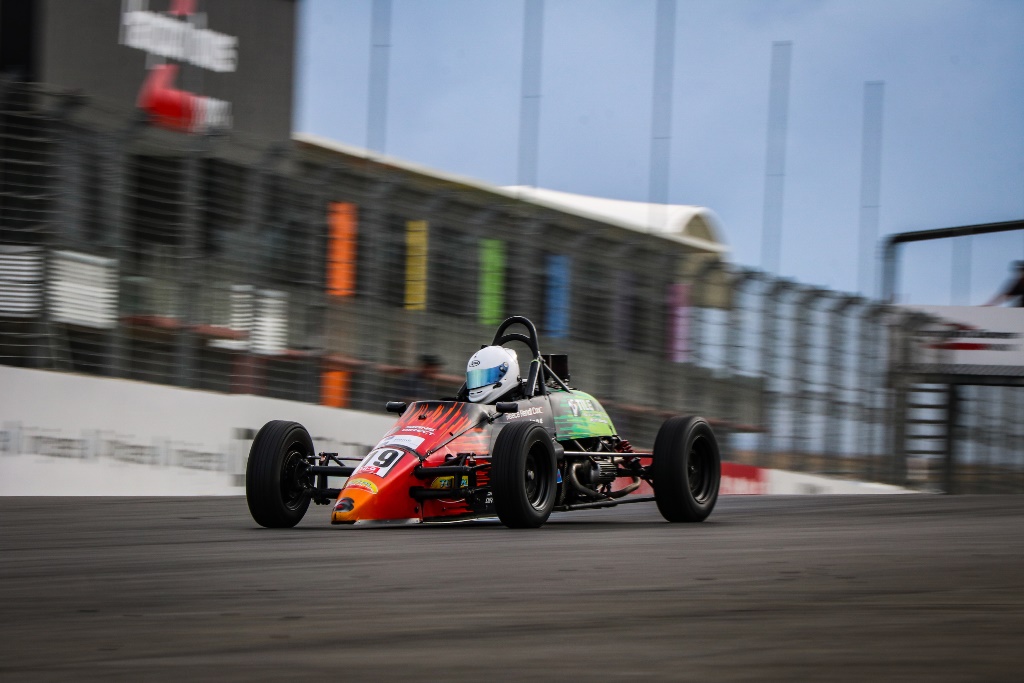 Hendl-Cox unstoppable in Formula First at Hampton Downs
Whakatane's Reece Hendl-Cox, 19, has taken all three races at round six of the 2018/19 Hi-Q Components NZ Formula First Championship.
Taking place at Waikato's Hampton Downs Motorsport Park, Hendl-Cox came into the weekend as the favourite after clean sweeping the proceedings last time out at Hampton Downs and holding a big championship lead.
Saturday morning's 15-minute qualifying session saw Taranaki teen Thomas Boniface, 15, triumph in tricky conditions. Boniface set a time over half a second faster than anyone else. Hendl-Cox set the second fastest time to start on the front row ahead of Palmerston North's Chris Symon, 28.
The first of three, eight-lap races saw Hendl-Cox and Symon battle it out after they broke away from the field in the second quarter of the race. Hendl-Cox led home Symon with Auckland's Liam Foster, 22, finishing third.
16-year-old Aucklander Billy Frazer finished sixth after an impressive recovery effort which saw him drop outside the top ten. Frazer and Boniface made contact on lap four at the second corner, sending Frazer into a spin. Boniface then encountered more issues when his clutch failed a lap later, leaving him unable to finish the race.
The second race of the weekend saw Hendl-Cox check out from the rest of the field to win by over 1.3-seconds. Tensions boiled over when Symon and Frazer made contact during the race, resulting in the latter running through the grass.
Frazer would make a great recovery though, losing only a few positions but remained on the very back of the pack. The duo then worked their way forward again, Symon finishing second ahead of Frazer.
Boniface suffered another DNF result after a steering failure led him into the wall at turn three. His rookie rival Ronan Murphy, 17, finished fifth and retook the rookie championship lead.
The final race of the weekend again went to Hendl-Cox. Symon finished in second after a ding-dong battle with Foster and Frazer for the position. Foster would eventually slot into the middle of them to finish third with Frazer fourth.
A horror weekend got worse for Boniface, who again ran in troubles when his stub axle failed on the final lap, resulting in his car losing a wheel for the final few corners of the race.
Hendl-Cox's perfect weekend sees his lead extend over Symon to 100-points with two rounds to go. Frazer remains in third, 74-points from second place. Things have really changed in the rookie championship, with Murphy taking a 76-point lead over Boniface. Ron Carter continues to lead the sunset championship for drivers over 40-years-old.
The final two rounds of the NZ Formula First Championship take place at Bruce McLaren Motorsport Park in Taupo. The penultimate round take place in a fortnights time on March 23-24.
2018/19 NZ Formula First Championship Standings (Top 10):
Reece Hendl-Cox (Whakatane, 19) – 1171pts
Chris Symon (Palmerston North, 28) – 1071pts
Billy Frazer (Auckland, 16) – 997pts
Liam Foster (Auckland, 22) – 911pts
Amy Smith (Auckland, 17) – 856pts
Ronan Murphy (Havelock North, 17) – 757pts
Thomas Boniface (Taranaki, 15) – 681pts
Ron Carter (Papamoa) – 671pts
Brody McConkey (Kapiti, 20) – 532pts
Nathan Sudiono (Auckland, 17) – 515pts
1st = 75pts, 2nd = 67, 3rd = 60, 4th = 54, 5th = 4
2018/19 NZ Formula First Championship Calendar:
Round 1: Manfeild Circuit Chris Amon – October 19-21
Round 2: Pukekohe Park Raceway – December 7-9
Round 3: Hampton Downs Motorsport Park – January 25-27
Round 4: Manfeild Circuit Chris Amon – February 8-10
Round 5: Manfeild Circuit Chris Amon – February 23-24
Round 6: Hampton Downs Motorsport Park – March 8-10
Round 7: Bruce McLaren Motorsport Park – March 23-24
Round 8: Bruce McLaren Motorsport Park – April 13-14
NZ Formula First Championship: The Hi-Q Components NZ Formula First Championship is an entry-level single seater category which is run as a National Championship by the sports governing body, MotorSport New Zealand. NZ Formula First has been the breeding ground for young motorsport stars such as Brendon Hartley, Scott Dixon, Shane van Gisbergen, Richie Stanaway, Nick Cassidy and Liam Lawson.
Photos are free for editorial use. For further information or photos please contact Jordie Peters