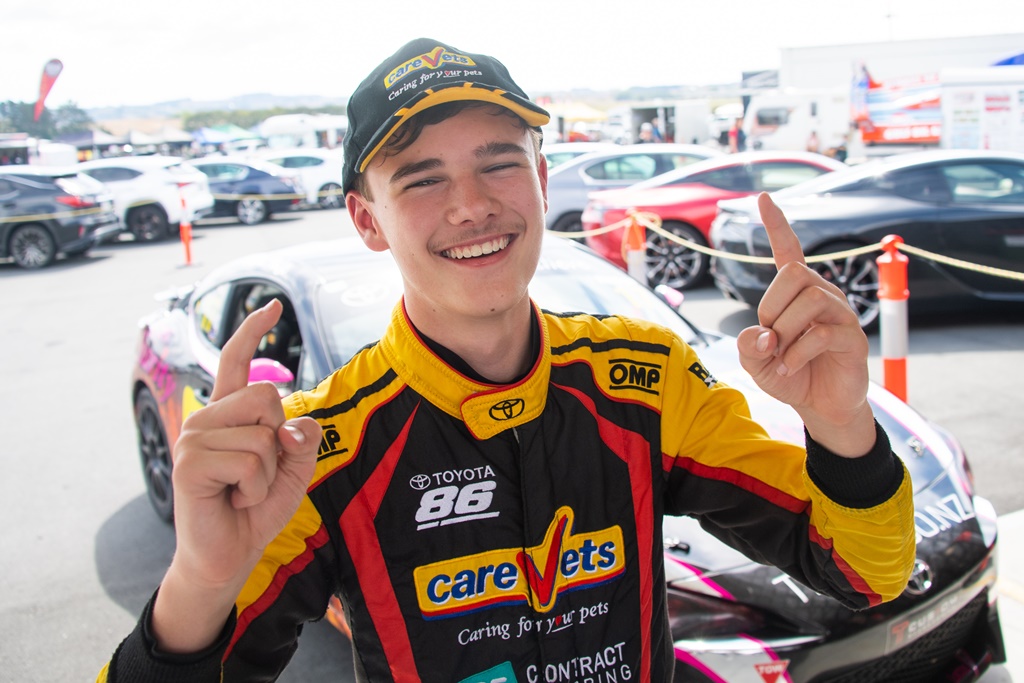 Hedge wins race and title
Callum Hedge is the 2018/2019 Toyota 86 Champion after a commanding win in the final race of the season sealed the title for the CareVets Scholarship racer.
Hedge took the points lead on Saturday from Jaden Ransley and never looked back, with a second place in Sunday morning's race and a win on Sunday afternoon backing up his Saturday win and guaranteeing him the title. Try as he might in a rebuilt and wounded Miles Toyota machine damaged when Connor Adam rolled into him on Saturday, Ransley had to be satisfied with a ninth place in the final race and second overall in a very closely fought championship.
Hedge sealed the overall title, the Rookie title and the round win after a stellar performance at Hampton Downs. It was the third straight championship for a CareVets Scholarship driver and the first time a Rookie in the series has won the overall title.
"It's been a fantastic season really," explained the fifteen year old Beachlands racer, who now heads across the Tasman to compete in the Australian National Formula Ford championship.
"It's had its highs and its lows of course. I love cutting laps in anything at Pukekohe and those first two rounds were a huge highlights for me. Practice 3 at Teretonga was the low point when the engine let go and that set me back a bit in a variety of ways but we were able to recover and keep the focus. Going into the season the objective was really to try and win the Rookie title and to get a top three overall. That goal changed after the second round when it became clear I might have a shot at the overall title and that's been the focus ever since.
"Coming to Hampton Downs the objective was to win all three races and anything else would be out of our control. That would give me the best shot at the title regardless of what happened to Jaden or anyone else. After the crash in the first race I didn't get any radio messages and it took a couple of laps for it to become clear to me that the doorway had closed significantly for Jaden and opened up for me.
"Winning the title is fantastic but for sure I would have loved the two races on Sunday to have been about Jaden and I fighting it out side by side for the title. I think we'd both have loved that. There's a really great camaraderie amongst the drivers. A lot of us have been racing each other for years now in karts and other junior formula. That's part of the reason it's such a difficult championship to win."
After the dramas of Saturday when Adam grabbed the headlines with his spectacular crash and Sunday morning's debut win for JJ Walters/OCL Telecommunications driver Kaleb Ngatoa, the final race proved a relatively processional affair. Hedge made yet another perfect getaway to take early control of the race. It was a lead he wasn't to lose and Ngatoa, in second place, had no answer for Hedge's impressive speed.
Peter Vodanovich completed a strong weekend with a third place finish in the final race, ahead of the second CareVets car of Arran Crighton. Campbell Stewart put in one of his best drives in his first season of circuit racing to bag a top five in the International Motorsport run NZPGS/Hydraulink car.
Ransley fought his way to eighth place in the race and – thanks to a combination of his driving skills and the work of his mechanics overnight on Saturday – was able to seal second in the championship ahead of Jordan Baldwin in the Intermach car.
Like Ransley, Hedge and Connor Adam, Baldwin had led this title race at one point during the season but endured some bad luck on the way. Vodanovich had a slow start but got into his stride from Round 2 and was a regular front runner on his way to fourth in the title, while Brock Gilchrist came on stronger and stronger as his first season in the Toyota 86 Championship progressed and fifth in the title chase was a just reward for a great season.
Eighteen drivers were classified in the 2018/2019 Toyota 86 Championship and with the title lead changing after round one, after round two, again after round four, once more at round five and then again at the final round, it was unquestionably one of the most tightly-contested championships in southern hemisphere motor racing.
2018-2019 Toyota 86 Championship – Final Standings
1. Callum Hedge 1138
2. Jaden Ransley 1038
3. Jordan Baldwin 957
4. Peter Vodanovich 895
5. Brock Gilchrist 787
6. Arran Crighton 785
7. Kaleb Ngatoa 781
8. Connor Adam 777
9. Jacob Cranston 654
10. Campbell Stewart 627
11. Sam Wright 542
12. Connor Davison 541
13. Justin Allen 538
14. Andrew Jackson 396
15. Leo Bult 312
16. Mitch Hughes 215
17. Jake Klein 143
18. Tony Austin 102
2018-2019 Toyota 86 Championship – Round 6 Race 3 – Hampton Downs
1. Callum Hedge – CareVets NZ Ltd
2. Kaleb Ngatoa – JJ Walters/OCL Telecommunications
3. Peter Vodanovich – CMC Markets/MacClure's ITM
4. Arran Crighton – CareVets NZ Ltd
5. Campbell Stewart – NZPGS/Hydraulink
6. Brock Gilchrist – NEXUS Logistics/Giltrap Group
7. Andrew Jackson – North Shore Toyota
8. Jaden Ransley – Miles Toyota/Kitchen Studio
9. Jordan Baldwin – Intermach NZ/Carters Tyres
10. Connor Davison – Hampton Downs/Highlands
11. Sam Wright – Tony Richards Toyota/Premiers
12. Jacob Cranston – Best Bars/Vista Lite
13. Justin Allen – Battery Town
14. Leo Bult – North Western Toyota
15. Connor Adam – Post Haste/Weigh Northland
Caption:  Callum Hedge is the new Toyota 86 Champion. Picture Bruce Jenkins.
Media release: Toyota Racing NZ