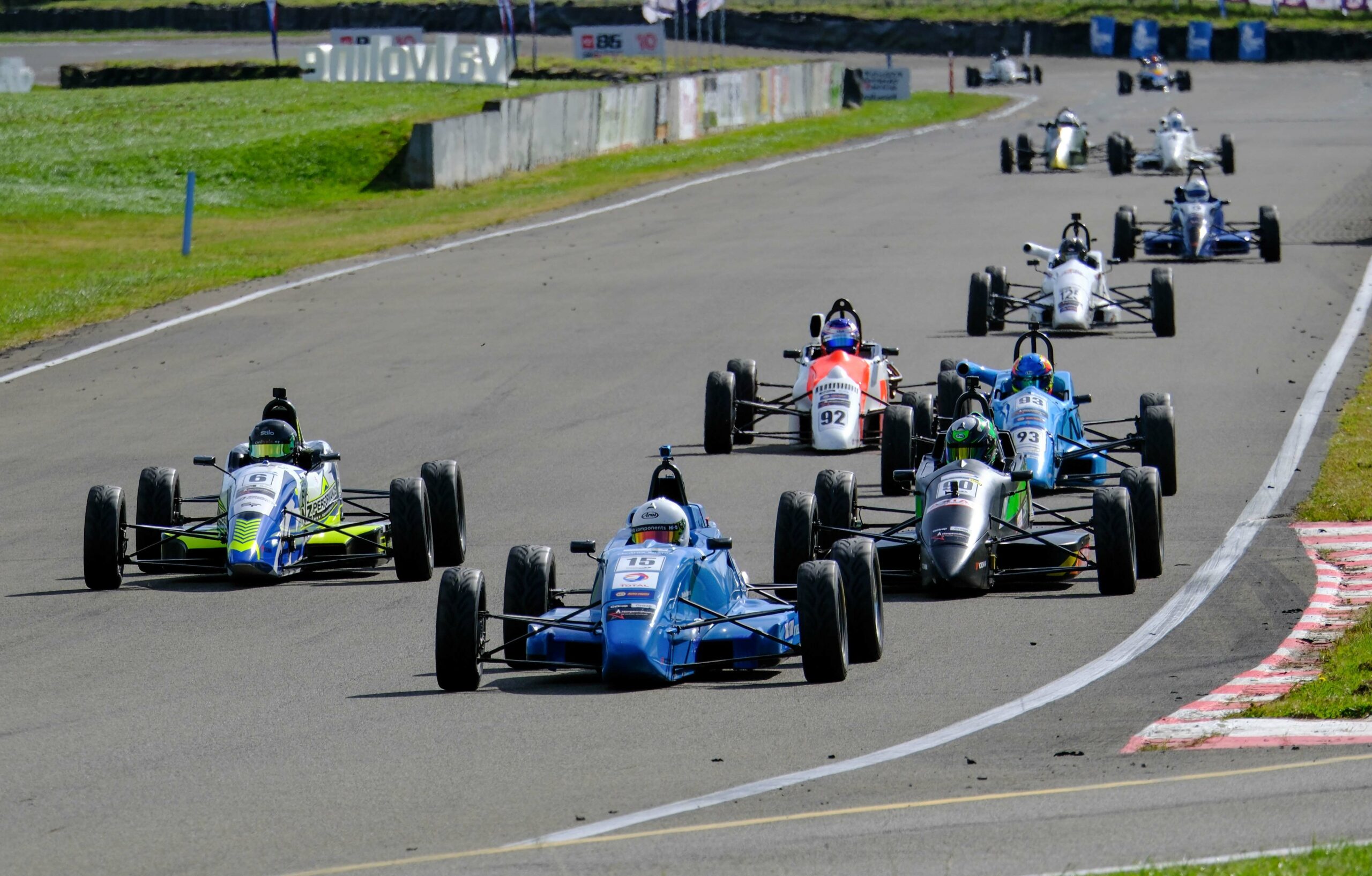 Grant narrowly wins Giltrap Group North Island Formula Ford title
Dylan Grant has narrowly won the 2022/23 Giltrap Group North Island Formula Ford Series (NIFF) title after a tough three-race final round at Manfeild Circuit Chris Amon on Saturday. Runner up was Blake Dowdall, just 25-points behind with Mason Potter in third place overall.
"I'm very happy to have finished the season with the title," commented Grant. "It's my first motorsport title so I will remember this for a long time."
Heading into the round, Grant had a 33-point lead over Dowdall with Mason in third. Dowdall gained two-points having set fastest lap in qualifying on Friday and taking the $500 Hampton Downs NZ Racing Academy cash prize and was confident heading into the three-race program on Saturday.
"In practice on Friday we were fastest so wasn't too concerned with qualifying in third as we had a technical issue and couldn't set a fast lap," said Grant. "I was happy with the third grid position for the first race as I knew we were quick and it was a matter of having some control on where I needed to be on the track."
Grant quickly took the lead of Race 1, winning ahead of Zac Blincoe and Dowdall with Potter in fourth and Shane Drake fifth.
"It was a nerve racking final two races," said Grant. "Just one mistake would cost us the championship. The whole series is about making sure you finish in order to score points. We didn't have a good start to the season in the first round here at Manfeild, so we have needed to finish every race to keep scoring points."
The NAPA Auto Parts $200+gst trade voucher for Driver of the Day went to Zac Blinco who continued his top form after returning from a massive accident at the Supercars round at Pukekohe Park last September. Having finished second in the opening race, Blincoe went onto win both Race 2 and 3, taking the round win, ahead of Dowdall and Grant with Mason fourth, Drake fifth and Judd Christiansen six in both races.
The final double-points 12-lap race was to be the title decider for the second consecutive season, producing more vintage Formula Ford racing..
"That last race was very tough," continued Grant. "I got a good start and got in front and it really came down to the last lap. I had been struggling for grip all day so was defending which allowed Shane (Drake) and Mason (Potter) to catch the three of us. I knew with double-points for the finale, I needed to finish in third and that's what I was focused on so thrilled with the way it turned out."
"Again, the standard of racing, particularly with the top four or five competitors has been superb," commented NIFF Chairman Shane Drake. "It's been a long seven round season in which we have continued to see a high level of competition from the young 'guns' coming through the category."
Grant won the Stephen Gillard Memorial Trophy as well as Rookie of the Year and the Class 1 title while Potter won the Class 2 title. As part of his overall series win, Grant also gets the opportunity to test a Toyota FT50 single seater as part of the prize pool from the Tony Quinn Foundation.
The Giltrap Group North Island Formula Ford Series is also supported by Yokohama, the Tony Quinn Foundation and NAPA Auto Parts who sponsor the 'Driver of the Day' with a $200+gst trade voucher.