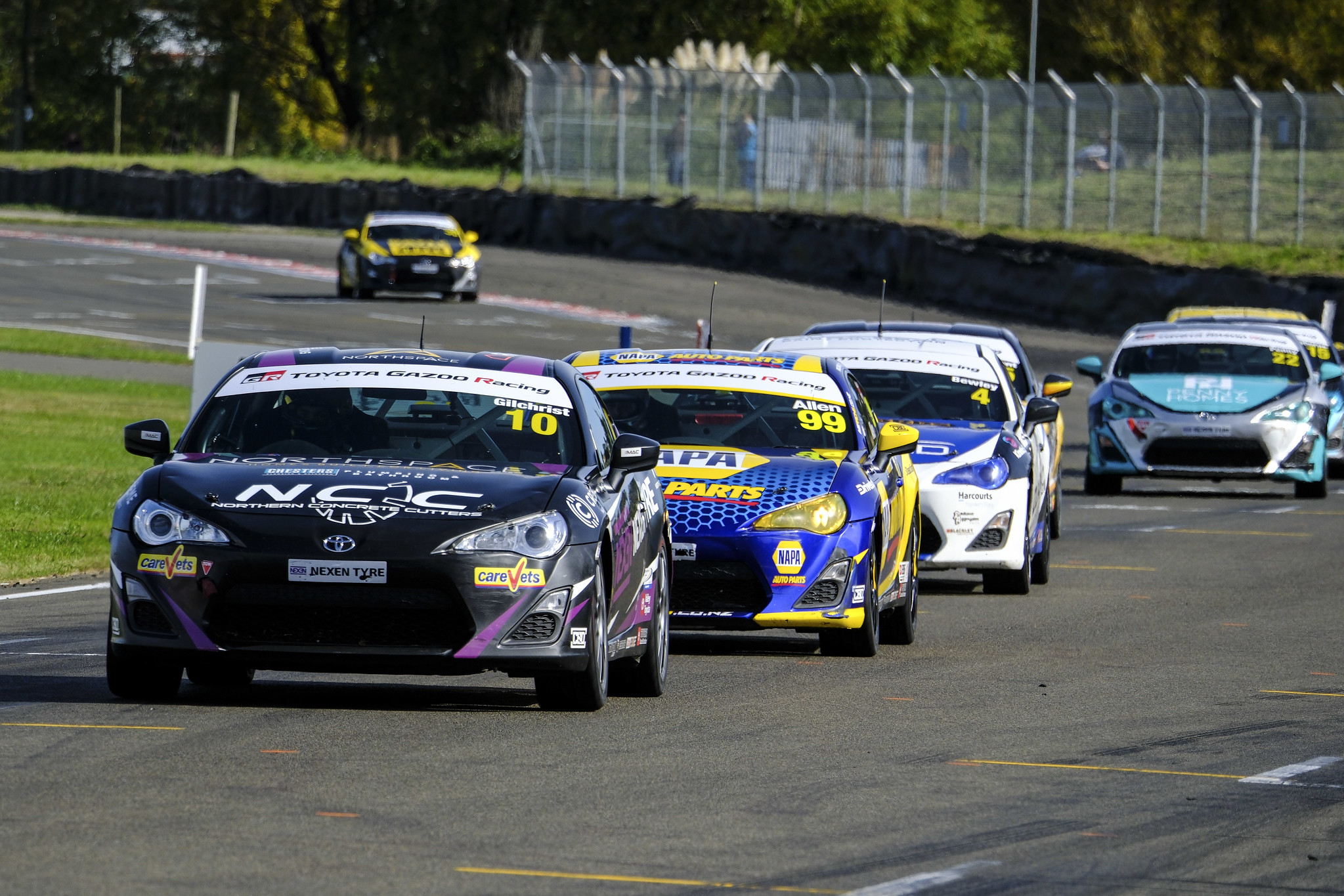 Gilchrist fights back with superb win at Manfeild
Championship leader Brock Gilchrist bounced back from a difficult Saturday at Manfeild Circuit Chris Amon to take a fine win a dramatic second race at the penultimate round of the Toyota 86 Championship.
Gilchrist didn't have the fastest car, but put together a race winning performance with a great opening two laps then some clinical defence to take the win and open the points gap on Clay Osborne who could only finish seventh in the reverse top ten format 12 lap race.
Justin Allen and pole position sitter Tom Bewley were a close second and third but they could do nothing about Gilchrist.
"Obviously yesterday we wanted to put behind us and pretend it never happened," said Gilchrist afterwards.
"We started fourth and the goal was to win. I took the opportunities as they came and focussed on keeping the car clean. I managed to get past a couple of cars in the opening few corners and pass Tom on the second lap.
"After that it was maintaining the gap to Justin who put a lot of pressure on me throughout the race."
There was plenty of action on track to keep a sizeable crowd entertained, with drama beginning on the opening lap when Tayler Bryant and Harry Townshend made contact in the middle of the pack. Cars were off the road and spinning and although Bryant managed to keep going and resume in the lead pack, Townshend, Dion Pitt and William Exton were all compromised and fell to the back of the pack.
The race quickly saw the lead group of seven cars pull a gap on the mid field. After some great racing and a few side by side moments it was wily veteran John Penny who came through to take fourth place and clock the fastest lap on the way.
Saturday winner Clay Osborne fought his way through to fifth after some hard racing with Christina Orr-West, who completed the top six.
Osborne could possibly have finished even higher, but a wide moment at the first corner on lap eight lost him some places and ultimately left him with no time to make further progress. That alone increased the points gap between him and leader Gilchrist with just five races remaining in the 2023 championship.
Further back, Rylan Gray headed the midfield pack and finished one place ahead of Bryant, who fell back from running in the top five early on. Pitt recovered well to get inside the top ten, finishing ninth, while Saxon Sheehan completed the top ten.