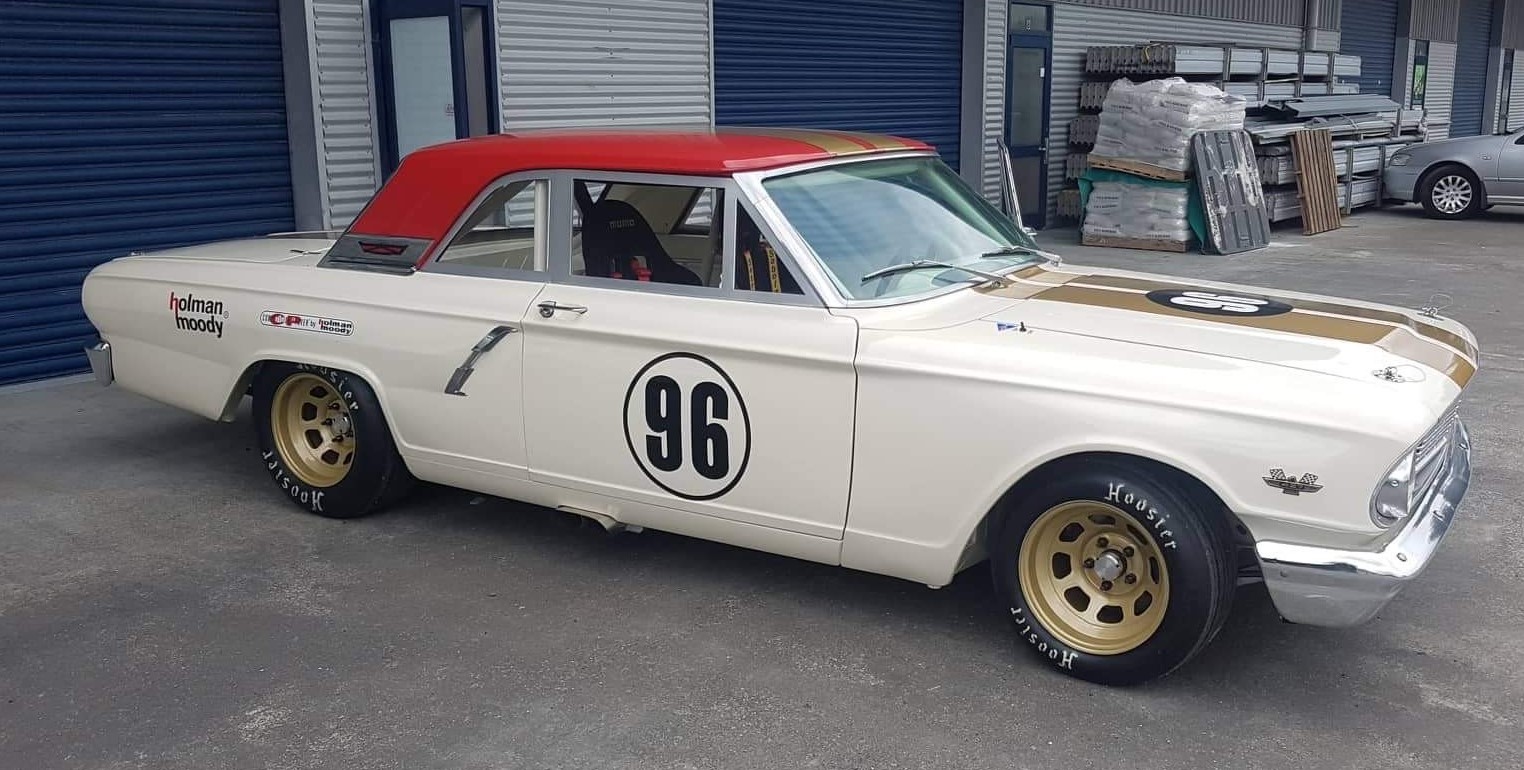 Galaxies and Thunderbolts – a celebration of Ford's mid-'60s British Saloon Cars at Historic GP meeting
When Dunedin's Leon Hallett completes the long haul north to the fifth annual Taupō Historic GP meeting over the Wellington Provincial Anniversary weekend, 23/24 January, his meticulously-built 1963 Ford Galaxie will join a huge  – unprecedented – 39 car grid of historic muscle and saloon cars.
Joining the equally fascinating 427-cu.in Holman-Moody Fairlane Thunderbolt of Chris Anderson and the 1964 Ford Falcon Rallye Sprint of Paul Berkahn in the Historic Group Nb class for FIA Group 2 cars, Leon Hallett's colossal 1963 Galaxie seems the most unlikely of circuit racing cars. Famously, the Galaxie excelled in NASCAR Grand National stock car racing. But this massive American full-sized land yacht also boasts a highly successful pedigree in circuit racing; in the Royal Automobile Club British Saloon Car Championship (BSCC), of all places.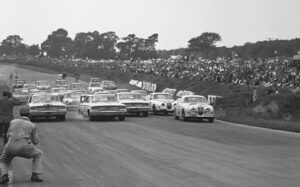 Jaguars had won every single one of the 39 BSCC races held between 1958 and 1962. The only time the Jaguars came under threat was the 1961 Silverstone International Trophy, where American driver Dan Gurney was entered in a Chevrolet Impala powered by a 409 cubic inch big block. Gurney took pole and was comfortably leading when the Impala broke a wheel two laps from the finish. Mysteriously, the Impala was immediately banned from the BSCC.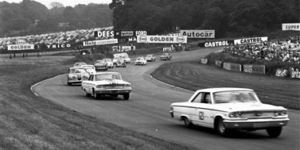 By Round 5 of the 1963 BSCC, at Silverstone, the Jaguars were faced with two sizable new opponents. "Gentleman Jack" Sears and Sir Gawaine Baillie arrived with a pair of massive Ford Galaxies. Sears took pole and went on the win the race, finally breaking the Jaguar stranglehold. He won again in Round 6 at Crystal Palace, and again in Round 7 at Silverstone where a third Galaxie, entered by Alan Brown Racing and driven by New Zealand's only F1 world champion, Denny Hulme, joined the Sears and Baillie machines.
Later that year, Gurney jumped ship from Chevrolet to Ford to drive another Galaxie and he was joined by fellow Grand Prix drivers, Scotsman Jim Clark and Australia's Jack (later, Sir Jack) Brabham, both of them, multiple F1 World Champions.
Car-builders Holman-Moody fitted the Galaxies with fibreglass front fenders, inner fenders, bonnet and boot, as well as bumpers made from Dural, all to get the weight down. The FIA homologated the 1963 Galaxie at 1589 kilograms. They were also homologated with disc front brakes, and while they invariably ran with drums in all four corners, the Willment team developed first Bendix, and then Girling, front discs. The wheels were the same 15×8 steel items as used in NASCAR, with double centres to prevent the nuts and studs being pulled through. Only the brilliance of Jim Clark in the Team Lotus factory Lotus Cortina managed to stave off the big American machines in 1964. He won on three occasions and was crowned 1964 British Saloon Car Champion.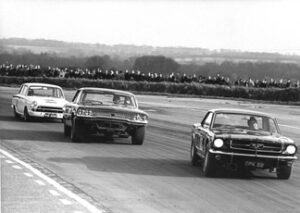 Nearly two years of Galaxie domination finally ended in 1965, with the new Ford Mustang coming onto the scene. Mustangs won all eight rounds, and Mustang driver Roy Pierpoint was declared champion.
The BSCC switched to the more liberal FIA Group 5 regulations for 1966, and while Mustangs and the epic lightweight Falcon Sprints, plus Clark's Lotus Cortina claimed seven of the eight rounds, it was the brilliant Australian driver Brian 'Yogi' Muir who scored one final victory for the Galaxie, driving his Willment Racing monster to the win in Round 2, at Goodwood.
Much like Britain, the Galaxie also has an interesting, if slightly less successful history in Australia. While Lex Davison (grandfather of current V8 Supercar drivers Will and Alex) and Norm Beechey both raced four-door Galaxies in Australia, one of the Holman-Moody cars also made its way down-under, this being the Sir Gawaine Baillie car.
Baillie, the baronet whose family owned Leeds Castle in Kent at the time, raced his Galaxie in Australia in 1963 and was amusingly described by Australian motoring media as the only knight to drive his own castle, in reference to the scale of the big Ford! He shared the car with Davison in the 1964 Sandown 6-Hours where it famously lost its brakes at high speed off the end of the straight, which resulted in both the track barriers, and the Galaxie itself, sustaining heavy damage. Incidentally, young Kiwi driver, Ivan Segedin was sharing a Volvo in this race with fellow countryman, Colin Giltrap. Segedin was so inspired by the big thundering Galaxie, he briefly considered trying to purchase it before then beginning arrangements to acquire and import New Zealand's very first racing Mustang, the car known in New Zealand as the Fleetwood Mustang. The famous Fleetwood also joins the historic muscle and saloon car races at the Taupō Historic GP meeting, in the hands of Kerikeri's Sean McCaughan.
While the incredible period-correct trio of the Galaxie, Fairlane Thunderbolt and Falcon Rallye Sprint are not expected to be battling for outright honours, their on-track and off- track presence, as well as their uniqueness and unquestionable character, will ensure they'll be crowd favourites all weekend.
That said, at just over 2 metres (6.6 feet) wide and over 5 metres (17 feet) in length, should the Galaxie hit the front in one of the handicap races, it's hard to see how anyone will find the space to get by. Like Gawaine Baillie in 1964, Leon Hallett will surely feel like the knight driving his own castle.
The Taupō Historic GP runs over two-days, 23 and 24 January 2021. As well as races for historic muscle and saloon cars, the event features demonstrations of many historic Ford racing and rally cars, races for Formula 5000, Formula Junior, Historic Sports Racing and other Invited Historic Cars, Historic Formula Fords, Historic Sports Sedans & Allcomers and TranZams, plus displays of Ford models spanning 60 years of motoring in New Zealand assembled by members of multiple Ford-Owner clubs from around the country.
For more information, including ticketing, for the Taupō Historic GP Celebrating Ford, visit: www.taupohistoricgp.com
For more information about the Galaxie, Thunderbolt and Falcon Rallye Sprint, contact:
Steve Holmes – theroaringseason@gmail.com. Mob. 021 201 5858
Bruce Dyer – bruced105@gmail.com, Mob. 021 025 45167