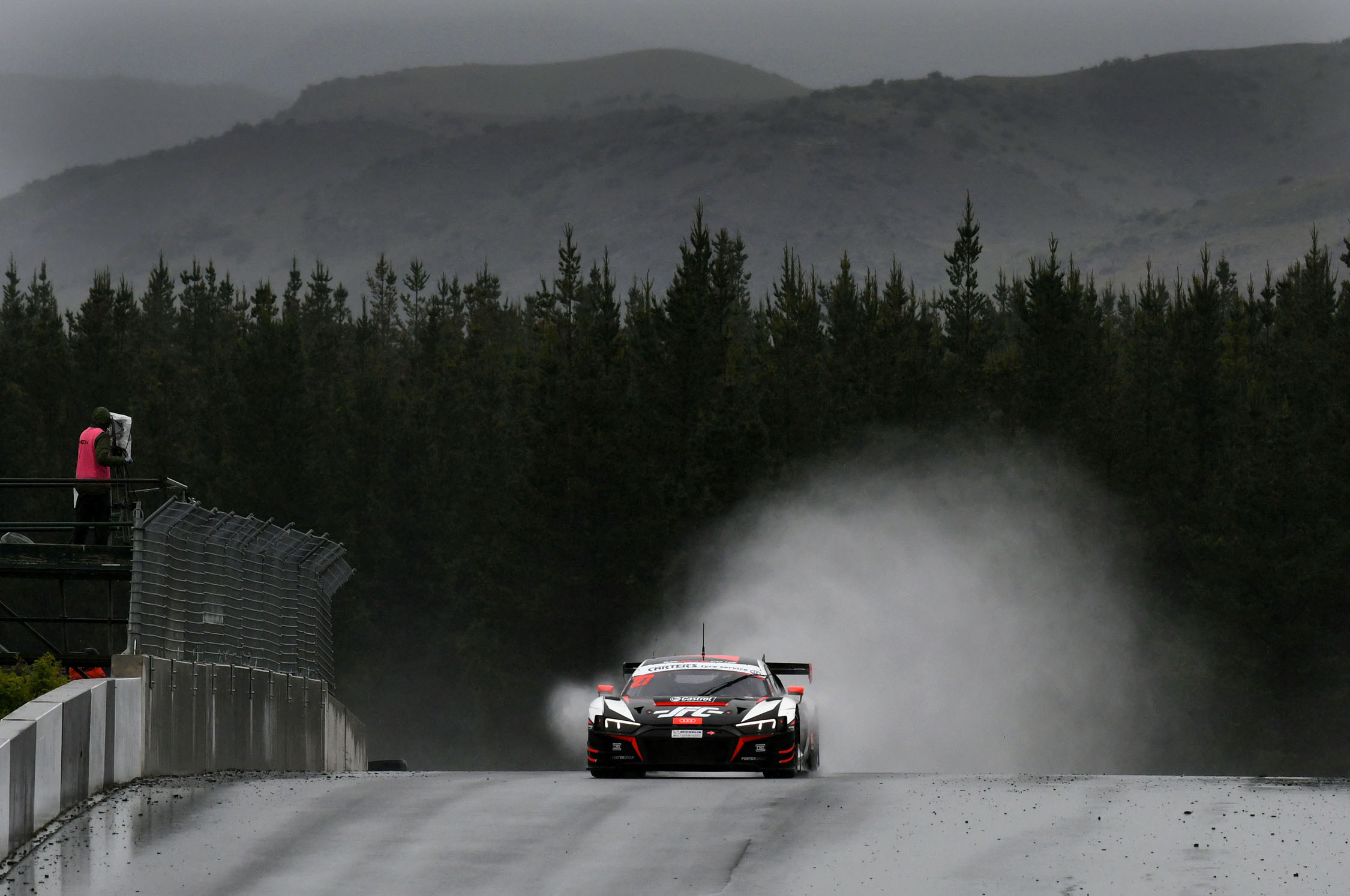 Fillmore & Reid take the title in Three-Hour NZ Endurance Championship
Sam Fillmore and Jonny Reid have won the 2022 Three-Hour New Zealand Endurance Championship at Highlands Motorsport Park in Cromwell on Saturday (29 October 2022) after both their rivals and the weather did their utmost to stymie their charge. Second home was the Glenn Smith/Damon Leitch pairing ahead of Andrew Fawcet/Daniel Gaunt and Class 2 (GT type) winners Francois Beziac/Tom Alexander (Porsche 991 Cup MR) in fourth.
"What a special race," commented Sam Fillmore. "We thought it would be wet the whole race but arrived this morning to fine weather and then torrential rain late in the race."
With just 20 minutes remaining in what had become a very wet race, four different teams were vying for the overall and Class 1 (GT3) titles. Reid, at the wheel (Audi R8 Evo 2) held the lead from Ant Pedersen/Paul Pedersen (Mercedes-AMG GT3), with Daniel Gaunt (McLaren 720S) third and Damon Leitch (McLaren 650S GT3) in fourth and with just seven seconds covering the four.
Leitch moved into third while the top two had created a gap with Pedersen making a charge for the overall lead. This effort was about to come undone as Pedersen seized an opportunity coming across the bridge and tried to out-brake Reid, only to spin off into the gravel and out of the race.
"The surface was so slippery," said Reid. "It was so hard to see anything with the others coming for us as our wiper wasn't working properly.
"Ant (Pedersen) was putting me under pressure and I closed the door. He's a great racer and we were going down to the wire for the NZ title, so I don't hold anything against that!"
The race started in fine weather on Saturday afternoon with Fawcet leading from Chris van der Drift (Nissan GTR) until they both came together resulting in Fawcet dropping down a lap and van der Drift serving a drive-through penalty.
This gave the lead to the Jono Lester/Heremana Melmazec Porsche 991 Cup MR until Lester also had to serve a drive-through penalty for speeding while following the safety car. Van der drift returned to the lead which he essentially held until rain started falling soon after the halfway mark in the race.
By this time Lance Hughes had taken over the drive and had also changed to wet tyres, as did the rest of the field. Then with just over an hour to run, Hughes speared off into the wall at Turn 2 while Melmazec soon after spun on the bridge, both accidents resulting in the race being stopped for 25 minutes while the track was cleared.
The initial restart saw the field circulate under safety-car conditions until officials decided to give the green light with around 20-wet-minutes of racing remaining.
Also on the line were Class titles. Fillmore/Reid won Class 1, Beziac/Alexander Class 2 with the Class 3 (>3501cc including GT4) honours going to Simon Evans (Porsche 718 Cayman GT4 Clubsport MR) and co-driver Marco Giltrap, who had earlier in the day won the Class 2 & 3 One-Hour title.
Locals Barry Moore and James Paterson in their 'NZ-built' 2.0 litre TCR powered Audi R8 were Class 4 (2000-3500cc) winners and the father and son combination of Andrew and Will Kitching won Class 5 (0-2000cc).