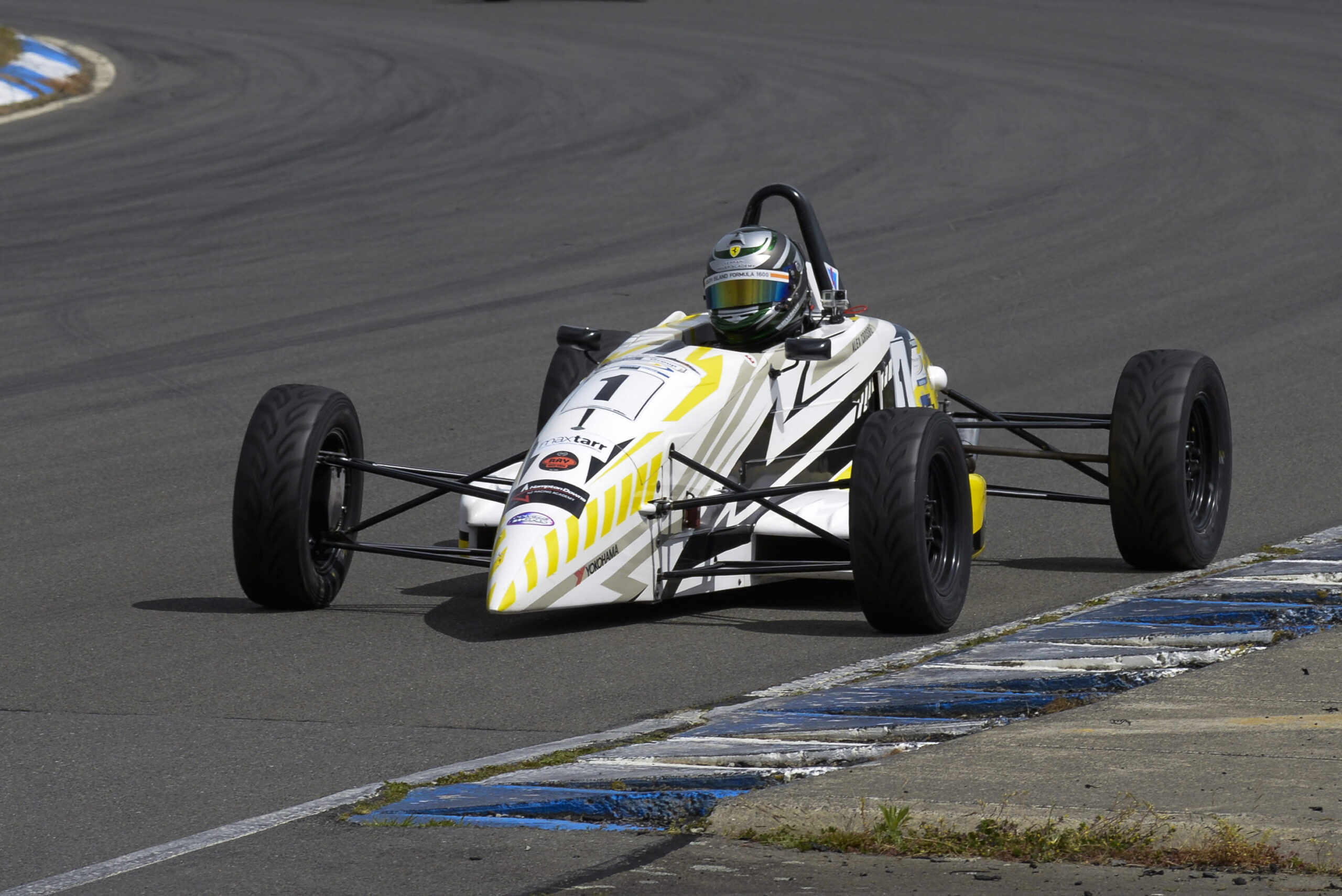 Alex Crosbie wins Wigram Cup
Current NZ Formula Ford champion Alex Crosbie has added the Wigram Cup to his collection after winning the 12-lap feature race at the opening round of the 2022/23 South Island Formula 1600 Series in Christchurch. The first of six-rounds was part of the Wigram Revival Race Meeting held at the Mike Pero Motorsport Park with 17-cars taking to the grid. While Crosbie won the feature, it was local Matthew Hamilton (Van Diemen Stealth) who won the round with a race win and two second placings.
"It was good," commented Crosbie (Ray GR21). "A good way to finish the weekend with not a very strong start. The first couple of races didn't go that well for me.
"In the last race I was able to get amongst the front runners and knew that I had the edge. They (Zac Christensen and Matthew Hamilton) were starting to fight a bit and I knew that I was faster than them. "
The Wigram Cup saw close racing initially amongst Christensen, Hamilton, Crosbie, Brown, Knowles, Dylan Petch (Ray GR20) and Ryan Low (Ray GR08) with the top three exchanging the lead over the 12 laps.
Crosbie finally made his move on the tenth lap passing both Christensen and Hamilton heading to Turn 3 and then holding the lead until the chequered flag.
"I wasn't sure if I got out in front would I be able to stay out in front because of the draughting around here," said Crosbie. "There was a big head wind today which didn't help whoever was in front. Once out in front I knew if I didn't make any mistakes then I should be all right to the finish."
Third home in the Wigram Cup feature race behind Hamilton was current South Island champion Zac Christensen (Ray GR20) who sits second overall on the points table. Christensen claimed both the $500 Hampton Downs NZ Race Academy cash prize for setting fastest lap in qualifying and the NAPA Auto Parts Driver of the Day $230 prize as well as winning the second race on Sunday morning.
Notable performances from the round came from Blake Knowles (Van Diemen RF05) and Daniel Brown (Ray GR21) with both finishing on the podium. Making their Formula Ford debut were Dan Kelly (Van Diemen Stealth), Caleb Byers (Van Diemen Stealth), Will Neale (Van Diemen Stealth) and Rachel Beck ((Van Diemen RF92).
Kelly finished all three races and sits 10th overall while Byers and Neale both had a DNF in Race two but finished in the top ten in the Wigram Cup race and sit 11th and 12th overall. While Beck finished the opening race, a mechanical side-lined her for the rest of the weekend.
Drivers and teams have a short turnaround time before the second round one-day meeting at the Timaru International Raceway this Saturday (5 November).