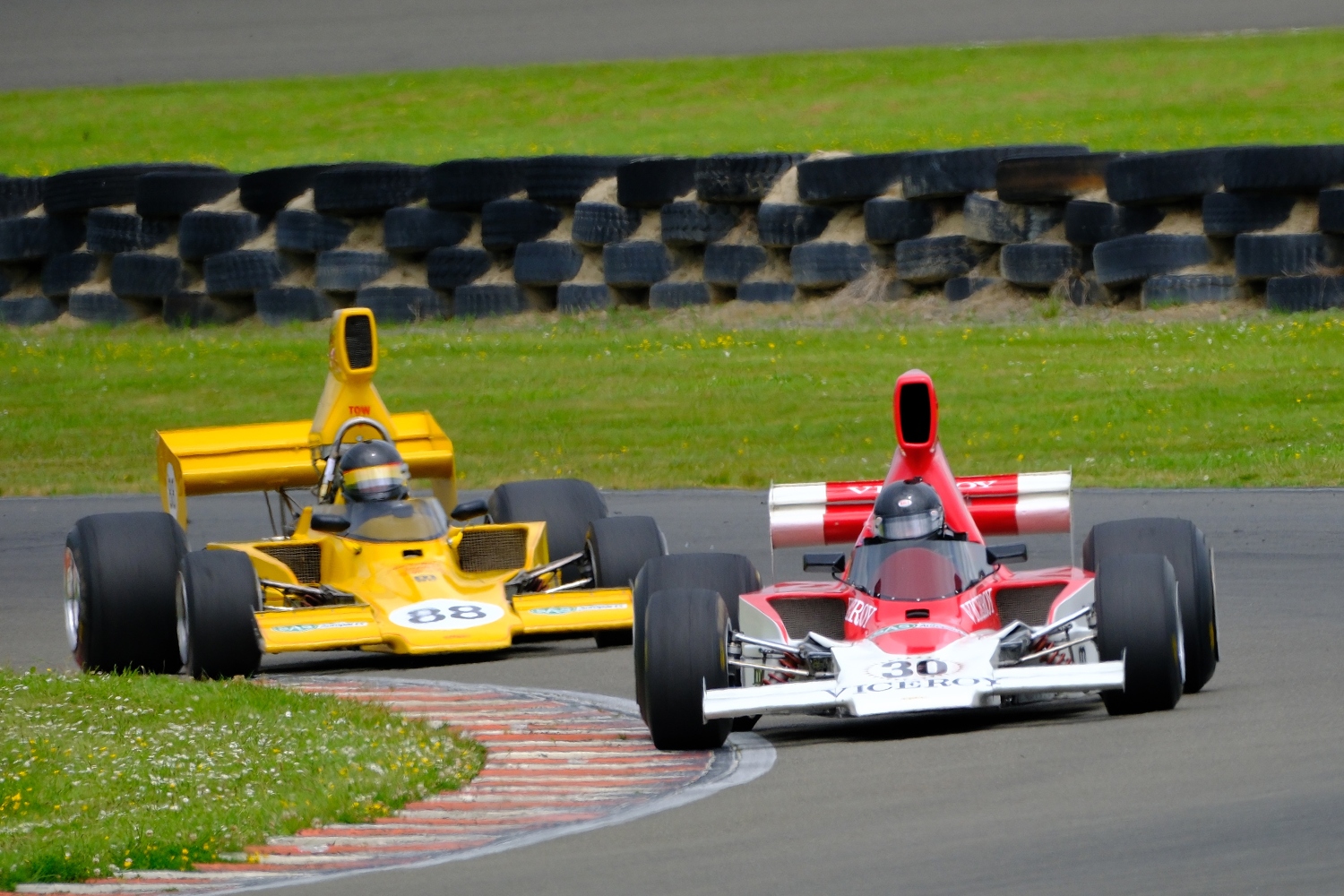 F5000 field grows to 16 for season's series finale at Hampton Downs this weekend
Strong family ties see the SAS Autoparts MSC NZ F5000 Tasman Cup Revival Series field expand out to 16 cars for the 2022/23 season's grand finale round at the Hampton Downs circuit complex in New Zealand's northern Waikato this weekend.
The world-renowned historic motor racing series, which this season celebrated its 20th anniversary, has consistently provided NZ F5000 Association members with a premium pan-generation experience and opportunity.
No more so than this weekend, when;
1) current Formula Open class paceman James Watson finally gets the opportunity to try out his event promoter father Chris Watson's one-off , originally Aust-built Gardos F5000 race car, and
2) the Burson family makes NZ F5000 category history with a bold three generation event entry.
"That's correct, "family spokesperson Aaron Burson last night. "The plan is to have all three generations of the Burson family – my father Peter, myself Aaron and my 20-year-old son Connor – all competing on the track at Hampton Downs this weekend at the HRC's Legends of Speed meeting."
An added advantage for any spectators at the meeting will be the opportunity to watch and listen as Peter Burson puts his unique V12-engined P207 model BRM Formula 1 car through its paces leaving son Aaron and grandson Connor Burson to their matching McRae GM1s.
Connor's car is one of the earliest GM1s – chassis 003 – built when Kiwi great Graham McRae was working in the UK with Len Terry.
That meant it was originally known as a Leda LT27 until McRae bought out his partners and set up his own business, McRae Cars Ltd, and 003 was renamed a McRae GM1
Before Peter Burson bought it in 2006 the car had spent all of its life in the UK, first – from 1972 until 1999 – with Scottish driver Jock Russell, then from 2000 to 2006 in the hands of British hill climb ace Roy Lane.
Aaron's car – 008 – meanwhile, has always been a McRae GM1, being built in 1973 for a customer in the United States. It first came here with Canadian driver Jay Esterer to contest rounds of the 2008/09 MSC NZ F5000 Tasman Cup Revival Series and stayed when Esterer – who also owns 014 – agreed to sell it to the Bursons.
The BRM F1 car and two McRae GM1 F5000s will join 13 other SAS Autoparts MSC NZ Tasman Cup Revival Series cars at the meeting with the main competition expected to come from the Lola T332 of Feilding ace Kevin Ingram and the Talon MR1/A of Auckland's Grant Martin.
.
Other T332s will be in the hands of Muscle Car Series alumni Tony Galbraith and Bruce Kett as well as former series title holder Brett Willis from Rotorua.
Series regulars Glenn Richards and Shayne Windelburn are also back in their later model Lola T400s, as is David Banks (Talon MR1/A), Alastair Chalmers (Chevron B32) and Tim Rush from Feilding in his 'one-of-a-kind' McLaren M22.
Back, to inject some interest in Class A (for earlier cars) are McLaren protagonists Tony Roberts and Toby Annabell with Roberts driving one of his favoured high-wing M10A, Annabell a later model, low-wing M10B.
The SAS Autoparts MSC NZ F5000 Tasman Cup Revival Series is organised and run with the support of sponsors SAS Autoparts, MSC, NZ Express Transport, Bonney's Specialised Bulk Transport, Mobil Lubricants, Pacifica, Avon Tyres, Webdesign and Exide Batteries.
You can follow the series on Facebook at F5000 New Zealand or via the website at www.f5000.co.nz