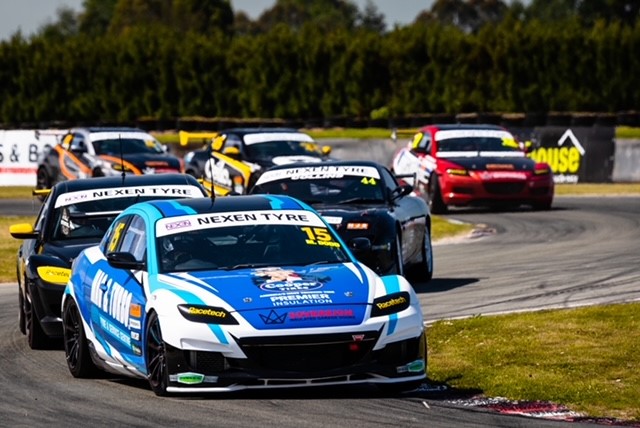 Extremely close action in NEXEN Tyre NZ Mazda Racing Series
Rangiora driver, Shane Paget holds a narrow lead in the points after some extremely close racing at the opening round of the Nexen Tyre NZ Mazda Racing South Island Championship at Levels Raceway in Timaru on Saturday.
Qualifying gave an early indication as to how close the racing would be when the top six cars were within .717 of a second of each other. Fifteen-year-old rookie, Chris White of Prebbleton, set the fastest time and in doing so grabbed the $500 pole award courtesy of Premier Insulation in his first race start. Paget was second fastest with Masterton driver Matt Horne third.
Sadly, Dunedin driver Russell Burgess had to withdraw his new car from the round after engine issues the day before.
The first race over 8 laps was hotly contested with Paget prevailing from Horne and another Rangiora driver, Dalan Price.
The second race was a 10-lap reverse grid contest and Paget worked his way to the front of the field only to have a power steering failure. Some great driving saw him manage to avoid Matthew Dodd of Christchurch and South Canterbury driver Brent "Bones Collins who were in close proximity at the time. Dodd went on to take a sweet victory, after battling an engine misfire during testing, ahead of Collins and White.
The closeness of the racing meant four drivers – Paget, Horne, Collins and Dodd would go into the 8-lap finale tied on 74 points with Price and White just 5 points further adrift with all of them still in contention to win the round.
The final race didn't disappoint with more door handle to door handle action, Paget taking the win from Horne and Chris White who edged past Dodd at the hairpin on the final lap. Collins had taken over Nathan Haylett's Mazda RX8 for the race and finished sixth behind Price in fifth.
Meanwhile in the Historic Class, South Canterbury's Hamish Collins qualified fastest and won all the three races from Ken Thompson of Dunedin, the last race in particular featuring an intense tussle between the two.
The win meant Paget took the round and the series lead with 118 points with Horne second on 114, followed by Dodd on 108 points, White 106, Collins 104 and Price 101.
The series' next events in the South Island will be in January with outings that double as National rounds at Mike Pero Motorsport Park, Ruapuna, Christchurch over the weekend of 20-22 January with a return to Levels Raceway in Timaru a week later. Full grids are anticipated for the national rounds.