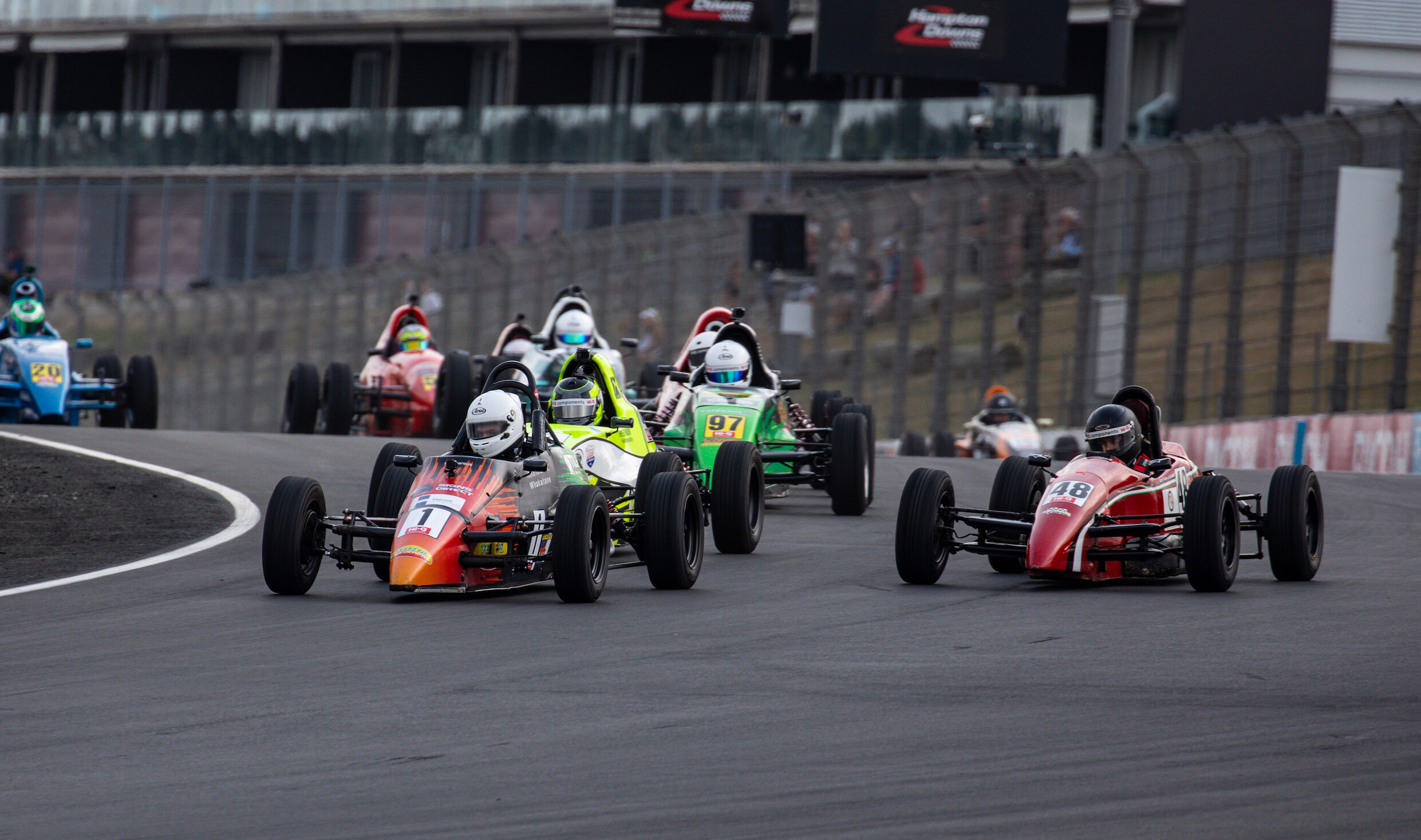 Engines ready to roar for 2020-2021 championship season
Six of the best New Zealand classes and eighteen races on Saturday 31st October will give fans a packed day of racing entertainment and there's plenty to look out for as motorsport gets back on track.
Topping the bill at Hampton Downs will be the ENZED Central Muscle Cars – flexing their horsepower for the first time in a long time around the twists and turns of the Hampton Downs national circuit. A good number of some of the best prepared and presented muscle cars in the world are confirmed including former national V8 championship winner and Bathurst muscle car winner in 2019, Angus Fogg. Like everyone else, he's just excited to be out there in his superb JA Russell supported Mustang.
"It's been too long really, I think we're all really looking forward to getting out there," he said. "I feel like I've become an owl or a mole or something over the past few months. It'll be great to be back at the track and racing."
TradeZone GTRNZ makes a welcome return to the track too, with the anything goes GT1 and GT2 field supported as always by the popular and largely home built specials in the GT3 and GT4 category.  An entry of more than 40 cars is expected and series coordinator Greg Sandilands is promising some mouth-watering machinery.
"Adam Newell and John De Veth are confirmed with their Crawfords and Adam is of particular interest as he has added a supercharger – and around 200 more horsepower – to his Ford V8 powered car over the winter.
"There will be a few TranzAm cars out too, with Kerry Jones and Dave Brennan likely in their Corvettes. Nigel Snow will be out in GT2 in his Synergy V8 powered Toyota 86 and he'll be up against the likes of Marvin Towers twin turbo MG monster."
TOYOTA GAZOO Racing NZ's new two round endurance championship for its TR86 racer gets underway and there are likely to be some interesting driver pairings in the field as a combination of young drivers and more experienced drivers looking for track time blow out the Covid cobwebs and go racing.
TOYOTA GAZOO Racing NZ Manager Mark Whittaker is another eager to get the motorsport show back on the road after the Covid 19 interruptions. "I think everyone wants a sense of normality to return and for us and everyone else, that means going racing and doing what we do as people working in the racing industry and participating in the sport. We'll be excited to get the season underway as I think everyone will be."
Hi-Q Components Formula First, which has produced some of the very best racing in New Zealand over recent seasons with the nose to tail slipstreaming, revs up for its second round of its 2020-2021 championship and will once again provide action from the first lap to the last and with three races on the card for the class, there'll be plenty for the fans to enjoy.
Completing the card will be the NEXEN Tyre Mazda Racing Series with its big field of RX8 racers and a few RX7 and MX5 machines thrown in for good measure. Deceptively fast and always providing thrills and a few spills around Hampton Downs, their three races should also be unmissable.
With the country sitting at Level 1 alert, it's business as usual but with plenty of COVID-19 track and trace signage at the facility. Spectators are permitted and everyone is hoping for a great two days of racing, including acting CEO of MotorSport New Zealand Elton Goonan.
"It's great to see our championship classes getting back in motion this weekend," he said. "The 2020-21 season will be exciting for everyone no doubt, after most series were unfortunately cut short earlier this year. I know our championship classes are raring to get racing again after what has seemed like an eternal break so I'm sure they'll put on some great racing."
There's practice and qualifying on Friday with all the racing on Saturday. Tickets are available at Eventfinda.