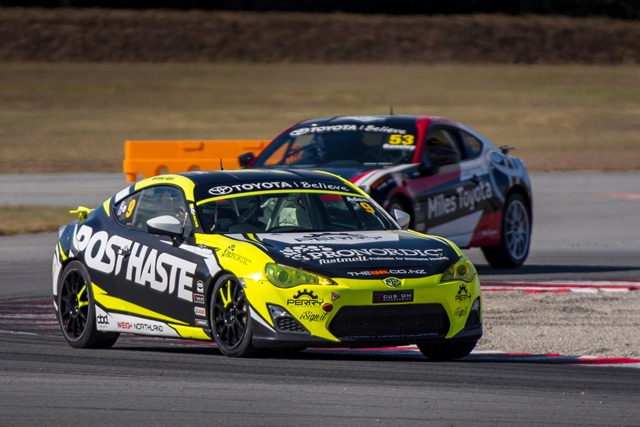 Connor Adam slips to fourth after Highlands
Mount Albert's Connor Adam, 20, has slipped down to fourth place in the 2018/19 Toyota 86 Championship after getting caught up in another driver's incident in the final of the three races at Highlands Motorsport Park.
Adam's weekend started with a strong qualifying, setting the fifth fastest time in the 20-minutes session, not far off the pace of those who had completed more laps than him at the southern circuit. This left him to start from fifth place for the first two races of the weekend.
The first eight-lap race of the weekend saw Adam come him where he started in fifth while the second race, saw him drop back two spots from the grid to finished seventh after its ten lap duration. The second race was held in tricky conditions after some light rain had made the track very greasy and hard to drive on with Adam's dry set-up.
"The first two races were solid for us" said Adam.
"The guys up the front have been doing testing here and our first time driving the track was during Friday practice so we had some catching up to do."
"But we scored some solid points which will help us later in the season which is what it's all about."
The final 12-lap race of the weekend did not go to plan for Adam. While running in sixth place he was taken out by another driver, dropping him down to 14th position with just two laps to go in the race.
"Obviously race three wasn't ideal." said Adam.
"It's a bit of a disappointing blow to our championship after such a strong start but we know we are fast which is the main thing, we just need to get everything else to fall into place."
The closely fought championship meant Adam's last race drama had a dramatic effect on his championship, dropping him to fourth place in the championship with three rounds still to contest. The next round of the 2018/19 Toyota 86 Championship takes place at Invercargill's Teretonga circuit on January 18-20.
Adam's Toyota 86 campaign is supported by Post Haste, ProNordic, Perry Engineering and Weigh Northland.
Toyota 86 Championship points after Round 3 (Top 4)
Callum Hedge – 574
Jaden Ransley – 520
Jordan Baldwin – 518
Connor Adam – 484
Caption: Connor Adam (#9) sits fourth in the 2018/19 Toyota 86 Championship after the third round at Highlands Motorsport Park. Image by Bruce Jenkins.
Release: Jordie Peters