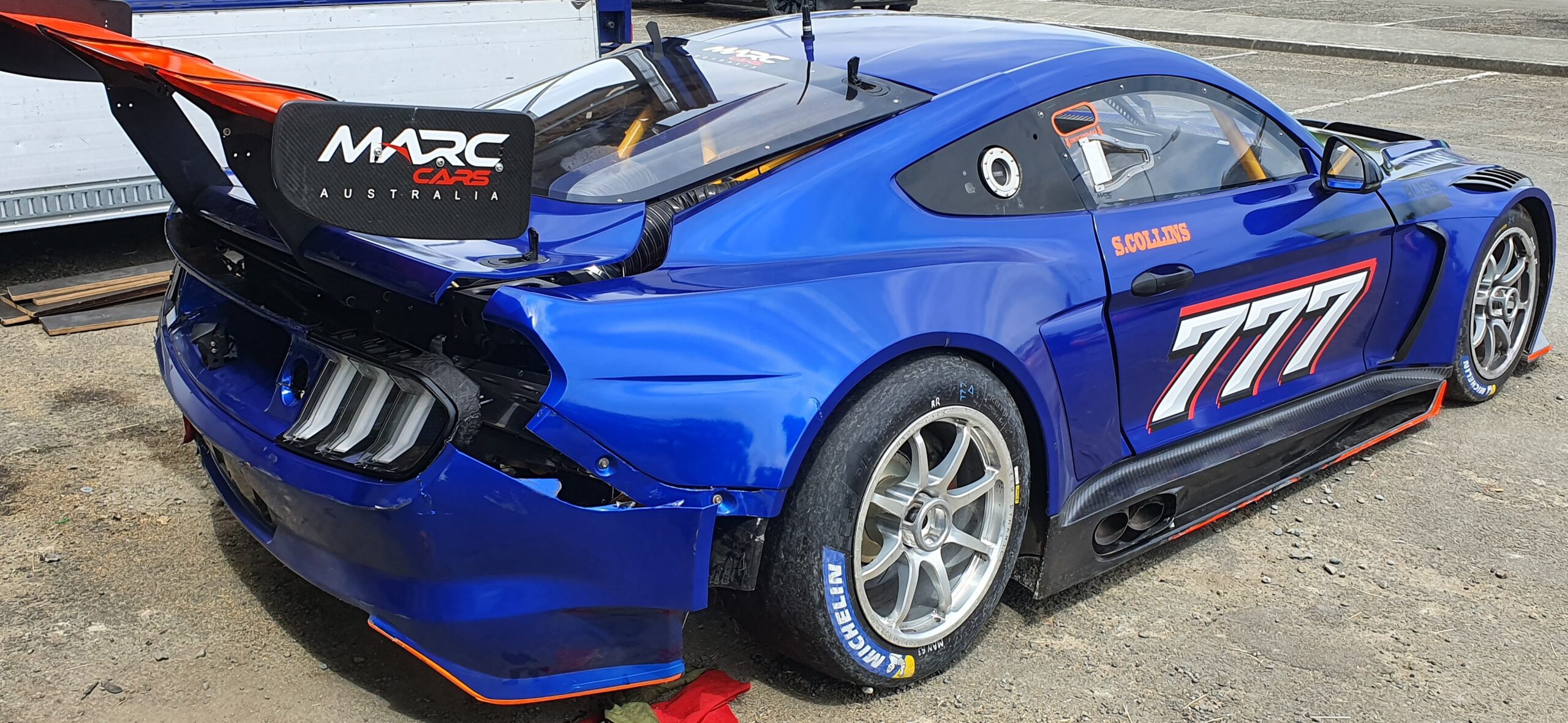 Collins Motorsport prepares MARC for Taupo
Sporting a full carbon fibre body, the Collins Motorsport MARC II V8 appears to be magnetised.
NZ's first MARC II, launched last month at Hampton Downs during the NZGP, met with a huge wave of interest from motorsport fans both at the circuit and online with the Mustang styled endurance weapon resonating across a wide variety of magnetised enthusiasts.
The team have been using the Racer Products V8's series to get to know and understand the car with the primary goal of building seat time in race conditions as they prepare for the upcoming endurance season.
With contact and damage from three of the six races team engineers Dan Turner, Dale Harvey and carbon guru Kane Denby are also rapidly building their knowledge of the MARC.
A bespoke purpose-built endurance car made in Australia the full carbon panels are designed to be easily replaced and the back end support from MARC Cars Australia is outstanding says team owner Paul Collins
"All parts and components are readily available, sitting on the shelf in Australia, this simplicity and ease of business was one of the key reasons we opted to purchase the MARC"
"Although we are beginning to wonder if the carbon fibre has been magnetised"
Paul jokes, referencing the hard hit from Angus Fogg at Hampton Downs, followed by another solid impact from Brady Wild at Manfield on Saturday afternoon before driver Sam Collins backed it firmly into the wall driving on the limit while leading Manfield's feature race on Sunday.
This week the team placed an order for an entire set of spare panels following the weekends racing, these were on the water on Tuesday. Even with the current shipping delays Collins Motorsport is confident of having their car ready for Racer Products V8's third round at Taupo's Bruce McLaren Motorsport Park on the 27th and 28th March.
Having a set of spare panels will likely prove advantageous in the longer endurance races where the window between qualifying and racing is very tight.
The Metal Co and Modern Transport backed MARC weighs 400kg's less than Collins Motorsport NZ Championship winning NASACR Mustang, at 1180kgs it also benefits with greater aero dynamics and ground force.
"Enquiries and interest for MARC's by New Zealand racers has exploded over the last few weeks since Collins Motorsport launched their MARC II" said Geoff Taunton, owner of MARC Cars Australia.
The MARC, a Ford Mustang styled, carbon fibre endurance race machine packs 630 hp from its 5.2l V8 Coyote engine. It will undertake a full 3hr campaign in the South Island Endurance Series where it will compete below the Class E GT3 cars, in Class D against GT4 and Porsche Cup machinery, one class up from Class C, which Collins Motorsport won at the 2020 New Zealand Championships at Highlands Motorsport Park with their Metal Co and Modern Transport sponsored NASCAR Mustang.