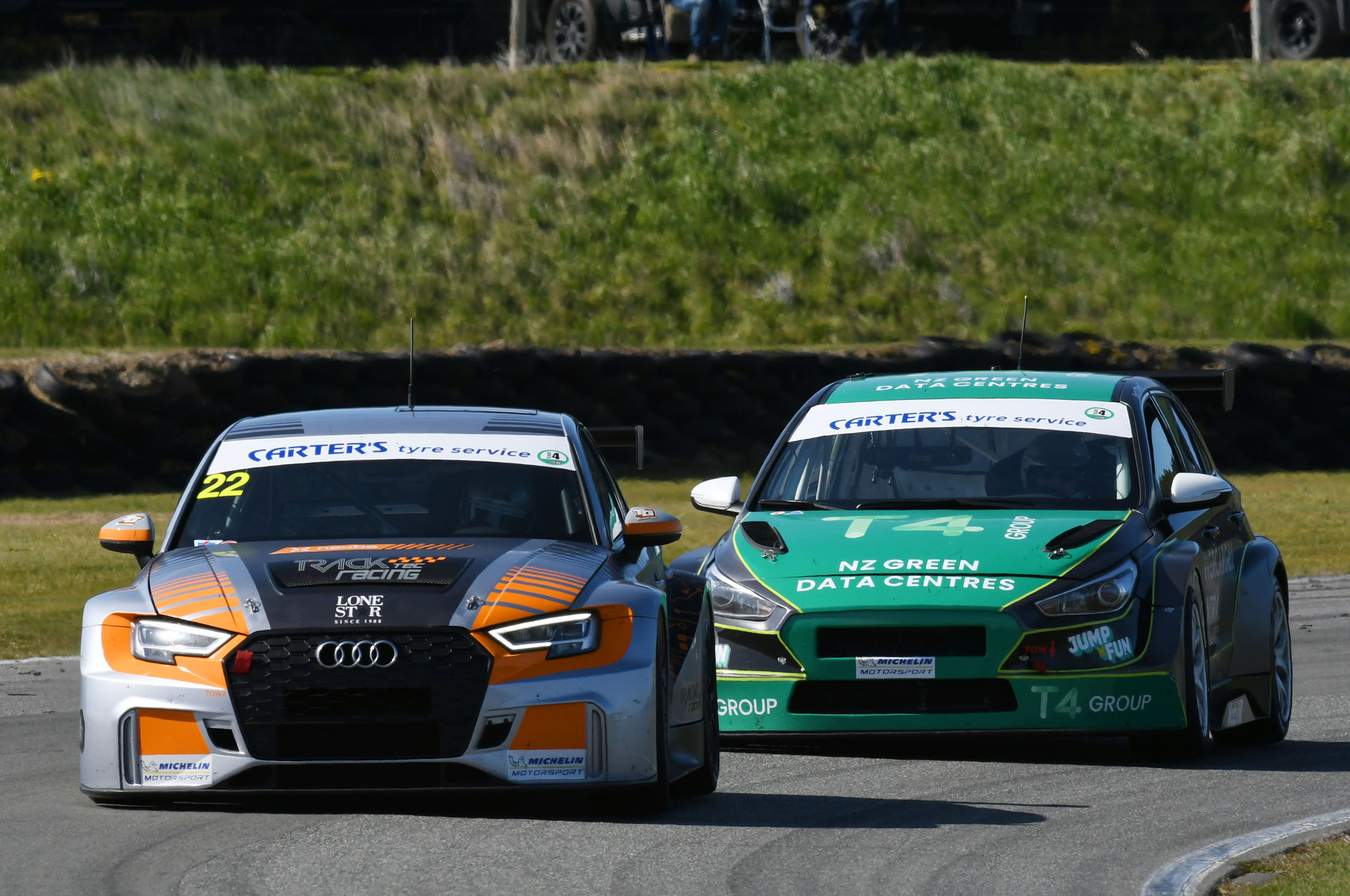 Collins and Penrose claim One-Hour South Island Endurance race honours at Teretonga
Sam Collins (Marc II Mustang) has claimed his second Class 2 & 3 One Hour race win of the 2022 Carter's Tyre Service South Island Endurance Series while James Penrose won the separate Class 4 & 5 race at Teretonga Park in Invercargill on Saturday.
Having won two weeks ago at the opening round in Christchurch, Collins again led from the start in his Mustang with Ronan Murphy (Porsche 991.1 Cup) settling into second. However, while Collins maintained his lead to the chequered flag and also claiming first home in Class 2 (GT Type), Murphy came under threat from Heremana Malmezac (Porsche 991.2 Cup MR) who eventually finished ahead of Murphy while Steve Books/Bill Riding (Porsche 992 Cup), Jordan Michels (Ford Focus V8) and Marco Schelp (Porsche GT3 Cup S) fought over fourth to sixth placings.
Fastest Class 3 car was Nigel Cromie of Christchurch in 11th overall in the McLaren 570S GT4.
In the Class 4 & 5 race (2001-3500cc and 0-2000cc), it was pole sitter Andre Simon (Toyota 86 Turbo) who led away at the start although James Penrose (Audi RS3 LMS TCR) quickly took the lead. Penrose had led for much of the opening round two weeks ago until a broken front damper ended his race.
While Simon pitted early and dropped out of contention, behind Penrose a battle ensued between round One winner, Scott O'Donnell (Hyundai i20N TCR), Grant Askew/Cole Askew (VW Golf GTI TCR), Warren Black (Audi RS3 TCR), Russell McKenzie (BMW E46 M3 Coupe) and Mike Hall (VW Golf Gti TCR).
An early safety car intervention saw a number take their compulsory pitstops while others stayed out, electing to pit later. Penrose received a drive-through penalty after being adjudged to have passed under safety car regulations, so dropped back to fifth place.
Another safety car period with less than five minutes to go saw Black lead away O'Donnell and Penrose from the restart. Penrose passed O'Donnell around the outside of the loop with 90-seconds left, to grab second, with Black leading across the line at the finish only to receive a time-penalty for breaching the safety car restart regulations. This dropped him to third, handing the win to Penrose from O'Donnell. Hall was fourth from McKenzie with Brad Rule, the first Class 5 car, in sixth.
With one round remaining, Collins has a 14-point lead over Ronan Murphy who is tied in second with Heremana Malmezac in the race for the overall Class 2 & 3 title. Collins also leads Class 2 while Nigel Cromie has an 8-point lead over Grant Williams/Ben Williams (Toyota GT86 V8) in Class 3.
In the race for the overall Class 4 & 5 title, Scott O'Donnell leads Mike Hall and Warren Black with Brad Rule (Honda Civic) in fourth who also leads Class 5.
The third and final round of the Series takes place at the Timaru International Raceway in Timaru on Saturday 15 October.