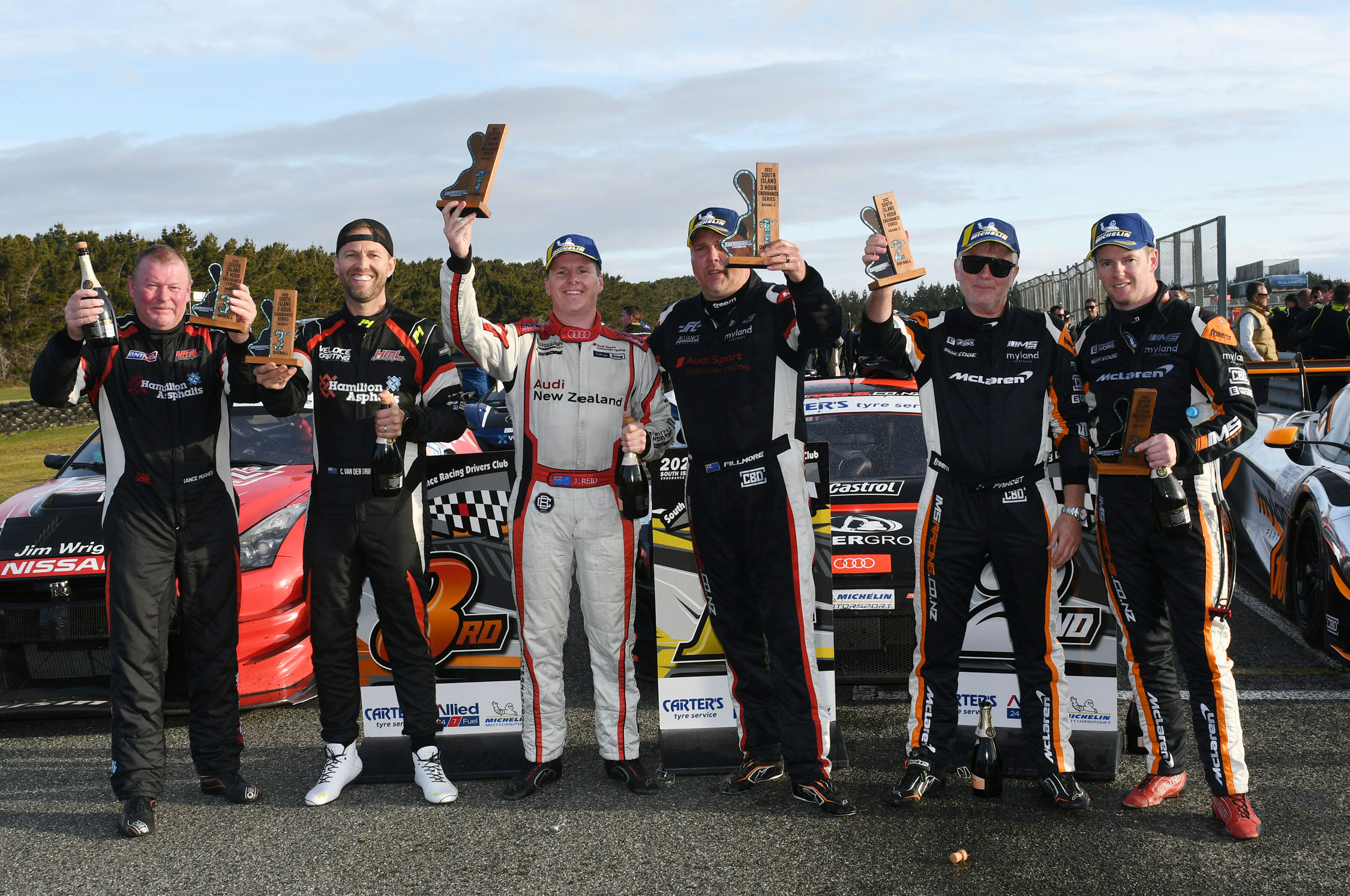 Dramatic win for Fillmore/Reid in Three Hour South Island Endurance race at Teretonga
A second win for Sam Fillmore and Johnny Reid (Audi R8 LMS Evo GT3) in the 2022 Three-Hour Carter's Tyre Service South Island Endurance Series has shown that they are the team to beat this season after a dramatic win at the second round held at Teretonga Park in Invercargill on Saturday.
Second home was the hard charging Andrew Fawcett/Daniel Gaunt (McLaren 720S GT3) who coasted over the line with low fuel. Third went to the very quick Nissan GT-R Nismo GT3 of Lance Hughes/Chris van der Drift with Hayden Knighton/Kane Lawson (Mercedes Benz AMG GT30) in fourth and first in the Michelin Am Cup competition.
Fawcett/Gaunt held the lead for most of the race with a thrilling conclusion set to take place with Reid catching Gaunt in the dying moments of the race. Unfortunately for Gaunt, he went wide at the Loop allowing Reid through to the lead with less than two minutes remaining.
As Reid took the chequered flag, Gaunt was already slowing with low fuel and needed to cross the finish line to claim second. This he did after taking to the grass and 'short-cutting' the final corner. A protest over this result was thrown out as it was deemed that no advantage was gained as they were three laps ahead of third place.
Fifth was Glenn Smith/John DeVeth (McLaren 650s GT3) ahead of the first Class 2 (GT Type) car home of Steve Brooks/Bill Riding (Porsche 992 Cup). Seventh and first in Class 3 (3501cc and over, including FIA GT4 spec cars) was Marco Giltrap/Simon Evans (Porsche 718 GT4 Clubsport).
The Class 4 (2001-3500cc) winner was Barry Moore/James Paterson (Audi R8 LMS 2.0T) in 11th overall while Grant Moore/Matt Moore (Toyota Altezza 2.0) home first in Class 5 (0-2000cc) and 14th overall.
Fillmore and Reid have a narrow 10-point advantage over Fawcett/Gaunt for the overall Three-Hour title with Smith/DeVeth 22-points further back in third.
With none of the class or overall titles decided, the battle will be on at the final round in Timaru 15 October 2022.