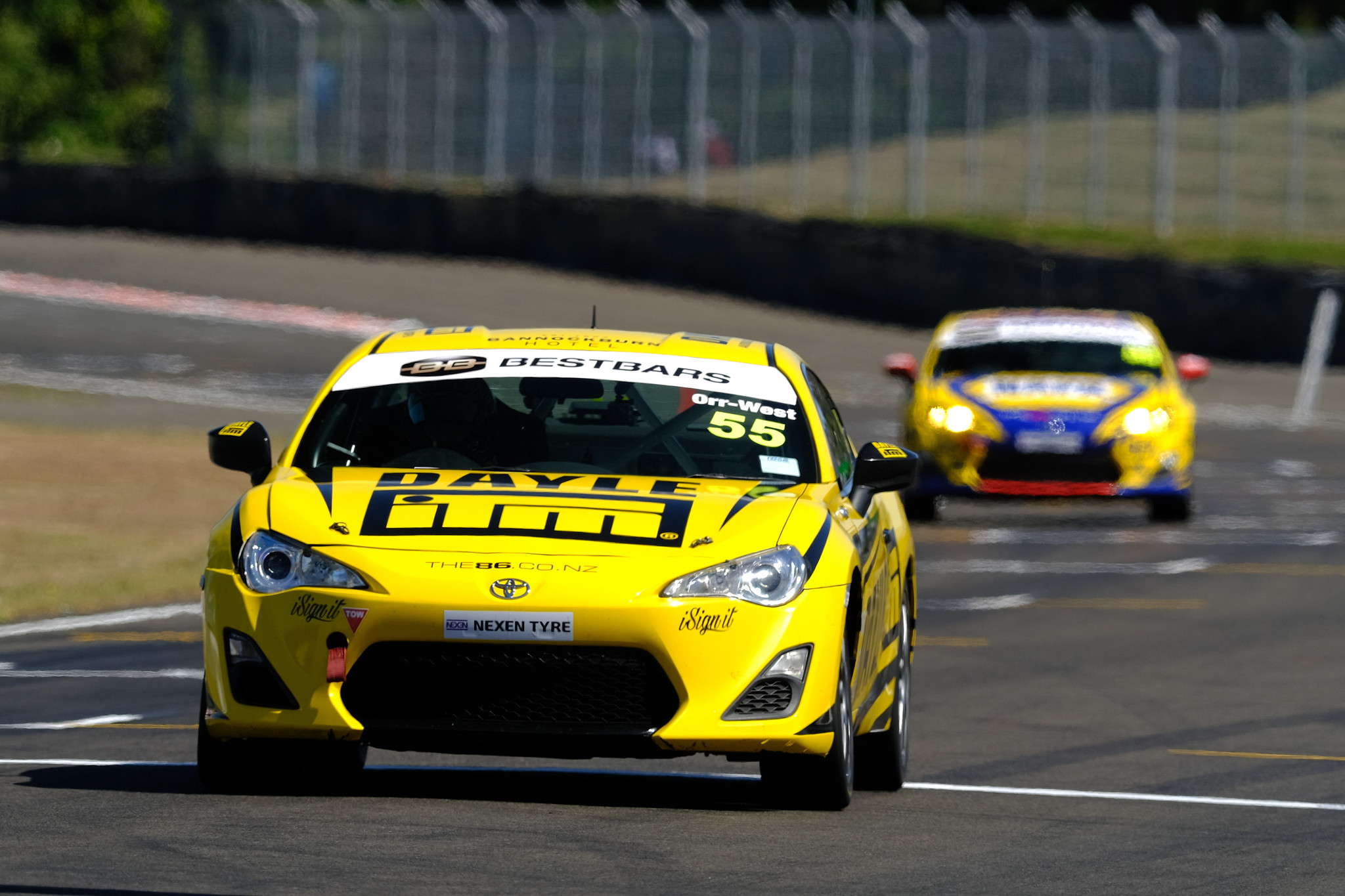 Christina Orr-West makes history as Dayle ITM Racing enjoys strong weekend
Dayle ITM Racing duo Christina Orr-West and Ronan Murphy enjoyed a significant turnaround in fortunes over the Manfeild weekend and in the process Orr-West made a small but important bit of history in the Best Bars Toyota 86 Championship.
Murphy bagged his first podium in the first race on Saturday afternoon after a great race hanging onto Rowan Shepherd and Ryan Wood out front and being right there to take the win if they had tripped over each other in their battle.
Orr-West raced to an impressive third place on Sunday morning and became the first female racer ever to secure a podium finish in eight seasons of the super-competitive category.
In a race of two halves, it had looked like Alexandra Whitley would get to the podium landmark first, but a Safety Car interrupted proceedings and once the race got going again, Orr West was able to fight her way through and chase leaders Rowan Shepherd and Ryan Wood all the way to the flag.
"My plan was to pass Alex and I got such a good restart after the Safety car that I just had to go for the outside and live with my decision. There was a bit of contact between myself and Alex unfortunately," said Christina.
"When I found myself in third I was able to go pretty quickly and narrow the gap to the leaders but towards the end of the race my ribs were screaming quite a bit and the team was also screaming at me on the radio. In the end I was very happy to settle for third."
Following a change in engineering support and set up for the Manfeild round, it represented a major step forward, even more impressive given Orr-West is still nursing injured ribs from the first round at Hampton Downs.
"I have been racing over 25 years and I guess I had to remember that I do my own thing in my own way and that's what has always worked for me, even if it is a car set up different from others," she added.
"I like a neutral car and I then work off that base of having a car that doesn't do anything and try to make it faster. I don't like snap oversteer and the back end moving on me and I have learned now how to drive these cars with a little understeer.
"It's taken me a while but now I've learned that the back end isn't going to do anything when I apply the throttle it's been a big help to me. From here it's onwards and upwards and there's definitely more to come from the car and much more to come from me as my injuries heal up."
Aside from an ABS failure for Murphy in the second race, it was a very positive weekend for the team, with Murphy and Orr-West leaving Manfeild sixth and seventh in the points table and with more decent results and further moves up the points table in both of their sights for the next round at Pukekohe in March.