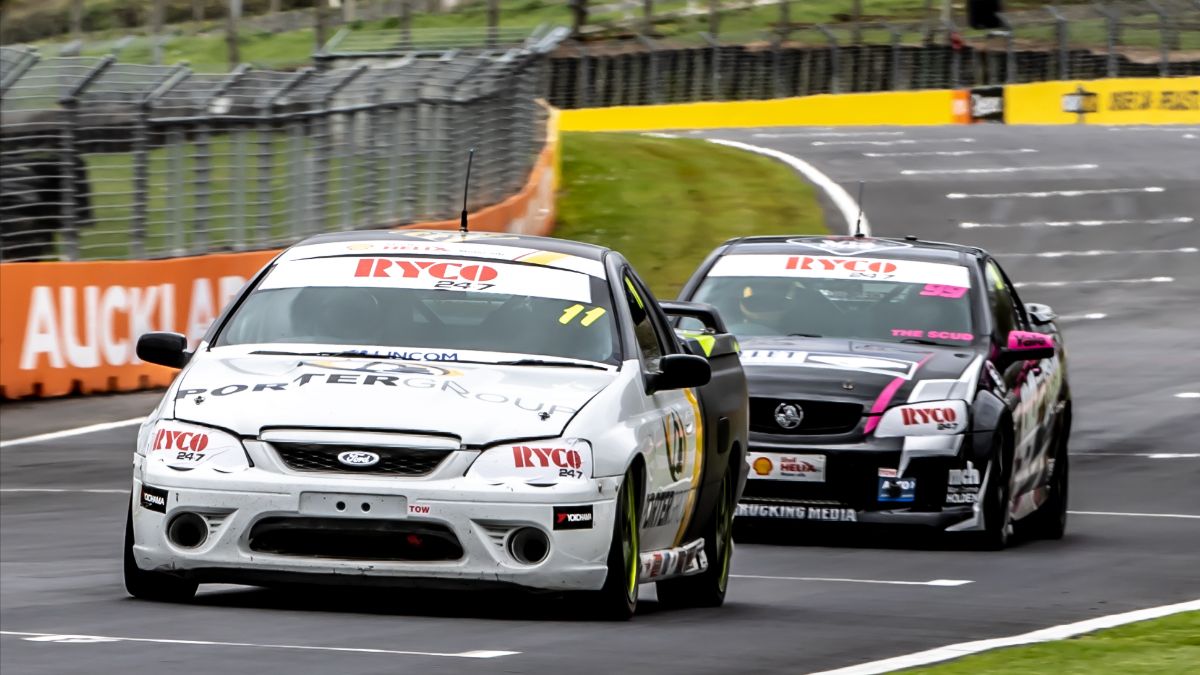 Championship wide open in RYCO 24•7 V8 Utes
The V8 Utes are back for the Speed Works MotorSport NZ Championship season and it's anyone's guess who could take the championship.
The championship – entering its 13th season this weekend – is now the RYCO 24•7 V8 Utes Championship and will once again see the classic Ford vs Holden battles with the 1800kg, 400 plus horsepower Ford FG and BF models duelling with the Holden VE runners.
Of the established runners, champion Matt Spratt is back to defend his title in his Jake Stoneman owned Ford Falcon but he could come under intense pressure from a number of racers. Former champion Paul Manuell will be raring to go and fresh from winning the Asian TA2 title he'll be as sharp as ever. Glen Collinson will have the Panorama Motorsport run Ford Falcon as pristine as ever and has off season track time in endurance racing behind him.
Watch out too for Andrew Porter, Peter Ward and Brett Rudd in their Holdens. Porter and Ward both have undoubted speed and last season Ward looked more mature as a racer than ever before. Rudd had hoped to be further up the grid last season, but all can be expected to be factors for wins and solid results when the field blasts into action in the first race of the season this weekend.
There's plenty of new faces to look forward to this weekend as well. Bruce Gay, James Parker, Greg Kroef and Roger Nees join the field, as does Paul Fougere – who bought a ute to race in the series after coming along at one of the category's superb ride days. Rookies have acquitted themselves very well in the championship in recent seasons and it will be interesting to see how the latest crop of drivers fair in what is a super competitive field usually separated by just a couple of seconds on lap times.
Dave 'Shaggy' Lowe, Brent Main, Stu Monteith, Simon Ussher, Liam Porter and US short course racer Joe Farre are also back for more and all will be aiming to upset the regulars with some good results over the first weekend and indeed during the championship season, which should see a few more drivers joining from Round 2.
Th 13th championship season will run over four Speed Works rounds – a format piloted successfully last season – and will visit Pukekohe Park, Hampton Downs for two rounds and Manfeild. The Manfeild round is the big New Zealand Grand Prix race weekend and features all of the country's major racing classes.
This weekend's action includes practice on Friday, qualifying and one race on Saturday and two races Sunday.