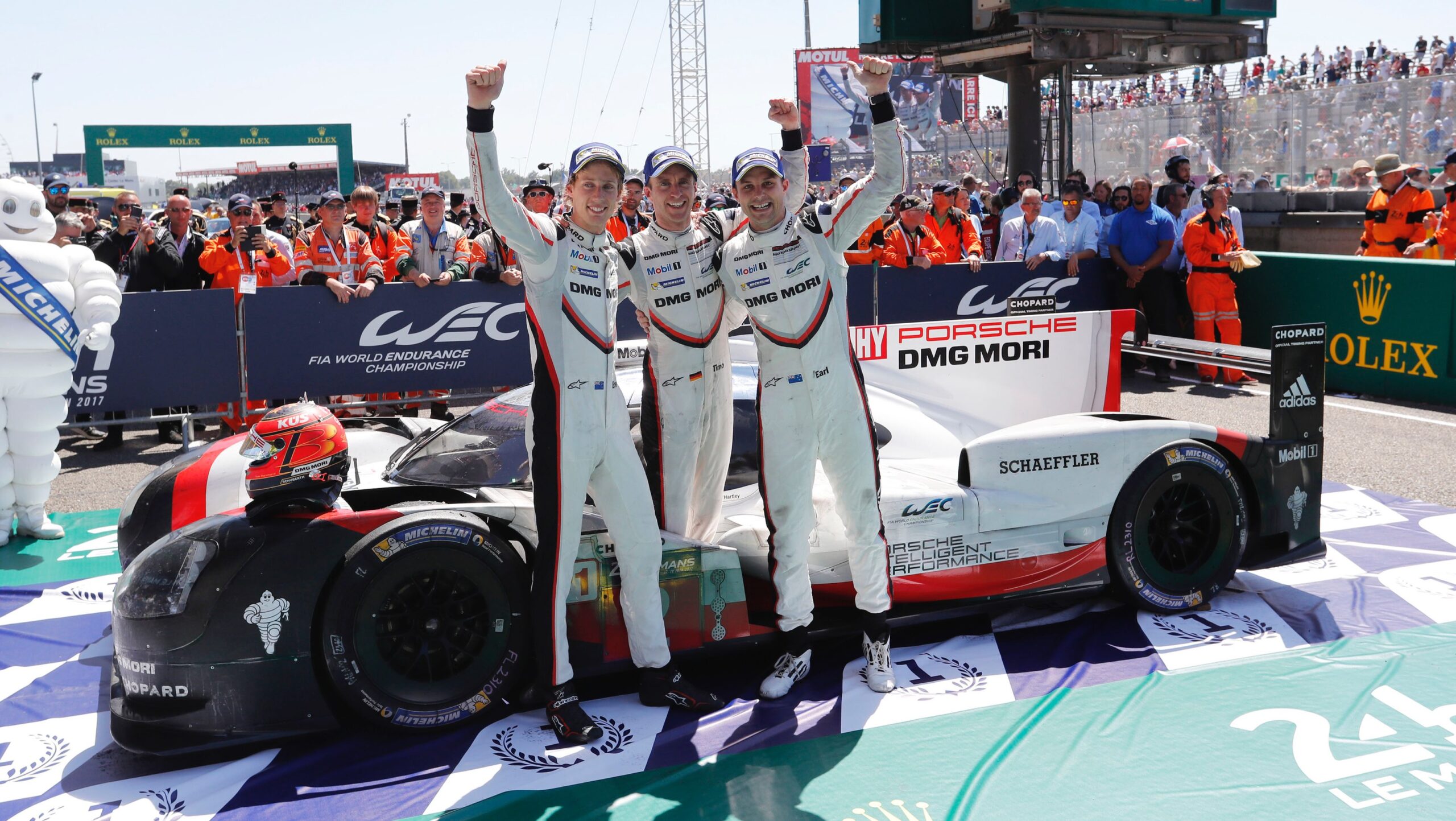 Bamber and Hartley champion NZ motorsport with Le Mans win
Kiwis Earl Bamber and Brendon Hartley, with German team-mate Timo Bernhard, staged an incredible comeback to win the 2017 Le Mans 24 Hours. The drivers and Porsche crew never gave up even though the number two Porsche 919 LMP1 Hybrid was, at one point, 19 laps off the lead and second to last in the standings, and then won the famous race by a lap over the nearest car.
Bamber, originally from Whanganui, is now a two-time Le Mans winner, adding this win which has been described as 'a comeback of remarkable proportions' to his 2015 Le Mans victory. Hartley, originally from Palmerston North, adds his first Le Mans win to his already impressive race résumé which includes the 2015 world endurance championship title.
It is the first time since 1966, when Bruce McLaren and Chris Amon took their Ford GT40 to victory, that two New Zealanders have been in the winning car and Hartley was happy to have repeated the feat with his childhood friend. "That was a real fight," he told Giles Richards at The Guardian. "You can't write these stories. It's Le Mans, it's always unpredictable, sometimes you don't believe that such a story exists but it did. I am happy to be sharing this with Earl. We've known each other since we were seven years old."
Bamber was equally elated. "I can't believe we've managed to pull this one off having been at the back of the field after an hour in the pit-box," said Bamber. "Both Brendon and Timo have been part of the Porsche LMP programme from the beginning while this victory is as much down to the guys in the pits. Without their hard work, we wouldn't have got back racing again so this win is down to them."
Back home in New Zealand, motorsport fans have saturated social media with their congratulations for the star Kiwi drivers, which added to an exciting weekend of international motorsport for Kiwis with Scott McLaughlin and Fabian Coulthard securing race wins at the latest Supercars round in Darwin.
MotorSport New Zealand CEO, Brian Budd says: "Brendon Hartley and Earl Bamber's win of the Le Mans 24 Hour Race was a fantastic effort and again highlights the fact that New Zealand continues to punch above its weight on the international motorsport stage.
"It's also fantastic to see IndyCar super star Scott Dixon, driving for Ford Chip Ganassi Team USA, and Aston Martin factory driver Richie Stanaway both finish this year's Le Mans race in the top 10 of the GTE Pro category. To finish this race is an achievement that can not be underrated.
"Across the Tasman, New Zealand competitors continue their dominance in the Australian V8 Supercar Championship with Fabian Coulthard leading by 10 points from Scott McLaughlin, and fellow Kiwi and defending Supercars champion Shane van Gisbergen in fourth.
"Everyone at MotorSport New Zealand and across the wider New Zealand motorsport fraternity are immensely proud of the continued successes and achievements of our competitors both at home and abroad."
Budd adds: "There are other New Zealanders who contributed to the Porsche factory team winning Le Mans for the third consecutive year, notably Amiel Lindesay, originally from Onehunga, Auckland, who holds the pivotal role of crew chief in the 250-strong Porsche LMP Team."
Budd also notes two key links in the formative years of Bamber and Hartley's careers. "Both Earl and Brendon raced in the Toyota Racing Series with Earl the youngest winner of the Lady Wigram Trophy at age 17, until 16-year-old Lance Stroll won it in 2015. Brendon was the first-ever winner of a TRS race.
"Both Earl and Brendon attended the Elite Motorsport Academy – Earl in 2007 and Brendon in 2005. Managed by the MotorSport New Zealand Scholarship Trust, the Elite Academy shows it continues to play an important role in preparing young New Zealand motorsport competitors for the pressures of international competition."
Source: MotorSport NZ PR
Photo: Porsche