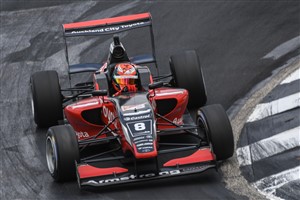 Armstrong locks out Race 2 pole position at Hampton Downs
After the dramas of the first race on Friday evening and a busy night for quite a few mechanics in the Castrol Toyota Racing Series, it was Marcus Armstrong who emerged with pole position for the Saturday afternoon race at Hampton Downs Motorsport Park.
Two fast laps for Armstrong sealed the deal late in the 15 minute session, with his second fastest lap also good enough for pole position. After the disappointment of ending up 10th in the Friday race, Armstrong was delighted to be starting from pole position.
"The car was fantastic, straight away from the first push lap I was already very close to 59s," he said. "I think the car is extraordinary and hopefully we can carry that through into the race. The wind was low and the track temperature cold, so it suited us quite nicely and we managed to do the lap."
Second on the grid was Raoul Hyman. After a miraculous recovery from a pit lane start to fifth in the Friday race, Raoul was quickly into the fastest group in qualifying and his lap, just under two tenths away from a fired up Armstrong, was impressive.
Liam Lawson, who extended his championship points in the Saturday race after hauling a wounded car over the line to take seventh place, will start from third on the grid with top Aussie runner Calan Williams fourth. Lucas Auer will no doubt be hoping for a quieter race on Saturday afternoon after putting his car fifth on the grid, alongside Friday race winner Artem Petrov, the Russian also amongst those consistently quick throughout qualifying.
Esteban Muth, Petr Ptacek – second on Friday – Brendon Leitch and Cameron Das round out the top ten.
2019 Castrol Toyota Racing Series – Round 3 Hampton Downs Race 2 Qualifying
1. Marcus Armstrong (New Zealand)
2. Raoul Hyman (United Kingdom)
3. Liam Lawson (New Zealand)
4. Calan Williams (Australia)
5. Lucas Auer (Austria)
6. Artem Petrov (Russia)
7. Esteban Muth (Belgium)
8. Petr Ptacek (Czech Republic)
9. Brendon Leitch (New Zealand)
10. Cameron Das (United States)
11. Jackson Walls (Australia)
12. Petru Florescu (Romania)
13. Dev Gore (United States)
14. Kazuto Kotaka (Japan)
15. Parker Locke (USA)
16. Thomas Smith (Australia)
Caption:  Marcus Armstrong dominated Saturday morning qualifying at Hampton Downs.  Picture Bruce Jenkins.
Media release: Toyota Racing NZ