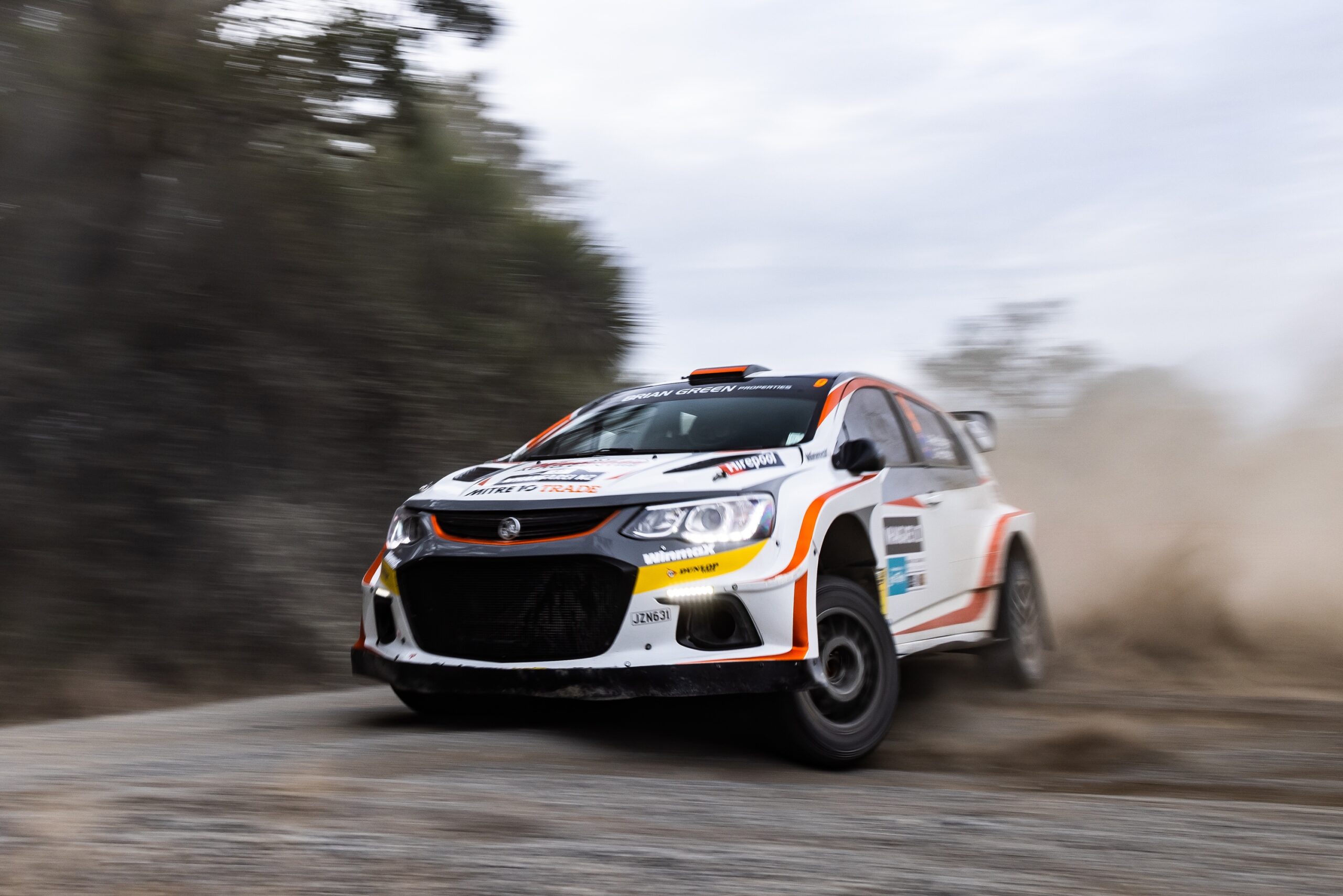 Ari Pettigrew scores first NZRC podium in Whangarei
Young rally driver Ari Pettigrew (23) and his experienced navigator Jason Farmer (41) are quickly getting really fast in the NZ Rally Championship, with third outright result at the Whangarei Rally over the 13 – 15 May 2022. The team impressed everyone with such a great result in his second rally in their first outright Brian Green Properties NZ Rally Championship season. Their result was only beaten by five-time and current NZ Champion Hayden Paddon and twice NZ Champion Ben Hunt.
Ari commented "The Manukau Auto Centre owned Barina AP4 car went without an issue at round two in Whangarei. I love the roads up there, but I had no idea we could get onto the podium with Hayden and Ben so early in our move to the top class. There are so many other top drivers and cars, I am just blown away by our result. I need to thank Jason Farmer for his perfect course notes and a big thanks to my boss Hayden Paddon and his team at Paddon Rallysport for their support leading up to the event and throughout the weekend."
Along with the championship trophies for the event Ari and Jason won the 'Dunlop Drive of The Rally' award. The Dunlop award is decided by a group of experts who consider the winners to have made the best drive of all the teams on this event. The prestige award provides four extra Dunlop rally tyres, along with the Dunlop trophy.
Ari and Jason started the season with seventh at Otago and got really racing in round two at Whangarei taking third – this makes them fourth in the championship so far. Given that there are 20 or more top class cars and experienced drivers, it is apparent Ari has the talent that can see him become NZ Champion in the future. Today Ari is easily leading the Junior Rally Championship class for under 25-year-old drivers.
Jason Farmer adds "Ari drove a mature drive, he did not get excited about his times, he stuck with our plan to keep a safe speed and we came through to the finish. I am really enjoying myself in the car, we work well together, and we also have a few laughs along the way. I am looking forward to how we can grow as a team. It is clear to me that Ari has a great future in the sport"
Ari is keen to point out that there is still a lot for the crew to learn as the season progresses. Things are going well with Jason Farmer calling the course notes and providing an older head. However, Ari is still learning to unlock speed in the Manukau Auto Centre owned 4WD Barina AP4 car. Ari commented "Jason and I are planning
to continue a level-headed approach to the remaining rounds, being patient and letting the speed come naturally, as I build more experience and confidence." There is more to come, as they say.
The old rally hands can see that Ari Pettigrew has great talent and it is quickly becoming obvious that Ari is among the front of the group of younger rally drivers. With Hayden Paddon having a mentoring role for Ari and experienced navigator Jason Farmer in the car, there is nothing to stop Ari going right to the top. Of course, rallying requires a high level of commercial support. If Ari can get the level of support some of his competitors have been able to attract, then it is easy to see Ari Pettigrew join Hayden Paddon and Ben Hunt as multi-NZ Rally Championship winners.
Ari and Jason thank the help from Manukau Auto Centre – Mitre 10 Trade – Winmax Brake Pads – Paddon Rallysport – The Flooring Warehouse – R&R Hiab Services – KeelowCraft Boats – Dunlop Tyres – Penrite Oil NZ – Guyton Reinforcing – Gilt Edge – Glasurit Ultra Paints – Universal Sign Co – Prolook – Turboshop
Photo Credit: Tayler Burke