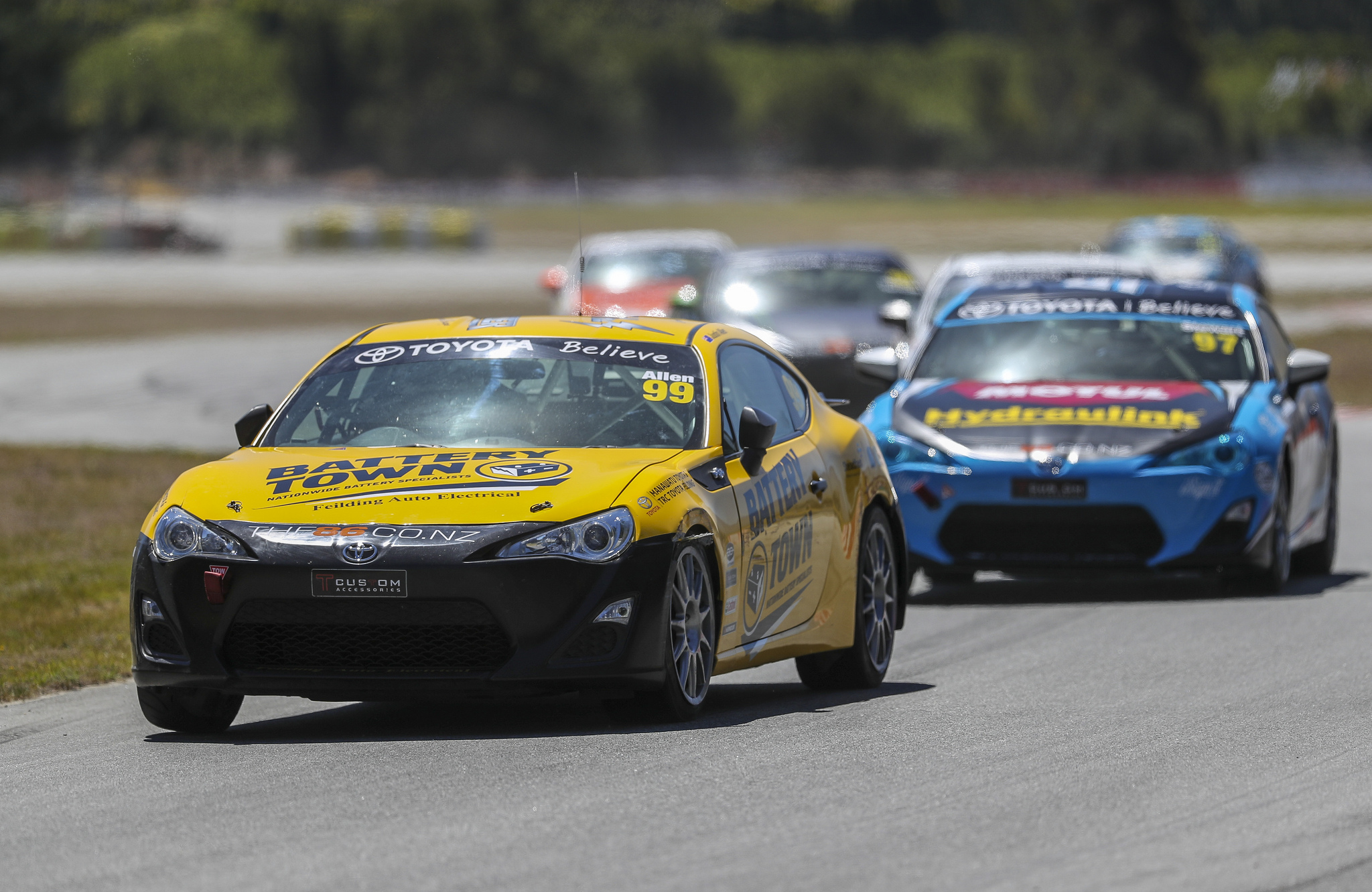 Allen aiming to maintain form
Justin Allen heads into Teretonga and Round 4 of the Toyota 86 Championship this weekend looking to make the most of a welcome turn in form he showed last weekend at Highlands Motorsport Park.
Harrying the leaders and right on the pace in the second encounter of the weekend, Allen caught the eye of many, especially after he had a brush with one of the circuit's unforgiving walls during practice in the yellow Battery Town-backed racer. Even that didn't seem to hinder what was very obvious progress for the small and enthusiastic team and Allen admitted they had worked hard ahead of trip South to move up the field.
"I've been working on my driving a little bit over the break since Pukekohe and we have made a few adjustments on the car since then as well," he explained. "I have found more of a neutral set up which we can run in both dry and damp conditions and this has definitely helped with consistency.
"I like to think I've always been able to get my head around driving in wet conditions in previous categories by really thinking about what I am doing and where the grip is likely to be and that helped at Highlands too. Plus I really enjoyed the track."
Allen is confident that his impressive Highlands form can be maintained and indeed improved. It's not just been down to enjoying the circuit and finding a neutral set up, he reckons, admitting that a huge amount of effort has gone into adapting his driving style to the Toyota 86 as well as understanding the data he and the team have access to.
"It's fair to say the driving style changes have been pretty significant," he added. "Talking with my crew who are all race drivers, we have gone through a lot of the footage of me and what everyone else has done and done some work on the simulator alongside that. I have changed my technique and put a lot of effort into understanding how I am braking and trying to find more speed in the braking zones. We've had plenty of data to look at and had a little input from the Toyota engineers and it's all added up to a significant quantity of marginal gains.
"It's really the first time I have had to go through data set ups to define how we can set up the car. Fingers crossed we are getting our heads around it now and making decent progress. We'll work on it a bit more after Teretonga as we head to our home track Manfeild for the Grand Prix meeting and hopefully we can make another step forward there."
Championship positions after 3 rounds
1   Callum Hedge – CareVets NZ Ltd 574
2   Jaden Ransley – Miles Toyota/Kitchen Studio  520
3   Jordan Baldwin – Intermach NZ/Carters Tyres  518
4   Connor Adam – Post Haste/Weigh Northland 484
5   Peter Vodanovich – CMC Markets/MacClure's ITM 449
6   Arran Crighton – CareVets NZ Ltd 388
7   Brock Gilchrist – NEXUS Logistics/Giltrap Group  385
8   Kaleb Ngatoa – JJ Wallers/Capture Signs 319
9   Jacob Cranston – Best Bars/Vista Lite  300
10 Campbell Stewart – NZPGS/Hydraulink  286
11 Connor Davison – Hampton Downs/Highlands Park 280
12 Sam Wright – Tony Richards Toyota/Premier  278
13 Mitch Hughes – Gilpin Cartage Contractors 215
14 Justin Allen – Battery Town/Thunder Adventure 200
15 Leo Bult – North Shore Toyota 164
16 Jake Klein – SpeedWorks/Toyota 143
17 Andrew Jackson – North Shore Toyota 111
18 Tony Austin – Genweld 102
Caption:  Justin Allen is hitting form in the Toyota 86 Championship. Picture Bruce Jenkins.