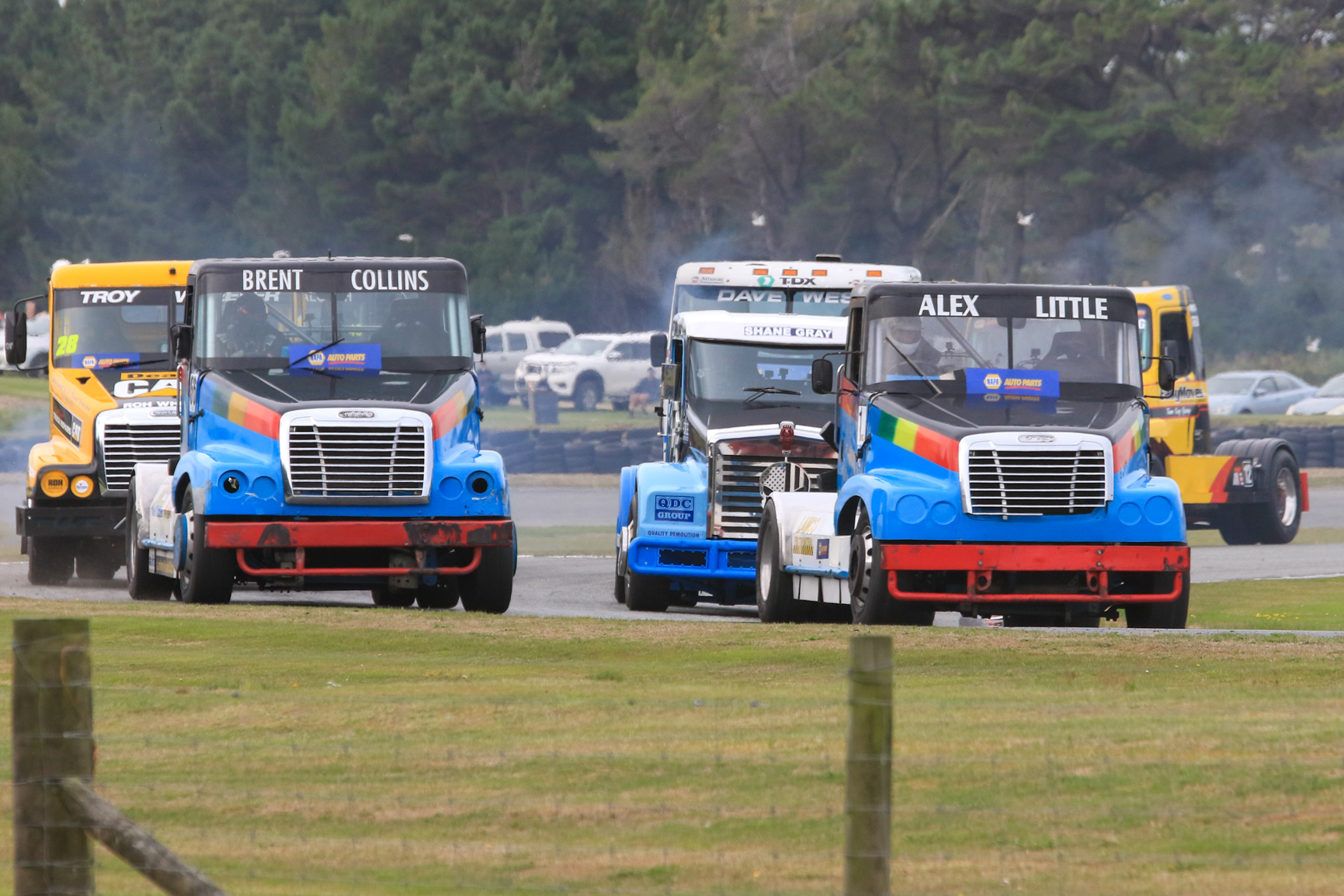 ALEX LITTLE MAKES IT FIVE SUPER TRUCK WINS AT TERETONGA PARK
Upper Hutt driver Alex Little won the Mobil Delvac 1 Trophy for the fifth time when the NAPA Auto Parts NZ Super Truck Championship visited Teretonga Park in Invercargill this weekend.
Little first won the trophy in 2018 and has won it every year since, apart from 2020 when the event was cancelled due to the nationwide lockdown.
Little driving his Freightliner 3 Series won the first race of the round, sponsored locally by Kings House Removals, and went on to record a third and a second placing to secure the top step of the podium. He also set a new lap record of 1 minute 14.266 seconds during the weekend. Second for the round was Timaru driver Brent Bones Collins in a similar Freightliner while Troy Wheeler of Hicks Bay was third. Collins and Little both won a race during the round while Shane Gray of Wellington took the Flying Farewell.
Rhys Gould of Christchurch took the top step of the podium in the Mobil 1 Mainland Muscle Cars in his Ford Falcon by just one point from Timaru driver John Hepburn in his Holden Monaro. Three drivers – Greg Donaldson of Ashburton and Timaru drivers Bruce Tinnelly and Rod Hayman – tied for third place overall. Gould won both scratch races from Hepburn and Invercargill driver Mason in a Chev Monza while Tony Forde of Invercargill in a Holden Commodore and Matt Coory of Dunedin in a Ford Mustang won the handicap races.
The New Zealand Formula Ford Championship and South Island F1600 Championship competitors raced together with Blake Knowles of Christchurch (Van Diemen RF05) winning the round from fellow Cantabrians William Neale ((Van Diemen Stealth) and Daniel Brown (Ray GR21). Leader of both championships coming into the round Alex Crosbie of Invercargill failed to finish Saturday's race due to a broken throttle cable but fought back to record finishes of 3rd, 6th and 4th on Sunday. He still leads the New Zealand Championship heading to the final round next weekend but Knowles has grabbed the South Island title lead.
Garry Price of Cromwell in his Chevvy Nova won the Southland Machine Hire Pre 65 Saloons round with two wins from the four races to head off second placed Dan Patrick of Christchurch (PB Vauxhall) and Paul Clarke of Mosgiel in his Ford Mustang. Clarke took one race win while Jai Fenn of Milton in an EH Holden took the other.
The three NZ Six Saloon races produced a different winner each time with Cody Welch of Omakau taking Saturday's race in his Falcon before Dunedin driver's Mick Ross and Mike McCarthy shared the Sunday wins in their Commodores. Welch topped the podium with McCarthy second overall and Tony Herbert of Omakau in another Falcon third.
Jordan Michels of Invercargill won the Noel McIntyre Drainage Club Saloons round in his V8 Ford Focus from Brad Rule of Queenstown who drove well in his newly acquired ex-Angus Fogg Holden Commodore SuperTourer with Dunedin driver Brian Scott (Porsche 997.2) third.
Rule and Michels shared the Group A race wins while Rule took the 2501cc & over class race and Michels the Flying Farewell. Wayne Elliott of Invercargill won the first Group B race in his Mazda RX7 before Warren Kett took the second in a similar car after Elliott received a time penalty.
Dave McLean of Gore in his Honda Integra took Class 3 from Daniel Scoles of Invercargill (Honda Civic), Josh Cooper of Invercargill Toyota Corolla was the Class 2 winner and Todd Blackmun of Invercargill in his Datsun 120Y took Class 1.
A big crowd watched the Southern Thunder action presented by Downer over the two days.
Photographs – please credit Vanessa Adcock
OLIA4034 – Competitors in the NAPA Auto Parts NZ Super Truck Championship during the Kings House Removal round of their series for the Mobil Delvac 1 Trophy at Teretonga Park in Invercargill this weekend.
Edit002- Mobil 1 Mainland Muscle Car round winner Rhys Gould of Christchurch at speed in his Ford Falcon during Southern Thunder at Teretonga Park, Invercargill this weekend.