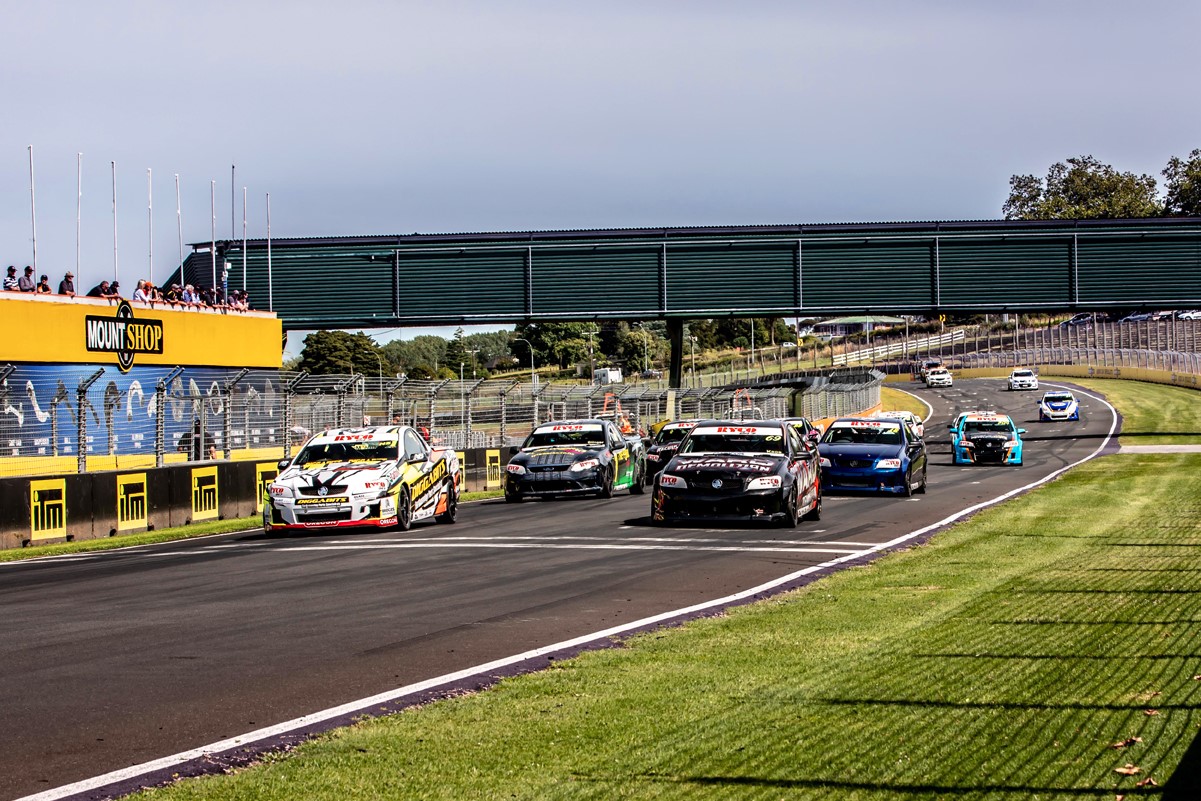 Tussle at the top as V8 Utes return to Pukekohe
As action heads to Pukekohe for the Round 3 of the RYCO 24.7 V8 Utes series, the battle for the championship is still wide open as the first two rounds saw two different winners. With the closely-matched Ford and Holden utes separated only by pre-race preparation and driver skills, an increased field of drivers for the March 27th – 28th weekend promises intense, edge-of-your-seat racing.
Last season's champion Paul Manuell in the Diggabits Holden sits on top of the championship with 202 points, but snapping at his heels are Peter 'Kaos' Ward (166 points) and rookie Shane Dias (145 points). With 35 points for each race win, action will be tight and testy in the battle for the podium.
Dave 'Shaggy' Lowe will be hoping to bounce back from his Round 2 meltdown during qualifying. "The engine spun a bearing, which trashed another crank and block," lamented the frustrated RYCO 24.7-backed racer. Now the team has built a killer engine they're confident will help propel Shaggy up the field and safely through the season. Shane Dias is hopeful his power steering woes are behind him while Paul Manuell will be eager to swap the 'Rat's Arse' award on his mantelpiece for the winner's trophy.
Competition intensifies with the return of Brett 'The Scud' Rudd now piloting Andrew Porter's ultra-competitive Ford, while it is rumoured Liam Porter – a fierce competitor from last season – will be making a swift return. There'll also be new blood on the grid as Brad Kroef gets to grips with his father's Ford ute, while father Greg steps into Jake Stoneman's race-winning Ford, both cars wearing Heron Construction livery.
It's always quite a spectacle seeing the 1800kg V8 Utes being manhandled around Pukekohe's lively 2.8km circuit, arguably one of the fastest in Australasia, as its challenging bumps and 11 corners showcase the skills of the more seasoned drivers. For the crews, action will be fast and furious in the pits, with 3 races on the Sunday – rather than 2 as in other rounds – leaving less time between races for tweaks and repairs.
RYCO 24.7 V8 Utes action fires up on Saturday March 27th with 2 practice sessions followed by qualifying at 4pm, then on the Sunday there'll be 3 championship races.