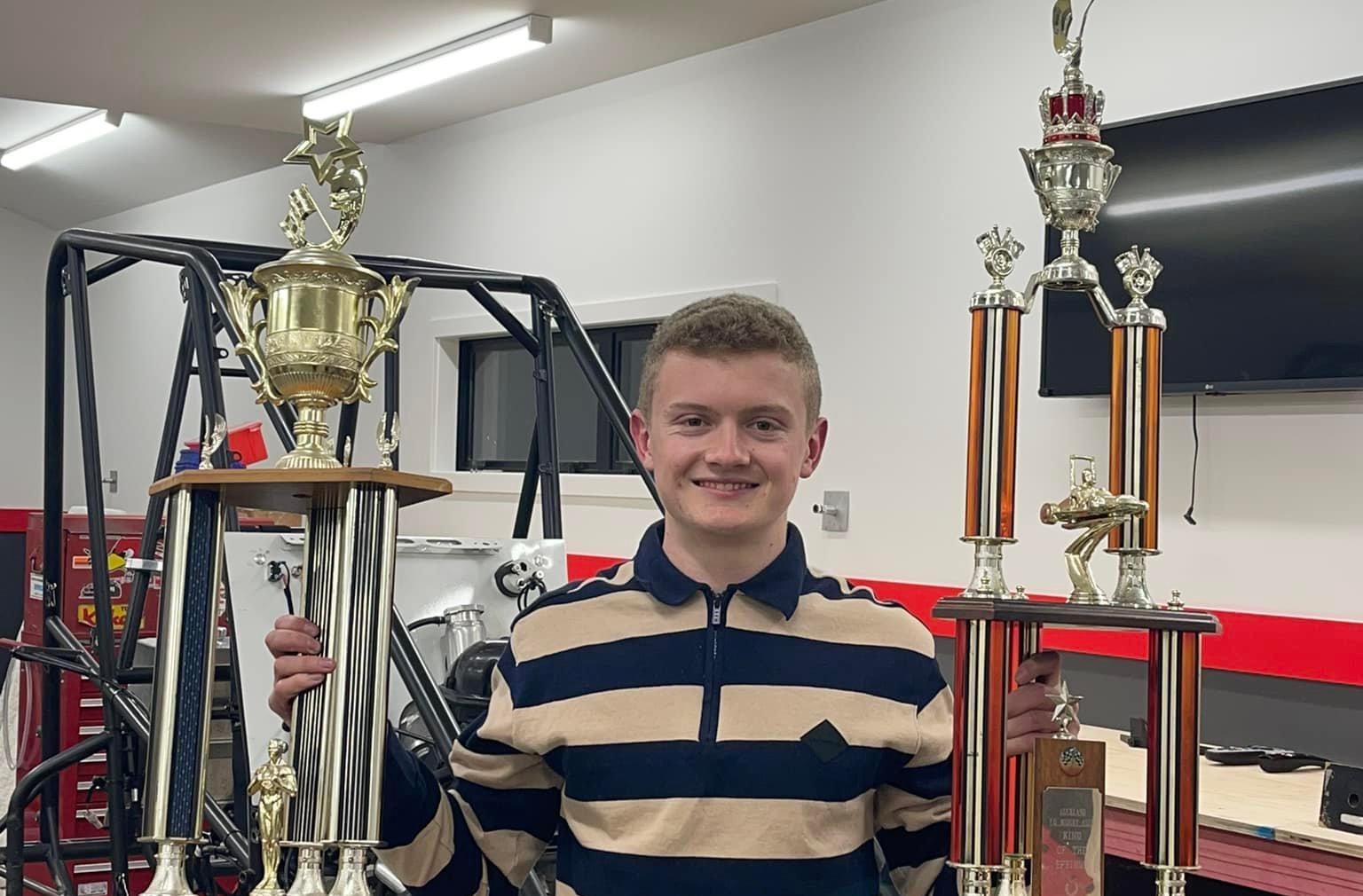 Troy Pennington wins 2022 Elite Motorsport Academy
NASCAR hopeful Troy Pennington has topped the points table for the 2022 Elite Motorsport Academy to win the Ian Snellgrove trophy. Pennington, who also won the academy camp last July, continued his form during the follow-up 12-month development program to win the overall Elite Motorsport Academy honours.
The prestigious trophy, awarded in memory of former MotorSport New Zealand General Manager and Academy trustee Ian Snellgrove, was presented to Pennington at the MotorSport New Zealand Awards Evening on Saturday.
Pennington was one of eight graduates of the 2022 Elite Motorsport Academy, a world-renowned for developing elite motorsport competitors. The academy, administered by the MotorSport New Zealand Scholarship Trust, takes place annually and sees aspiring young motorsport competitors take part in a 12-month development program.
The academy begins with a week in Dunedin at the Otago Academy of Sport where world-class tutors give participants lessons in the 'off-track' elements needed to make a career in motorsport such as nutrition, fitness, media, marketing, sponsorship, data analysis and more. At the end of the camp, a winner is determined based on performance during the week, but this accolade does not necessarily translate to being crowned the overall academy winner for the year.
Following the academy camp, participants complete a 12-month follow-up program tailored to them where they are assessed on their progress and performance to ultimately determine the overall academy winner. The class of 2022 was hotly contested, with just a few points separating the top four graduates.
The whole experience was awesome for me," said Pennington.
"All the other graduates were great people to learn from and share this incredible experience with. They all have such a wide range of experience, and it was great for us all to learn from each other."
"The academy really teaches you how to be the full package. You have to be able to get all the off-track stuff right, media, nutrition, sponsorship and networking. Motorsport requires so much support from other people so all that is critical."
Wayne Christie, President of MotorSport New Zealand and trustee of the MotorSport New Zealand Scholarship Trust, says the class of 2022 again showed the immense amount of talent in the country.
"We had an incredibly high level of talent amongst the graduates which made for some extremely close competition," said Christie.
"I want to congratulate Troy on behalf of all the Trustees for his well-earned success in the academy program, I'm sure he has a bright future ahead of him."
The 2023 class of the Elite Motorsport Academy was also announced at the MotorSport New Zealand Awards Evening. Race drivers Clay Osborne, Dion Pitt, Tom Bewley, Ayrton Hodson, Bailey Cruse, and Blake Knowles will join rally drivers Ari Pettigrew and Zeal Jones for the academy.