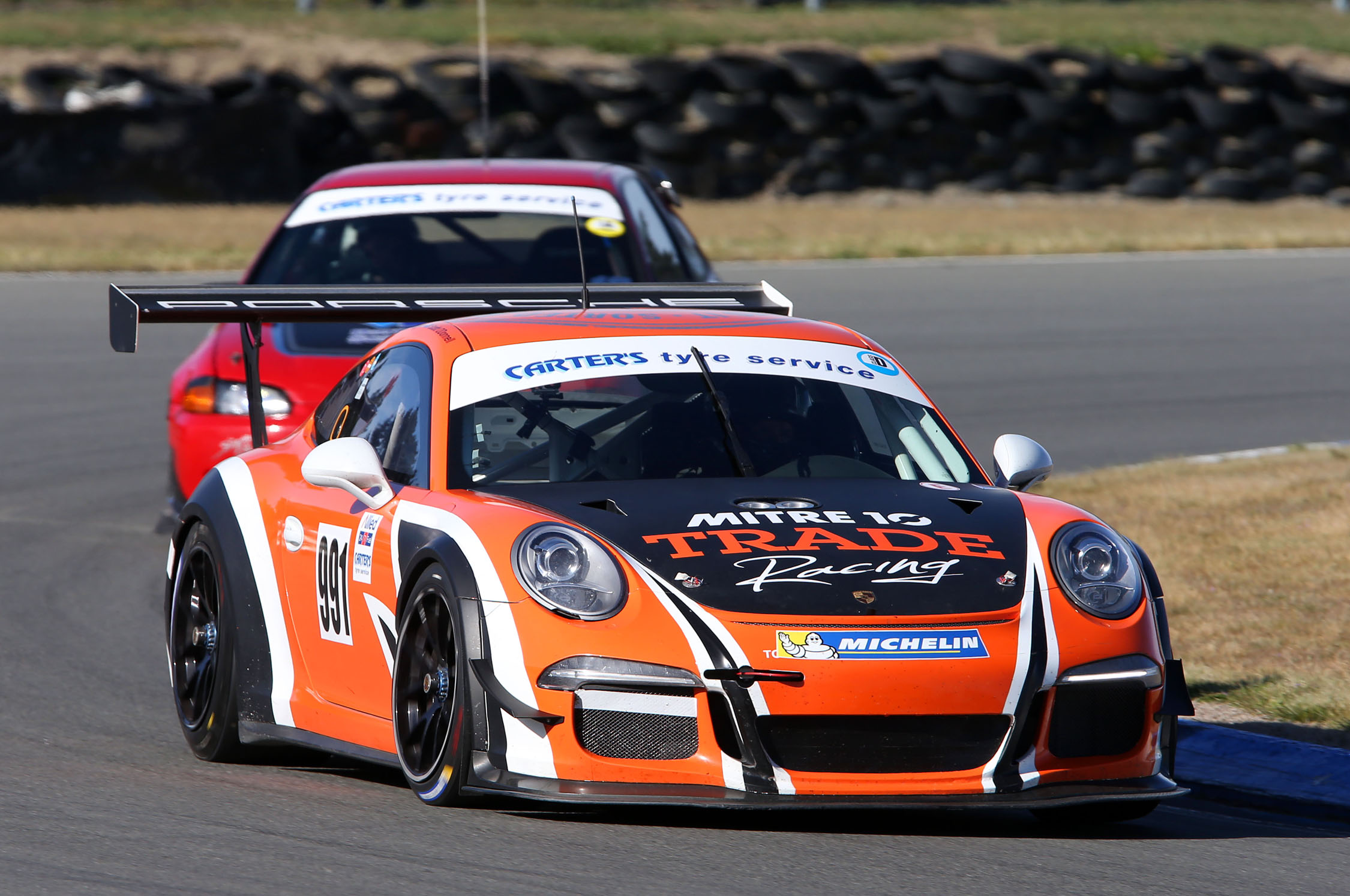 Thriller expected with titles on the line in Timaru for One Hour South Island Endurance Series
Forty entries will take to the grid this Saturday, in Timaru, contesting the third and final round of the 2020 Carter's Tyres South Island One-Hour Endurance Series.  Overall and four separate Class titles are on the line in a series where finishing is vital to be in contention.
There have been two separate race winners this season, but neither are in contention for the overall One-Hour title due to each only finishing in one round.  This has left a tie at the top heading to the Timaru International Raceway between Ben Derrick/Garry Derrick (Porsche 991 GT3) and Martin Dippie (Porsche 991 GT3 RS) on 176-points each.  Both entries have finished on the podium, first at Teretonga Park, Invercargill, and then at the Mike Pero Motorsport Park, Christchurch.
With a maximum of 95-points available, should either of these two falter, there are five others that may well step up for the title.   Third overall is Russell McKenzie (158-points, Porsche 991.2 Cup) followed by Danny Whiting (149-points, Porsche 991.2 Cup) who is tied for fourth with the first non-Porsche entry of Jordan Michels (Honda Civic FK7 TCR). Bruce Davidson (Chev Corvett C6R) sits on 146-points with the McLaren 570s GT4 of David McAlpine/Kynan Yu on 140.
The opening round saw a dominant performance by the Sam Collins/Nick Ross Ford Mustang, easily winning from Martin Dippie and the Derricks'.  The second round saw the Mustang retire within the first 10 minutes of racing with a continuation of transmission problems that saw them miss out on qualifying.  This left the door wide open for Marco Schelp, who missed the first round, to control the race, winning this time from the Derricks with Dippie third.
The Timaru finale is building to be a thriller with both race winners back for the finale as well as the return of 2017 and 2018 One-Hour title winner Chris Henderson.  Henderson's very quick Toyota AE86 was badly damaged in 2019 and this Saturday will see the debut of his potential race-winning Toyota GT86.  Also making their 2020 series debut are Milne and Tim Horne (Holden V8 SuperTourer).
Four separate Class titles will be decided by the end of racing on Saturday.  Martin Dippie has a one-point lead over the Derricks' in Class D (GT) while Davidson should take out Class C (>3501cc) having a 70-point lead ahead of the Collins/Ross Mustang.
It is still a close battle in Class B (2001-3500cc) between Michels (190-points), Debbie Chapman (Audi RS3 LMS TCR) 176-points, Mal Walters (Mazda RX7 S1) 156-points) and Robert Gjaja (Lotus Exige turbo/Intega 2.4) 155-points.
There is currently a tie in Class A (0-2000cc) between Andrew Gibson/Paul Booth (Honda Civic EF) and Andrew Kitching/Andrew Bartlett (Honda Civic) on 185-points with Tim Dossett (Honda Civic EF) in third on 164-points.
Qualifying takes place early Saturday morning with the 60-minute deciding race to start at approximately 11:15am.