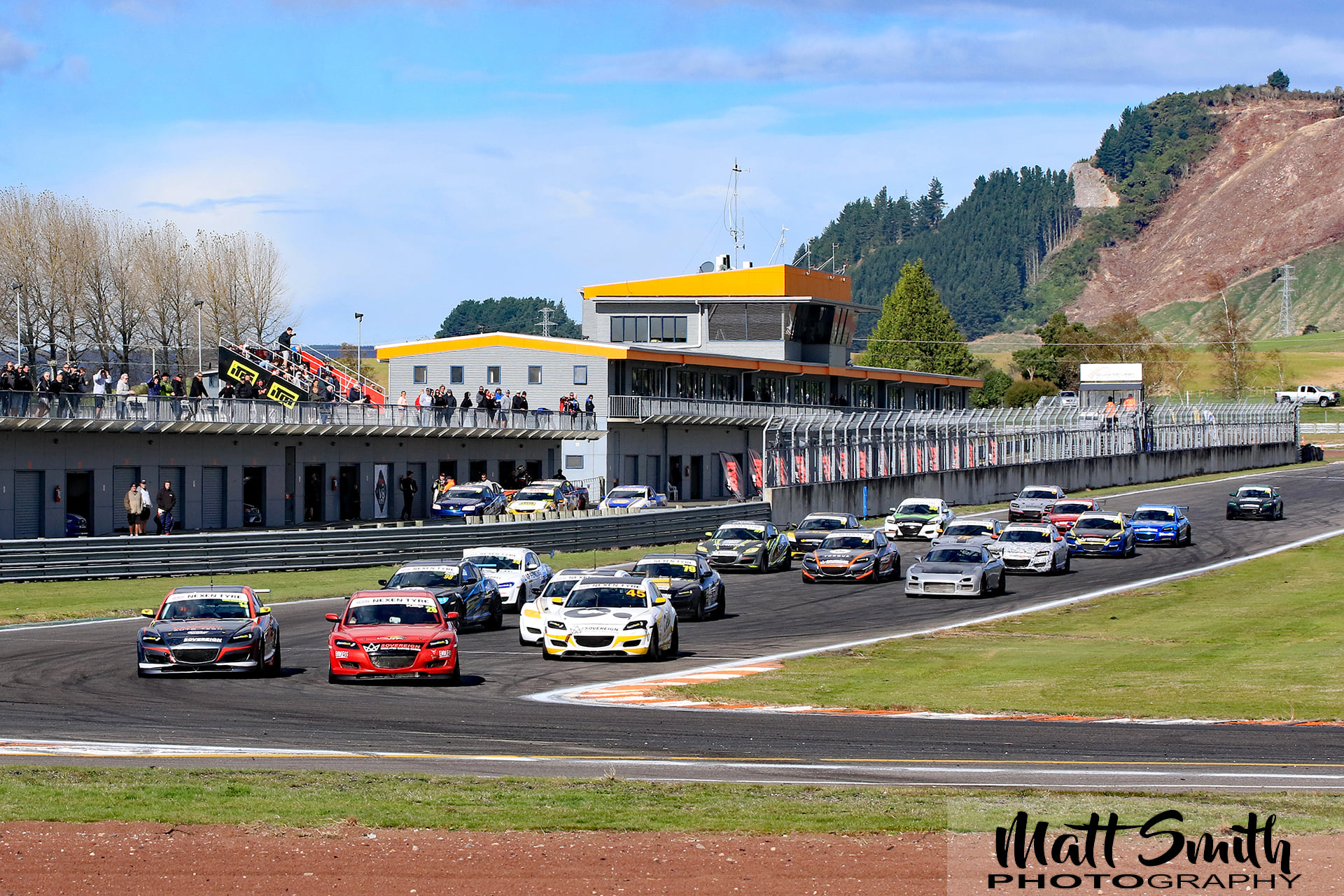 Simon Baker claims the Nexen Tyre Mazda Racing Series North Island title
The final of the North Island Mazda Racing Series was run over the weekend and even though Simon Baker choose not to drive this event his dominant position on the table gave him the title.
The only thing left to decide was second and third. Keith Wilkinson secured runner up in the championship with Leo Bult, returning after a couple of years in the Toyota 86's, came in third. Rookie of the season went to Lance Sutherland.
The 2020 – 2021 season has had its ups and downs. COVID-19 and weather were contributing factors. Events were moved with the Auckland lockdown. Round 2 saw the fiery crash of Roger Beuvink off the last turn at Pukekohe and race 2 at the New Zealand Grand Prix gave the Mazda's the wettest conditions they've seen in some time. What ensued was carnage.
Taupo though was perfect. A great turnout of 19 RX8's, 1 RX7 and 8 MX5's made the journey to Bruce McLaren Motorsport Park. Brett Killip dominated this round with three wins from three starts, giving up his grip on the broadcasting microphone and firmly grasping the steering wheel to provide a masterclass in driving and a new lap record of 1:42.997.
All that remains now for the Nexen Tyres Mazda Racing Series is the completion of the South Island and New Zealand Series title. That'll take place at Highlands over the 23rd and 24th of April. The New Zealand Series is currently being led by James Parker with Simon Baker just 8-points behind. Simon Baker and Matt Horne committed to running in the South Island Championship this year also and both hold 1st and 2nd place with Russell Burgess close behind in 3rd. Highlands will be an exciting decider.
"The 2020-2021 North Island Championship was exciting" says committee spokesperson Steve Spear "we had 36 different competitors running in RX8's and RX7's and a heck of a lot of fun. The Mazda's are exciting, they throw up some challenges on the track that comes with a one make class which makes great spectating. Next year will be a strong field and we're working on the calendar now. Congratulations to Simon, Keith and Leo on an outstanding season".