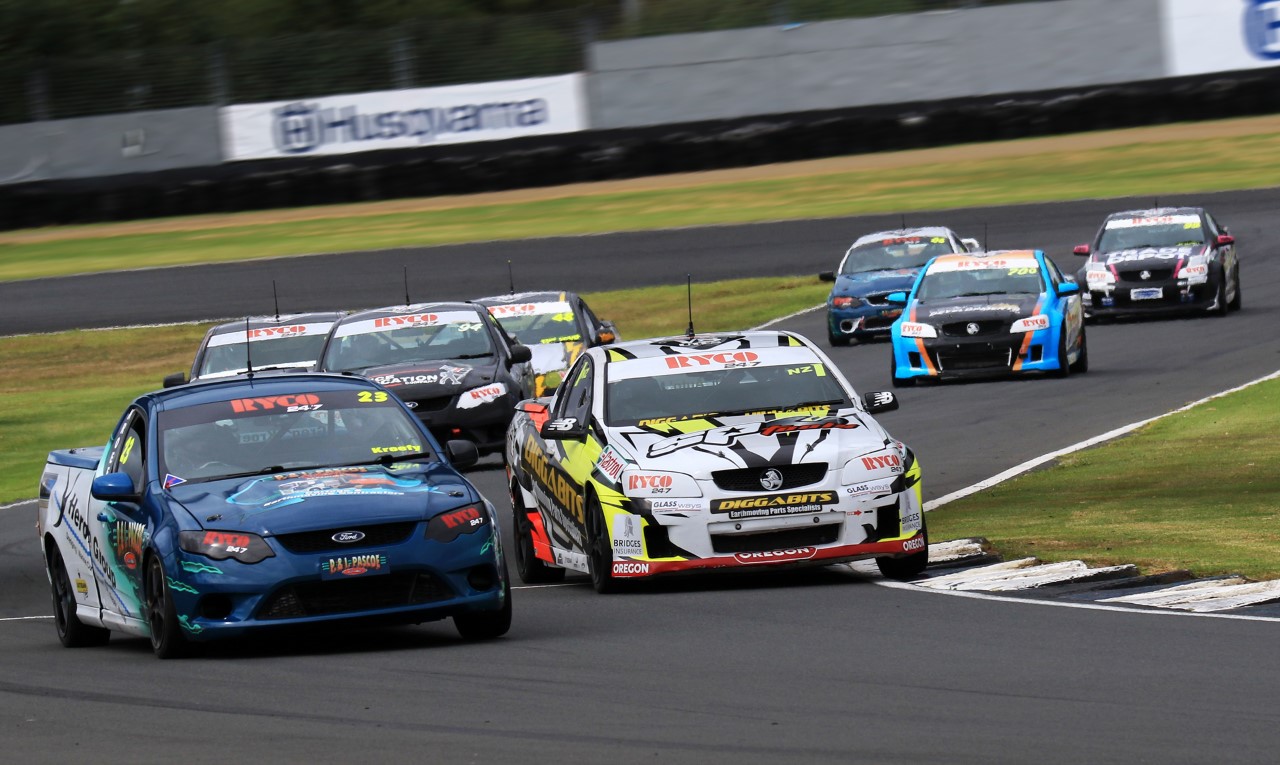 Season's biggest field for V8 Utes final
The booming popularity of the RYCO 24.7 V8 Utes Racing Series has resulted in a huge 40% increase in the field for the season finale at Taupo on April 16-18th. With the championship on the line, last year's winner Paul Manuell is looking comfortable at the top of the pecking order with 307 points. Yet Peter Ward (255 points) and Shane Dias (230 points) are very much in contention and will be piling on the pressure. Add to that several new drivers and the return of some seasoned campaigners swelling the grid to a 15-ute field and we can expect some volatile on-track drama.
Matt Gibson is the latest to take the plunge, stepping into the driver's seat of Peter Ward's 'spare' Holden ute. Utilising skills honed over a career spanning go karts, Formula First, Toyota 86s, SsangYong Actyon utes and more, Matt will be one to watch having achieved 39 podiums to date and raced a V8 Ute several years ago. "The opportunity came up to drive Peter Ward's spare ute, and I thought, well.. they're a lot of fun – people often forget that's what it's all about," Matt commented about the prospect of racing one of these 1800kg, 400hp excitement machines.
Brett 'The Scud' Rudd, still beaming from his 4th placing in the last round, is back for more. Also joining the field for the Bruce McLaren Motorsport Park event, Dave and Jeff Kernohan – with over 6 years V8 Ute racing under their belts – are looking to pick up where they left off. There's also a resounding welcome back to Liam Porter, a fierce warrior and winner of last year's BF Cup.
The 2020-21 season has thrown up some exciting themes. Newcomers Shane Dias and Phil Ross are already enjoying considerable success in the series, while Brad Kroef in his first-ever V8 Utes event made an immediate impact last month. We can't work out whether it's the heated competition – or the camaraderie in the pits afterwards – that's reviving the competitive spirit of seasoned racers and new talents alike. Probably both.
The weekend kicks off with Practice sessions at 10.05am and 3.10pm on Friday April 16th. Qualifying is Saturday at 10.15am with Race 1 at 2.35pm. Race 2 is at 11.44 am Sunday with the final race and potentially the championship decider at 3.43pm that afternoon.