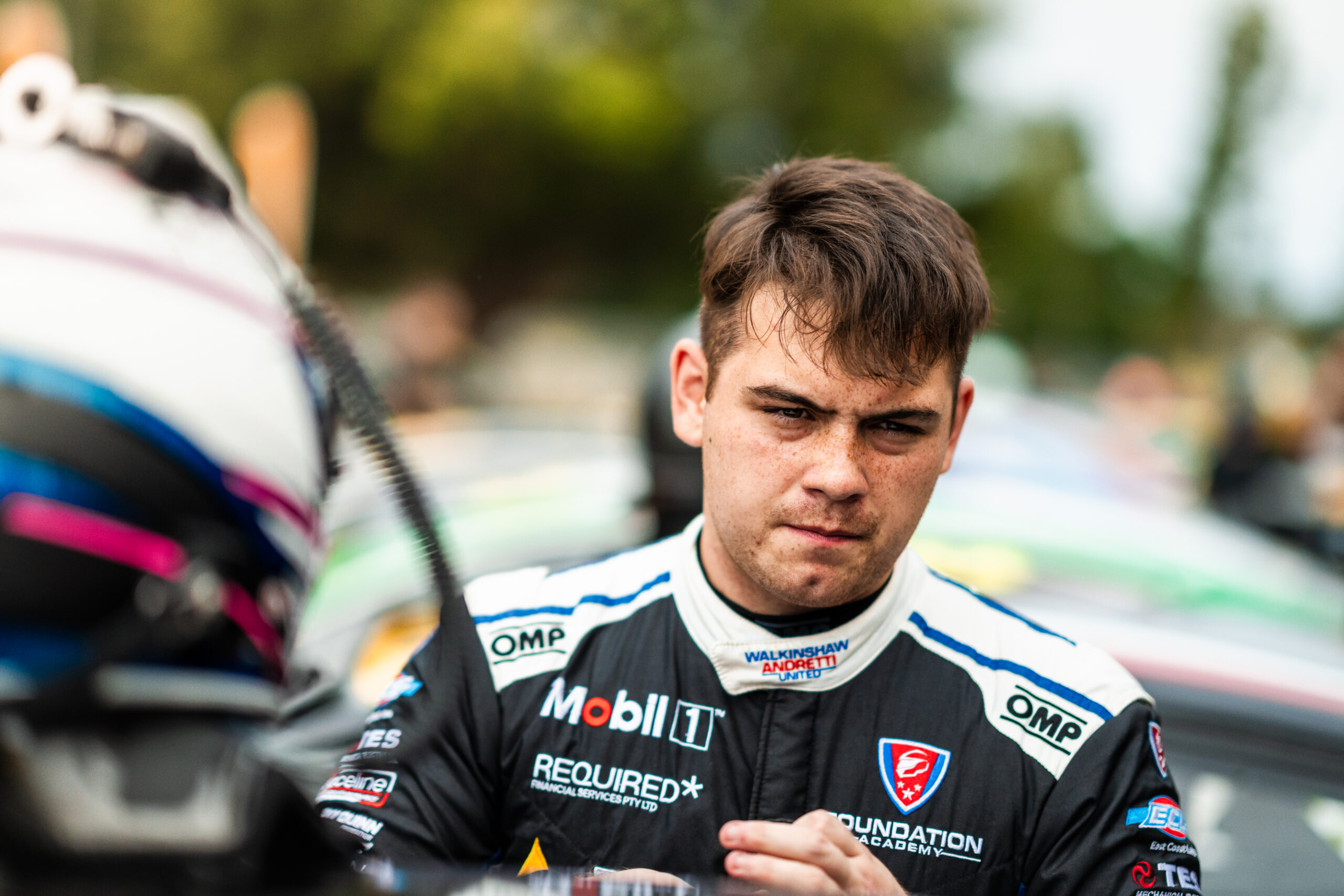 Ryan Wood graduates to Supercars main game for 2024
Walkinshaw Andretti United (WAU) has today announced Ryan Wood will graduate to the 2024 Supercars Championship, driving the WAU No. 2 Ford Mustang GT on a multi-year deal.
Wood, a 19-year-old from Wellington, New Zealand, joined Walkinshaw Andretti United at the start of 2023 for his rookie Super2 campaign, immediately impressing with pole in his debut round on the streets of Newcastle, followed by a clean sweep of race wins in Round 2 at Barbagallo Raceway, Perth.
He currently sits fourth in the 2023 Dunlop Super2 Championship, with three rounds remaining.
Wood entered the WAU Foundation Academy following stints in the Porsche Sprint Challenge and Toyota 86 Series, turning heads in both categories. He also recently sampled the WAU Gen3 Ford Mustang in a rookie evaluation day at Winton Motor Raceway.
He will make his main-game debut in the No. 2 alongside teammate Chaz Mostert at the opening round of the 2024 Supercars Championship, but until then, will be focussed on the remainder of the 2023 Dunlop Super2 Championship which returns at the Sandown 500 on September 15-17.
"It's a dream come true to be racing in the Supercars Championship with Walkinshaw Andretti United, it's something you think about a lot as a kid and structure everything you do around, so for it to be coming true is pretty surreal to be honest," said Wood.
"From the moment I walked into the team at the start of the year it felt right, they've been amazing to work with, there's some incredible people within these four walls, so I can't thank the entire team enough for the opportunity and the work that's gone on this year.
"There's been a lot of people that have helped me get to this point throughout my career which I can't thank enough either, from my family to supporters, a heap of people have played a really important role and I wouldn't be here without them.
"Next year is going to be so exciting, but it's extra motivation now for me to finish this year strong with the team, put the work in, and hit the ground running in 2024."
Wood has impressed the team's owners Ryan Walkinshaw, Michael Andretti and Zak Brown with his performance in junior categories.
"We are extremely excited to have Ryan graduate to the main game in 2024," said Walkinshaw.
"His talent has been undeniable, and his raw speed obvious from the first time we saw him in a WAU car, so we are looking forward to watching his progression. His results this year have surprised none of us, and it's great to see someone move through the WAU Foundation Academy so quickly.
"There will be a lot to learn, but he's got a great teammate beside him in Chaz who will no doubt put Ryan under his wing, and some really experienced people in his corner, so we can't wait to watch his career unfold."
'We are extremely excited to have Ryan stepping up to Car No. 2 next season and beyond," added Andretti.
"He has been seriously impressive since he joined us at the start of 2023. To be on pole in his first Super2 round and then to clean sweep the second round proves his ability but also how quickly he can adapt, so we have no doubts on how he will go next year. It's going to be great to watch him grow in the team."
Brown, McLaren Racing CEO and co-owner of WAU echoed those comments. "It's fantastic to have Ryan in our team next year, in Car No. 2. His rise through the ranks has been impressive to watch, and he immediately caught our eye with his ability once we saw him firsthand."
"He's got a great team around him, so we are all looking forward to watching him develop even further and showing why we see a huge future with Ryan."