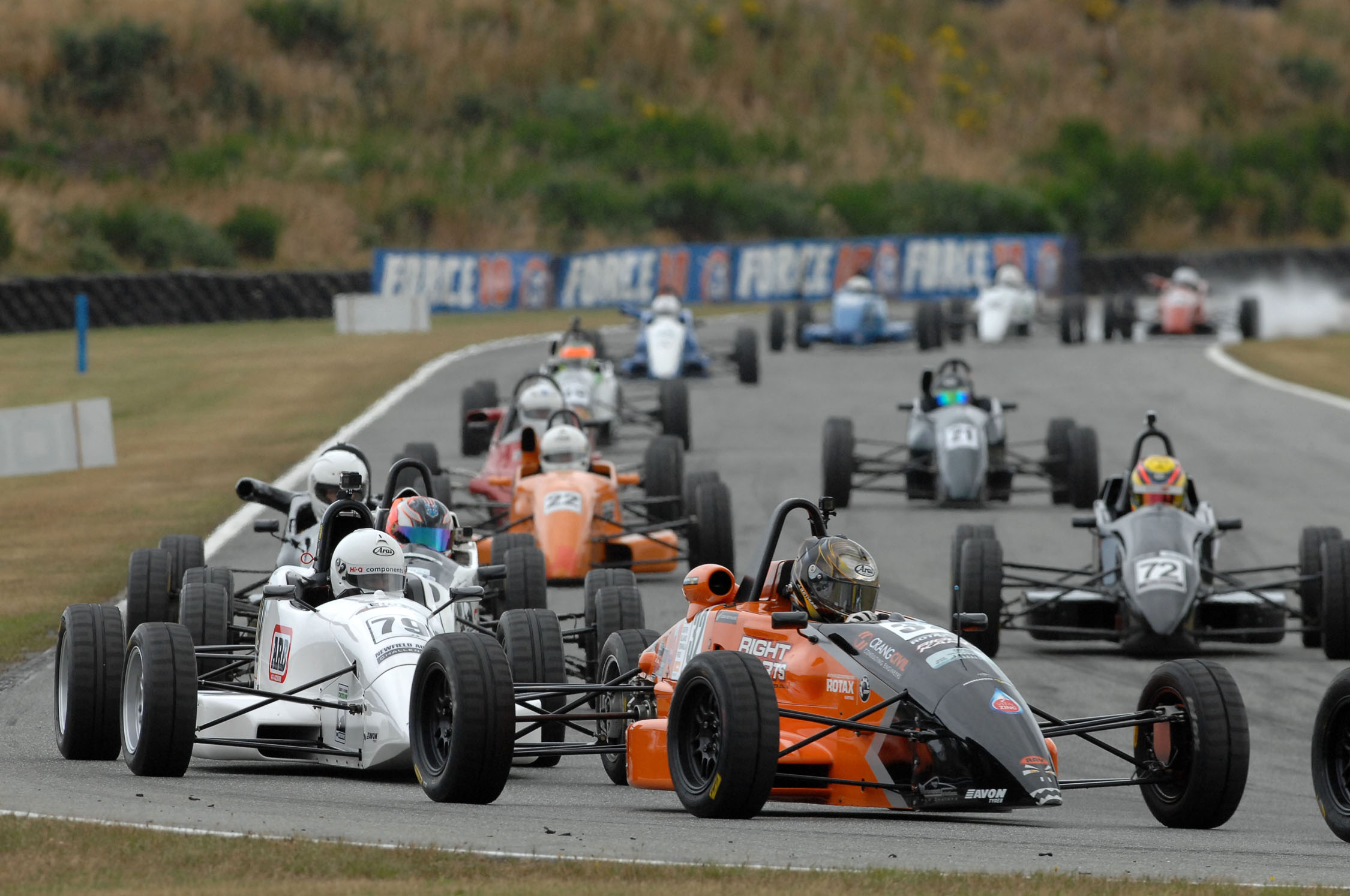 Race wins propel Bethune ahead in NZ Formula 1600 Championship title hunt
Three wins from four races at Teretonga Park, Invercargill, over the weekend has propelled Auckland driver Josh Bethune ahead on the 2018/19 NZ Formula 1600 Championship points table. The southern circuit hosted four 8-lap races in varying weather conditions that saw 21 cars take to the grid. It was the third round of the national series which also doubled as the fifth and penultimate round of the South Island Formula 1600 Championship.
"It's great to get another round victory," commented Bethune. "We are taking it in our stride and making the most of the opportunities that come our way."
Rival and local driver Jordan Michels came away with a win and three second places. In both races on Sunday he clearly had superior straight-line speed but Bethune twice snuck past at the Elbow (final corner) to take the lead and the chequered flag.
"We've had some really good racing and we certainly have the pace," commented Michels. "In the last race there was three of us going into the last corner in wet conditions and Josh (Bethune) had the better line and took the opportunity."
On Saturday Bethune benefitted from a collision between front runners James Penrose and Spike Kohlbecker. Kohlbecker had gone around the outside of both Bethune and Penrose through turn one and nearly pulled the move off but a slight oversteer from Penrose clipped the American sending both off the track. The field then finished under safety car with Bethune taking the win from Michels and Callum Crawley.
In the second Saturday race Bethune led Kohlbecker, Michels and Crawley until a fast charging Michels got by both to take the lead which he held until the end. Bethune came in second with Kohlbecker third and Crawley fourth ahead of Zac Stichbury and Jack Noble-Adams.
Bethune has stretched his lead in both the NZ and South Island series while Michels has moved into second ahead of Penrose. While Penrose set the fastest time in qualifying his crash in the first race has dented his campaign keeping him out of the points in both Saturday's races.
"We're happy with salvaging third in the final race considering the rest of the weekend," said Penrose. "The rain made it challenging and we go away from the round having learnt some valuable lessons."
Third overall for the round was rookie driver Callum Crawley who is campaigning a new Spectrum 015. In Class 2 it was Jack Noble-Adams who took the round win from Cameron Freeman and Simon Spencer-Bower.
Local driver Noel Atley proved quick in the wet in his older 1984 Crossle 55F qualifying eighth fastest. He continues to lead the Historic Class 3 and finished 10th overall for the round.
Drivers and teams now have a break before heading to the North Island for the final two rounds of the national championship.
ENDS
2018/19 New Zealand Formula 1600 Championship Points 3/5 rounds(Top 15)
1 Josh Bethune 369
2 Jordan Michels 346
3 James Penrose 265
4 Zac Stichbury 235
5 Callum Crawley 232
6 Jack Noble-Adams 197
7 Cameron Freeman 190
8 Robert Toshach 171
9 Spike Kohlbecker 156
10 Simon Spencer-Bower 133
11 Ben Stiles 128
12 Noel Atley 127
13 Dyson Freeman 123
14 Steve Edwards 114
15 Grant Campbell 105
2018/19 South Island F1600 Championship Overall Points 5/6 rounds (Top 10)
1 Josh Bethune 603
2 Jordan Michels 520
3 James Penrose 400
4 Jack Noble-Adams 355
5 Cameron Freeman 338
6 Zac Stichbury 324
7 Robert Toshach 255
8 Ben Stiles 220
9 Noel Atley 218
10 Steve Edwards 215
Results
Qualifying
1 James Penrose VD Stealth 1:13.827
2 Spike Kohlbecker Mygale SJ08a 1:13.979
3 Josh Bethune Ray GR17 1:14.813
4 Jordan Michels Mygale SJ13 1:15.089
5 Callum Crawley Spectrum 1:15.354
6 Zac Stichbury Mygale SJ08a 1:15937
7 Cameron Freeman VD RF92 1:17.221
8 Noel Atley Crossle 55F 1:18.424
9 Simon Spencer-Bower VD Stealth 1:18.714
10 Kyle Gurton VD RF91 1:18.837
11 Grant Campbell VD RF03 1:19.062
12 Dyson Freeman VD RF92 1:19.134
13 Corey Hodges VD RF92 1:19.157
14 Robert Toshach Spectrum 08 1:19.947
15 Dominic Robertson VD RF92 1:20.377
16 Jack Noble-Adams VD Stealth 1:20.440
17 Steve Edwards Mygale SJ08a 1:20.734
18 Andy Downs Lola 642e 1:20.781
19 Steve Heffernan VD Stealth 1:20.912
20 Dave McKenzie Begg FM3 1:23.551
21 Greg Inwood VD RF 91 1:28.602
Race 1 (8 laps)
1 Josh Bethune
2 Jordan Michels
3 Callum Crawley
4 Zac Stichbury
5 Cameron Freeman
6 Dyson Freeman
7 Simon Spencer-Bower
8 Jack Noble-Adams
9 Robert Toshach
10 Noel Atley
11 Steve Edwards
12 Dominic Robertson
13 Steve Heffernan
14 Dave McKenzie
15 Andy Downs
16 Grant Campbell
17 Greg Inwood
18 Corey Hodges
DNF James Penrose
DNF Spike Kohlbecker
DNF Kyle Gurton
Race 2 (8 laps)
1 Jordan Michels
2 Josh Bethune
3 Spike Kohlbecker
4 Callum Crawley
5 Zac Stichbury
6 Jack Noble-Adams
7 Kyle Gurton
8 Noel Atley
9 Grant Campbell
10 Cameron Freeman
11 Simon Spencer-Bower
12 Robert Toshach
13 Dyson Freeman
14 Corey Hodges
15 Dominic Robertson
16 Steve Heffernan
17 Andy Downs
18 Dave McKenzie
19 Greg Inwood
20 James Penrose
Race 3 (8 laps)
1 Josh Bethune
2 Jordan Michels
3 Spike Kohlbecker
4 Zac Stichbury
5 Callum Crawley
6 James Penrose
7 Jack Noble-Adams
8 Robert Toshach
9 Cameron Freeman
10 Kyle Gurton
11 Simon Spencer-Bower
12 Corey Hodges
13 Dominic Robertson
14 Dyson Freeman
15 Noel Atley
16 Grant Campbell
17 Steve Heffernan
18 Steve Edwards
19 Andy Downs
20 Dave McKenzie
DNF Greg Inwood
Race 4 (8 laps)
1 Josh Bethune
2 Jordan Michels
3 James Penrose
4 Callum Crawley
5 Zac Stichbury
6 Jack Noble-Adams
7 Cameron Freeman
8 Kyle Gurton
9 Dyson Freeman
10 Dominic Robertson
11 Robert Toshach
12 Noel Atley
13 Corey Hodges
14 Grant Campbell
15 Steve Edwards
16 Andy Downs
17 Greg Inwood
18 Simon Spencer-Bower
19 Dave McKenzie
DNF Spike Kohlbecker
2018/19 New Zealand Formula 1600 Championship Calendar
Rnd 1 10 November 2018 Timaru International Motor Raceway
Rnd 2 12-13 January 2019 Mike Pero Motorsport Park, Christchurch
Rnd 3 18-20 January 2019 Teretonga Park, Invercargill
Rnd 4 23-24 February 2019 Manfeild Circuit, Manawatu
Rnd 5 3 March 2019 Pukekohe Park Raceway, Pukekohe
2018/19 South Island Formula 1600 Championship Calendar
Rnd 1: October 27-28 2018, Mike Pero Motorsport Park, Ruapuna, Christchurch
Rnd 2: November 10 2018, Timaru International Raceway, Timaru (also Rd 1 NZ Formula 1600 Championship)
Rnd 3: December 1-2 2018, Teretonga Park Raceway, Invercargill
Rnd 4: January 12-13 2019, Mike Pero Motorsport Park, Ruapuna (also Rd 2 NZ Formula Ford Championship)
Rnd 5: January 18-20 2019, Teretonga Park Raceway, Invercargill; (also Rd 3 NZ Formula Ford Championship)
Rnd 6: April 6 2019, Timaru International Raceway, Timaru
Attached images are free to use. Please credit Euan Cameron Photography
Prepared by SB Networks on behalf of the South Island Formula Ford Club