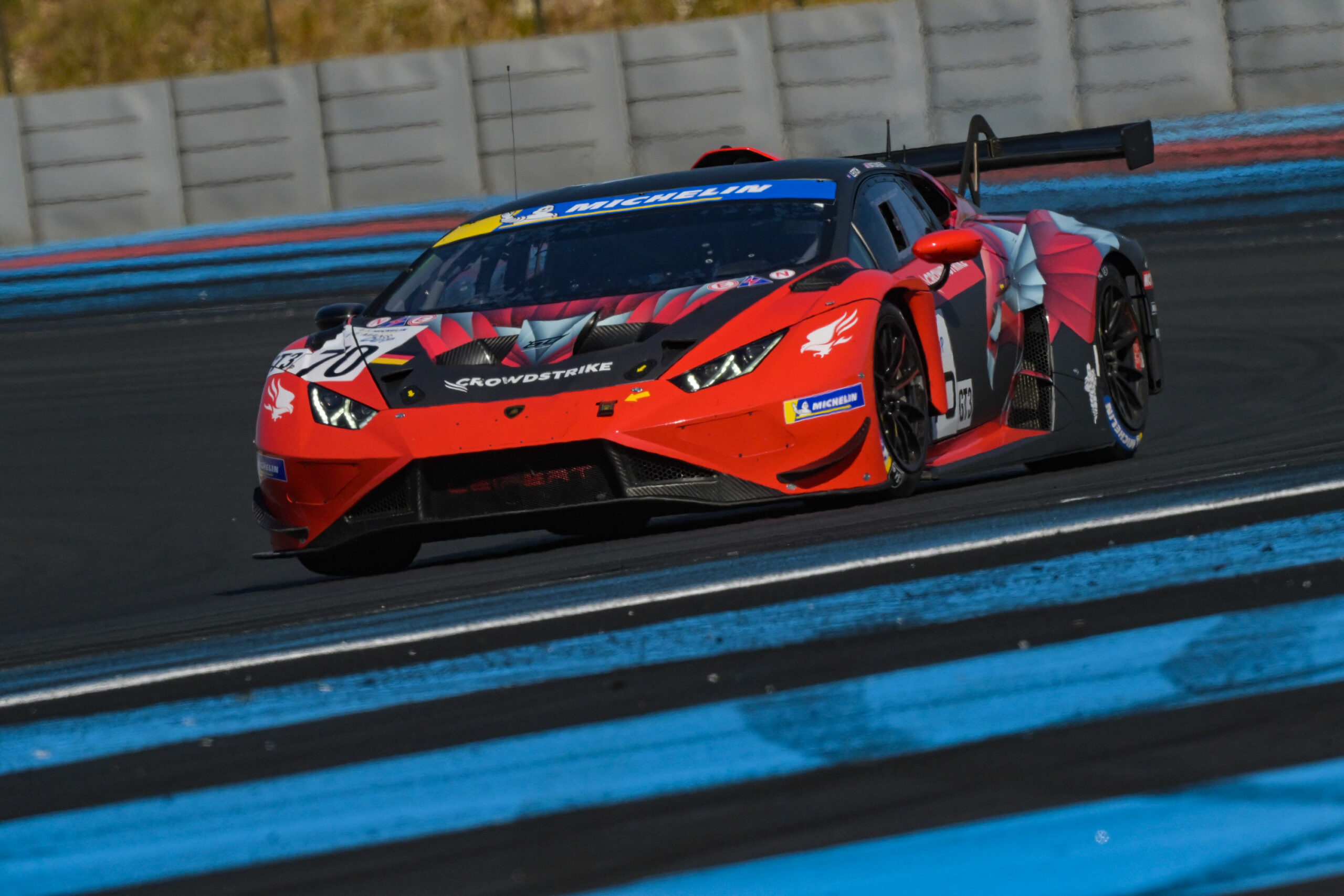 Points haul for Leitch in Le Mans Cup at Paul Ricard
Brendon Leitch and Leipert Motorsport teammate Gerhard Watzinger have finished fifth at the latest round of the 2023 Michelin Le Mans Cup held at the Circuit Paul Ricard, Le Castellet, France. The pair were competing in the GT3 category driving the #70 Crowdstrike Lamborghini Huracán GT3 EVO2 in a 110-minute race.
"It was a good race," commented Leitch. "It is great to see that we had some genuine pace and were able to keep up with the other guys.
"Gerhard did well in qualifying ninth on the grid. He had a good rhythm through the session building speed but unfortunately, we had a part fail which put fluid over the rear tyres causing a spin.
"This put us on the back-foot heading into the race on Saturday evening as essentially, we lost the use of two of our allocated tyres.
"Gerhard started the race and managed to get up to fourth then fell back as his rears (tyres) got worse. When I got in, we were in tenth place then unfortunately we had a small fire in the pits losing us more time. In fact, I rejoined in dead last!
"The car was quick and even though we had traffic, we were matching the times and speed of the front running GT3s and worked our way through to fifth at the chequered flag."
It was another Leipert Motorsport Lamborghini that won the race with Gabriel Rindone and Patrick Kujal taking a well-deserved first win of the season in the #19 car, finishing ahead of the #10 Racing Spirit of Léman Aston Martin in second and the #63 Iron Lynx Lamborghini rounding out the podium places.
"All in all, it was a good result considering the hiccups we had," said Leitch. "The car was really good after the repairs from our crash at Spa two-weeks ago. The team put in such a massive effort and it was quick straight out of the box."
Team managing director Marcel Leipert added, "Our team had a great weekend in the south of France. The drivers put in a mega performance. After this successful race weekend, we are in third and eighth place in the drivers' standings and third in the team standings. These top results are even more remarkable as we were unable to score any points at the season opener in Barcelona (Spain). Now we are concentrating on the next Lamborghini Super Trofeo event before the fifth Le Mans Cup round is on the agenda."
The next round will take place in Aragon, Spain on Saturday 26 August. Leitch first heads to the Nurburgring in Germany 28-30 July, for the third round of the 2023 Lamborghini Super Trofeo Europe Series.